Happy 2021 everyone! It has been a minute since I've done a favourites post, but honestly, I haven't gotten that many new beauty products or radically changed my routine since Theo was born, so I didn't really feel like I had anything interesting to share.
But I think this is going to turn more into a lifestyle favourites kind of series or who knows what else. Speaking of which, I'm thinking of combining the beauty, fashion, and other miscellaneous interests not related to house stuff that I have, into one all-encompassing "Lifestyle" category on the blog. Since I haven't been posting much of any of that stuff lately, I thought it would make the blog organization less cumbersome.
In fact, I think I'm gonna reorganize the post categories a little bit overall. But I'm sure no one besides me cares about this. I mean, 75% of you have clicked away by now because that's how little you care about my blog organization.
Anyway, here's what I've been loving this winter so far!
Reading Socks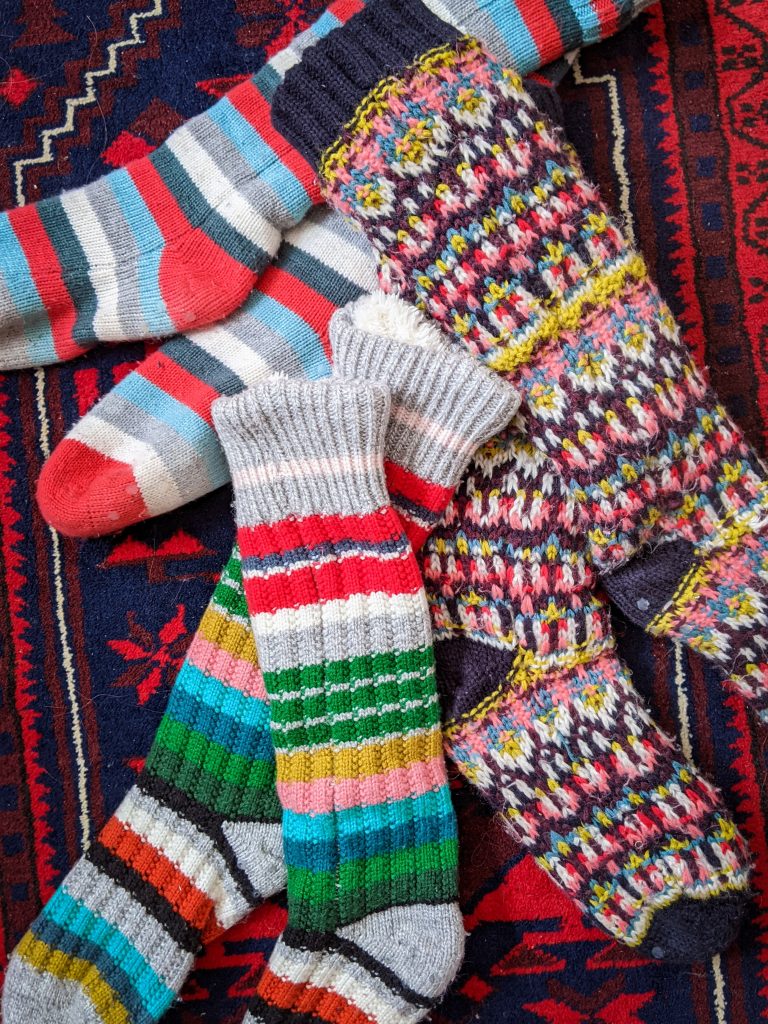 Indigo Fair Isle Socks (sold out, but this is similar), Indigo Striped Socks (sold out, but this is similar)
WHERE HAVE YOU BEEN ALL MY LIFE. I mean, don't get me wrong, I love a good slipper. I've been living in slippers for years, but late last year, I discovered the joy of reading socks and I don't think I can ever go back. They're socks, they're slippers, they're leg warmers….I mean they just do it all! I can't imagine a cozier envelope for your feet/calves, except maybe just taping a bunch of kittens and puppies to yourself.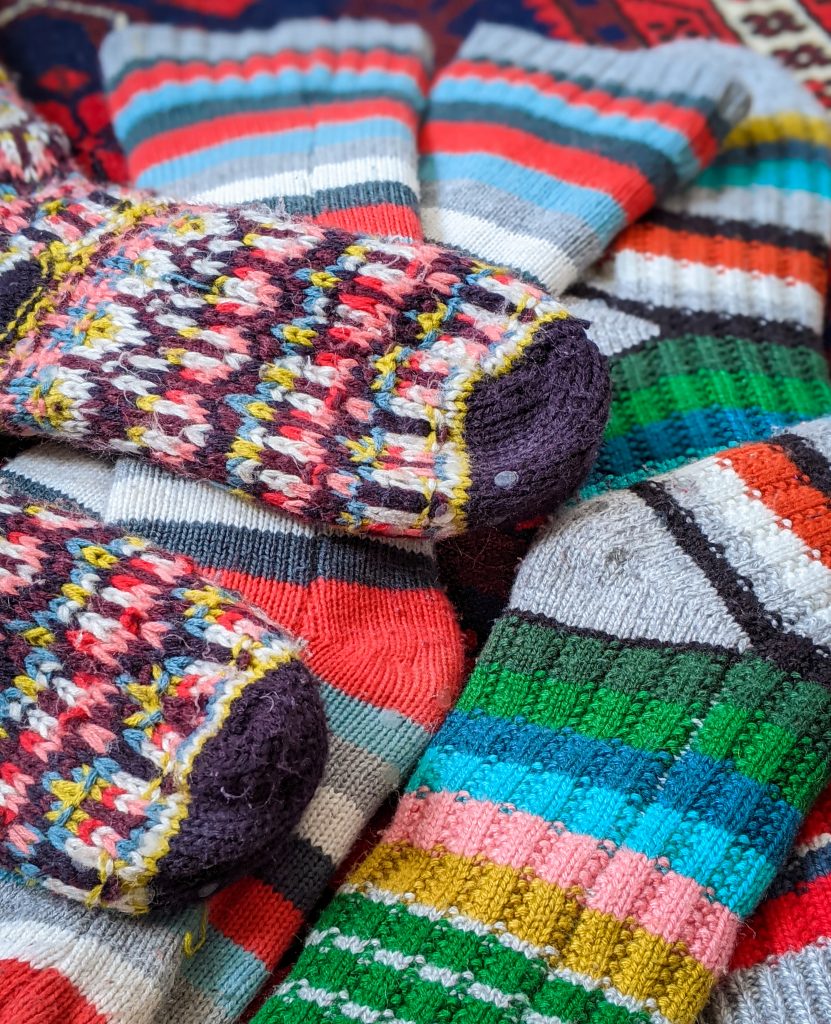 They work particularly well for me when I wear oversized sweaters with leggings. I just feel like oversized sweaters are comfiest with leggings, but then everything below mid-thigh is cold. The socks, however, add that extra layer of warmth to my bottom third that just makes me feel like I'm wrapped up in a cocoon of coziness. Insert smiling rosy-cheeked emoji here.
That's Messed Up: An SVU Podcast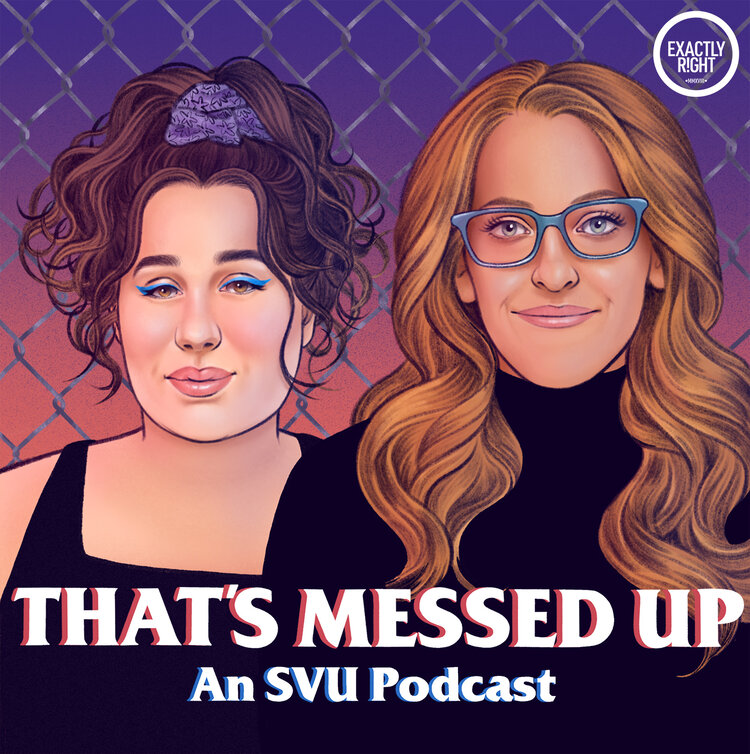 That's Messed Up: An SVU Podcast on Exactly Right Network
A new podcast I've been enjoying is something that, when you hear someone describe it, you're like, "huh?" but I've realized it really speaks to a part of me I never really thought about before.
I love recapping TV shows and movies, scene by scene, while giving my own colour commentary/analysis. And I've realized that I really like listening to other people do that too, especially witty, entertaining women with good chemistry. Add in Law & Order: SVU and true crime stories, and That's Messed Up: An SVU Podcast waltzed straight through my ears and into my heart.
Each episode is basically two comics (Liza Treyger and Kara Klenk) recapping an iconic episode of Law & Order: SVU from start to finish (like so iconic, I am replaying it in my mind while they're recapping it, having not watched this show in, like, 12 years), followed by a retelling of the true crime events that inspired the SVU episode, followed by an interview with one of the actors that was in that episode.
To be honest, I don't really care for the interviews so much. I'm just not that interested in celebrity interviews in general, but I love the rest of the episode contents! I can imagine the idea of listening to someone tell you about a TV show episode is weird to some of you (like why don't you just watch the episode???), but it's that thing of adding your own colour commentary that I just love doing myself and apparently, love listening to other people do. Yes, I'm that annoying person who has to reach my arm out with the palm facing up while watching a movie, and make some kind of comment or ask an incredulous question.
In addition to having to like hearing people tell you about a whole episode of a TV show, you're gonna also need to know at least a little bit about Law & Order SVU, 'cause they don't really explain the characters or common tropes that are used. If you have never watched the show, you'll just be lost and confused the whole time.
But if you're into true crime and like Law & Order: SVU, I highly recommend a listen to That's Messed Up: An SVU Podcast!
The Peloton App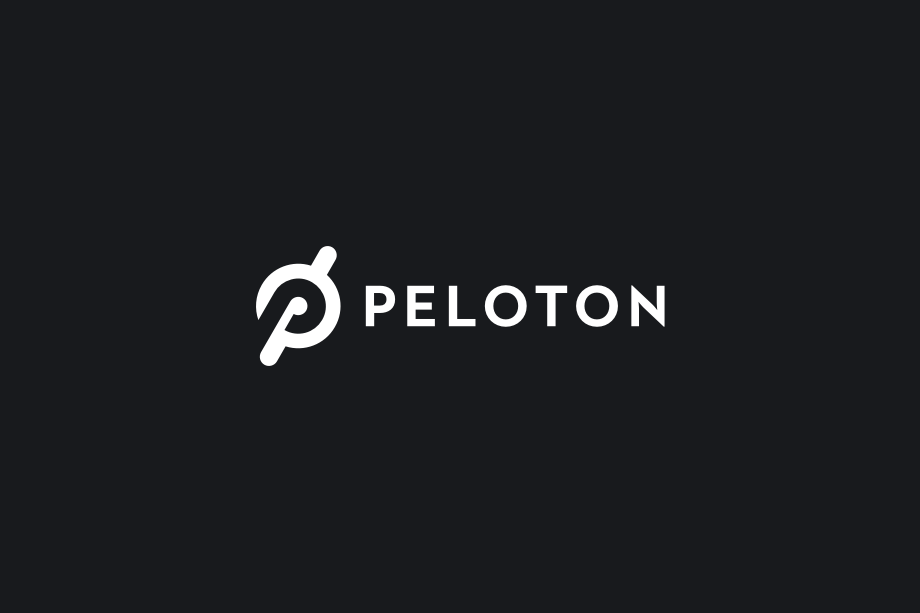 If you know me well, you might think it's weird that I'm recommending an exercising app (if you don't know me well, I hate exercise – there, you're up to speed!) But this Peloton App has really been working for me.
It all began when I threw out my back for, I think, the second time last year. I've been known for having back problems (a lot of the non-exercising, stiff/weak body issues a lot of people have), but having a baby has really put a lot of strain on my lower back, more so than usual.
I had and still don't have any workout goals. I don't want to lose weight or gain muscles….I literally just want to stop throwing out my back so much. I knew I had to basically stretch and strengthen my whole back/core area, and I find the short strength workouts that the Peloton App has really worked for me in reducing my overall pain.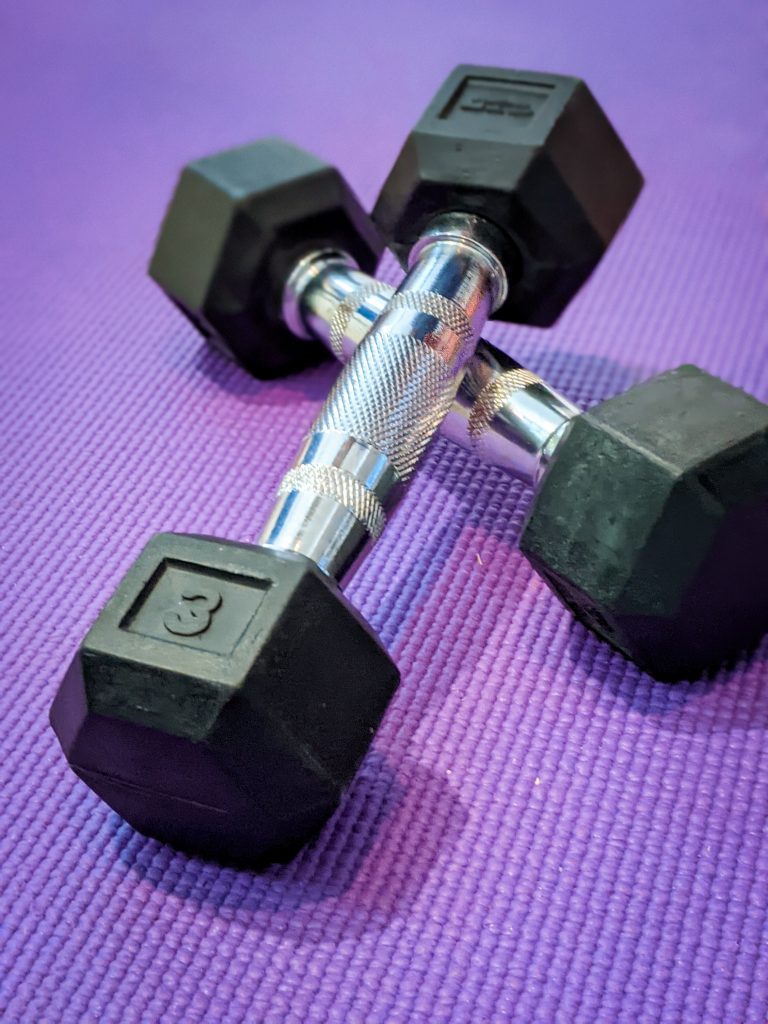 There are TONS of 5-45 minute workouts with different instructors and new ones are posted almost every day. They do everything from yoga, to strength, to biking, to running. You can really do as much or as little as you want. And I have noticed a big difference, just doing three 10-20 min workouts a week. My back does not get as sore as it normally does, and I haven't thrown it out again! Yet.
A Canadian membership starts at, I think, $16.99 a month, so it is much less than most gym memberships, but you do have to have the motivation to work out on your own at home. I know a lot of people like to make New Year's resolutions to work out and get into shape, so this might be worth checking out, especially considering we are in pandemic times, in the middle of winter!
Hourglass Unlocked Ambient Lighting Palette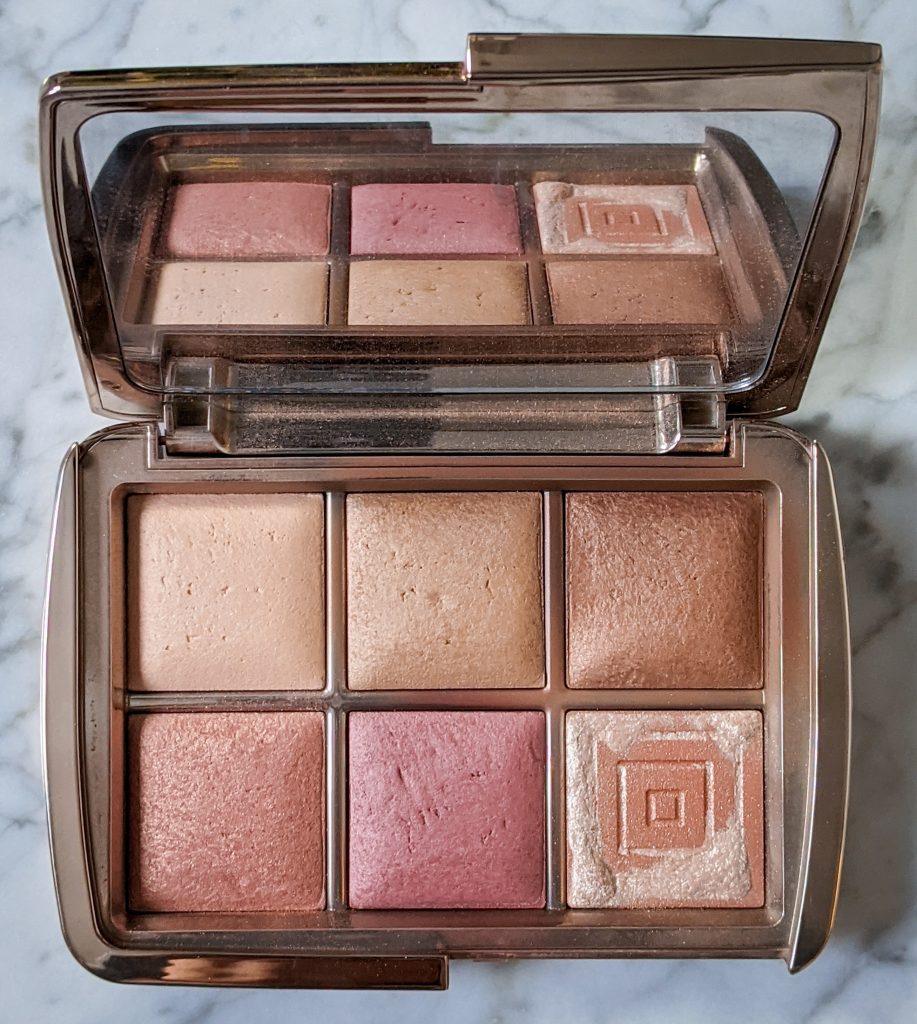 Sold out, but this is similar
One old makeup item I've really been enjoying this season is the Hourglass Unlocked Ambient Lighting Palette that I got a while ago. I've just been wanting to add some glow and colour to my bleh complexion, and this just gets it done so easily. I usually mix Filtered Light and Golden Bronze Light together for a quick bronze and then load up on Mood Flush to get that deep, rosy cheek that I love to sport when the temperature drops. And I think you can tell that I LOVE the highlighter. I've pretty much used it all up. Hourglass, PLEASE make the highlighter a permanent product!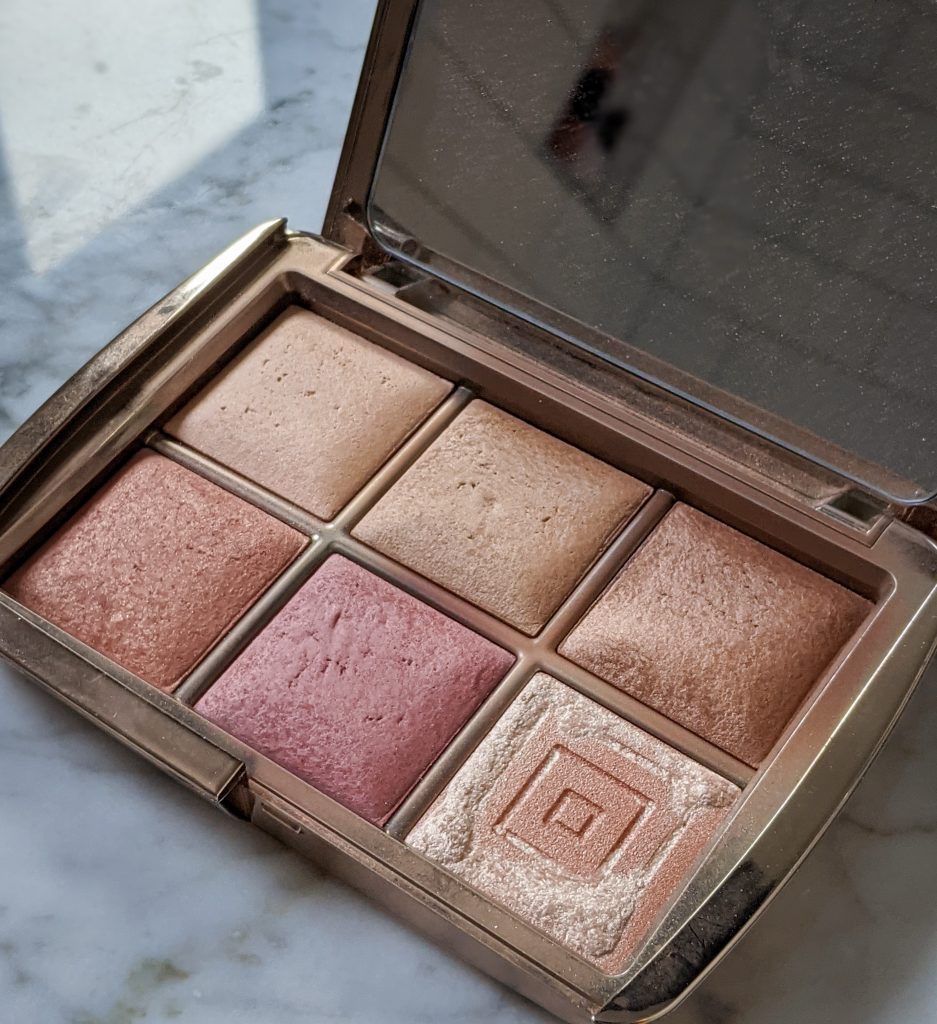 If you're interested in picking up this limited edition and sold out palette, don't worry, I wouldn't show you something that you couldn't get (or at least you can get something similar). While you can't get this exact palette, they came out with a condensed version that is still in stock! And in my opinion, it has the best parts of the original palette anyway: the bronzer, the highlighter, and the Mood Flush blush. It also comes with a setting powder, but I don't really care for it.
We may not be able to soak up the sun on a tropical beach right now, but we can certainly look like we did!
And that's basically what I've really been enjoying so far this winter. A little exercise, a little entertainment, a little makeup, and a little bit of coziness. What have you been enjoying this season?
xoxo