Kyler and I have been together for about seven years and it's our first wedding anniversary coming up this month. I thought I'd share some of my favourite wedding photos and talk about some of the details of the day for any future brides and grooms out there who might be interested!
We wanted to keep it as small and as simple as possible, especially because it was in Vancouver while we live in Montreal. We had the wedding at The Brockhouse Restaurant in Point Grey. The ceremony was on their lawn and the reception, in their tent. I picked this place mostly due to the fact that they provide everything, the chairs, tables, cutlery, servers, food, drinks, even beautiful white drapes, lights and chandeliers for the tent. We basically just showed up, put some flowers on all the tables and the set up the arch for the ceremony. I highly, highly recommend finding a place that does everything for you if you are having a destination wedding, because even though we had very little to do compared to other weddings, it was still pretty stressful!
I made my own bouquet from flowers I ordered online and bought in person a couple of days before the wedding, at various grocers and florists around Point Grey. I regret ordering the flowers online because they messed up the order a bit and the quality of the flowers were not super great. Some were squished, some were not opened enough to be in bloom in time (and I followed their recommended delivery schedule to make sure they would be in bloom.) If you like being creative and are flexible with what blooms you end up getting, you could definitely save hundreds, maybe even thousands of dollars by just doing it yourself with grocery store flowers, which to be honest, are just as beautiful as fancy florist flowers.
The flower crown I wore for some of the portrait photos we took at Stanley Park was from this Etsy seller and it was mostly just leaves and some deep red flowers. On the day, I ended up adding some more real flowers to it to make it more colourful and full. The leaves were made of a hard kind of plastic, which I didn't realize when I ordered it. I'm glad I didn't wear it for more than just some photos because it really poked my head and felt uncomfortable. I would suggest fabric or real leaves if you want a flower crown.
My hair and makeup was also DIY and because I am a perfectionist/crazy person, I practiced doing makeup for about a year. I figured at the very least, I would have a sort of muscle memory ability on the day that couldn't fail me. It actually worked cause I applied false eyelashes the best I've ever done it for these portrait photos. I'm talking exact placement on the first try kind of perfection. Then I immediately forgot how to do it after the wedding and the next time I tried, it was all kinds of hot mess! I think I had to remove all of my eye makeup and start over. That's how bad it was…
If you are thinking of doing your own hair and makeup, practice way more than you think you need to!
My gown was from BHLDN, although unfortunately, I don't think they sell it anymore. It was very reasonably priced and although I had to gamble and pick a size online (no retail stores near me), it fit perfectly, I just needed to get it hemmed. Yay for accurate sizing charts!
I knew I wanted something that wasn't white and I had considered different styles but the vintage feel of this dress really spoke to me. The tiers added something a little special to the skirt and the embroidery detail made it look so delicate and feminine. I highly recommend BHLDN if you are in the market for a more unique, vintage-inspired and/or affordable gown option!
Kyler's suit was from Simons and they do their own tailoring, so it was a very convenient find and also very budget friendly! We both wanted outfits we could wear again for fancier affairs and I just think navy blue looks amazing on him.
His shoes are from Browns and mine are an amazing vintage find from this seller on Etsy. I knew I wanted unique shoes that weren't necessarily wedding shoes, that I could wear again. And having pops of bright colour here and there is just so me. When I stumbled upon these vintage pumps, it was just too perfect.
I also got a lace capelet from this Etsy seller but for the purpose of beading it myself. I had my eye on a beaded capelet also from BHLDN but they went out of stock so I decided to DIY it (a how-to post is coming!) This was really a grueling process. It took about two or three months of working several hours every day. To be fair, like many things I attempt, I had never done it before and was very slow and probably worked really inefficiently. I wanted to give up halfway through. It just seemed like one of those impossible tasks to finish that I totally underestimated. In the end, the result was beautiful and I'm happy I powered through.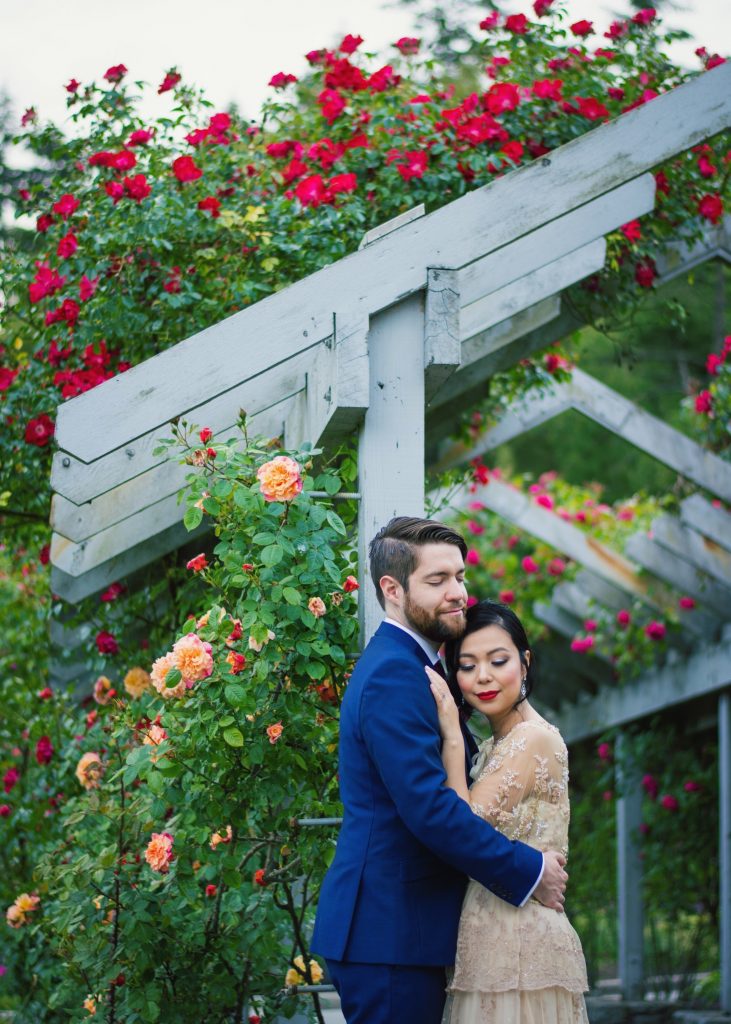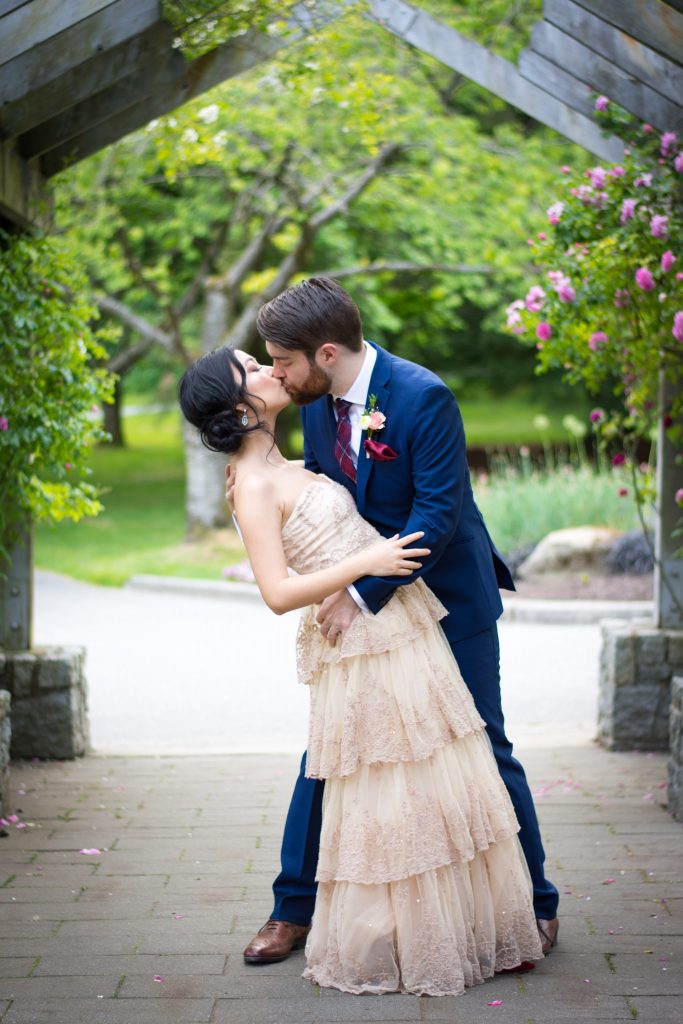 Even our photos were DIY. Instead of spending thousands of dollars on a photographer, we decided to upgrade our camera and fly out my good friend Debbie to help us take our portraits. Kyler also took some of the photos during the portrait session, and I knew between the three of us, we could cobble together at least a handful of nice photos.
During the wedding ceremony and reception, one of my cousin's husband (who's super into photography, his Facebook page can be found here) also snapped some amazing photos. I just want to thank Debbie and Matt again for helping us to capture some great moments!
Things won't necessarily go perfectly. The music wasn't right, the timing wasn't great, the weather was a bit grey. Me personally, I am super regretful that I added 2 gallons of lemonade on the menu, forgot all about it on the day and didn't have any. I was so sad when I realized afterwards…I love lemonade. And they served it in the cutest champagne saucers…Yeah, I'm pretty bitter about it.
What more can I say? It was a wedding. We were sleep deprived, stressed out, I was having a really bad skin week. In the end, I felt like the day just carried me along with it as it progressed. We had some lovely, funny, tearful moments, while always remembering that life is long and every day together can and should be just as special as that one particular day when your whole family sits facing the same direction and watches you put on jewelry and make out.
After the big day, please leave a comment below. I'd love to see your wedding photos and hear your stories! And may you have a long and happy marriage and never forget about the lemonade.
xoxo