I thought I'd update you all on the garden progress in the front of the house because A LOT has changed since I posted about a month ago. Not only have more of the flowers started to bloom, but I've put in a lot more plants because I have a serious problem and cannot stop buying plants. Seriously. Someone needs to hold an intervention for me.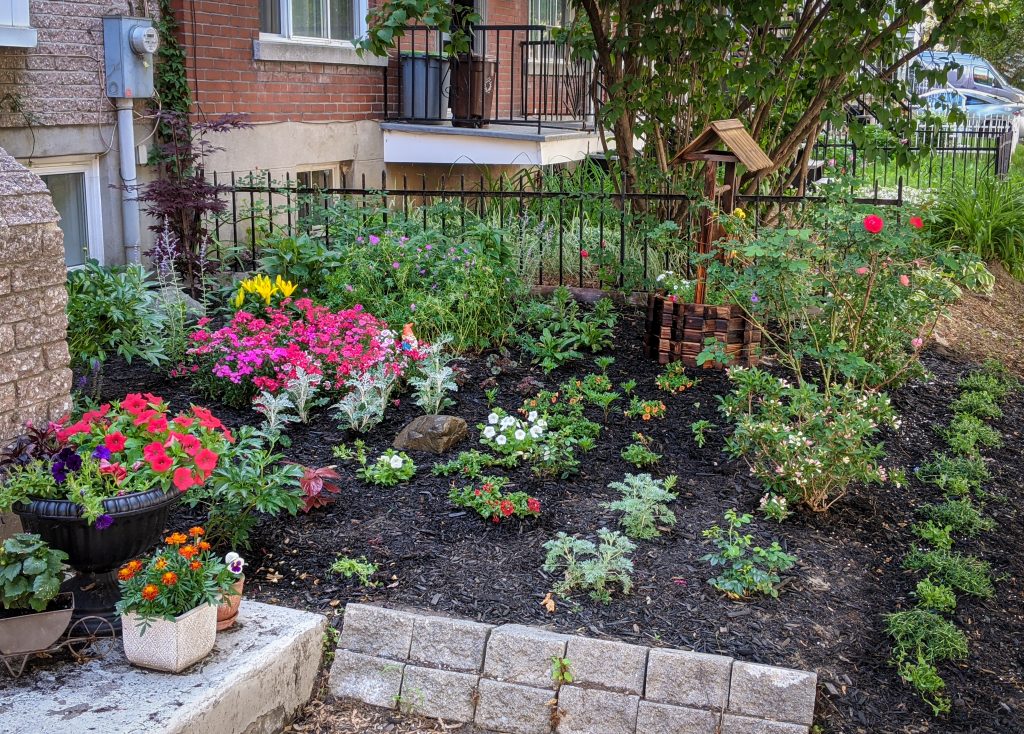 Nevertheless, the front of the house has been looking gorgeous for a while now and I thought I'd do a sort of up-close tour of the plants and talk a little bit about them. Unfortunately, the front yard is in really uneven sunlight nearly the whole day until close to evening (aka the time when Theo comes home from daycare, so I can't be spending 30 minutes plus trying to take photos outside). It was basically very difficult to get even/consistent lighting. So I took photos on multiple different days throughout a period of about a week, partly due to the lighting issues, but also, I just kept adding new stuff. And things bloom at different times, and I really wanted to capture as much as I could when they were at their peak. So you might notice a few continuity issues throughout the photos, and that's why!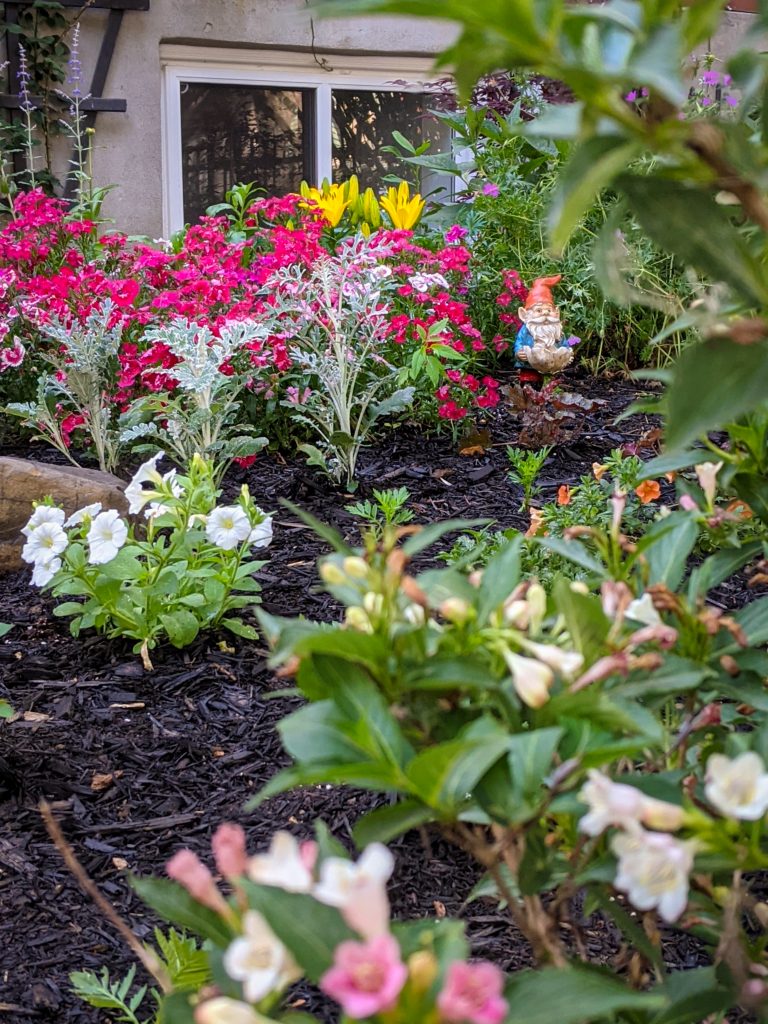 The garden is nowhere near where I'd like it to be, but I only really started working on it this year. So unfortunately, I'm gonna just have to be patient and build it as time goes by. I'm looking forward to getting lots of long-blooming perennials and flowering bushes in here, so it will be less work for me every year come spring without sacrificing all the colour and beauty!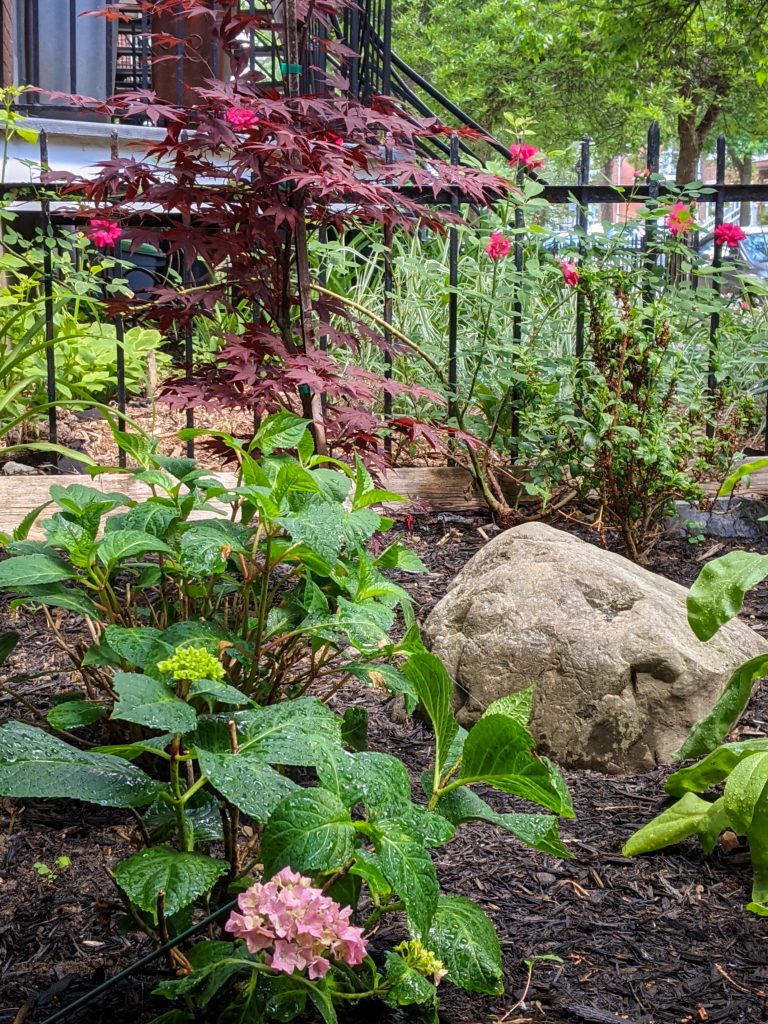 Starting in the back, closest to the house, I planted a Fireglow Japanese Maple, which I just LOVE. It's so beautiful and I can't wait to watch it grow into a real focal point in the front yard! I picked it specifically for the beautiful burgundy colour that gets bright red in the fall, and more importantly, for the fact that it only grows 2-3 metres (6-10 feet) high and wide. We do not have a lot of space in the front or back of the house, so small statured things are a must!
Kind of in front of the Japanese maple, I put a Show Off Starlet Forsythia, which you can't really make out currently because it has lost its beautiful yellow flowers from the spring. But I just thought the yellow with the burgundy together was so gorgeous that they had to be friends. Then, beside the Japanese maple, I put two big leaf hydrangeas, a Bloomstruck and a Let's Dance Rhythmic Blue. I love hydrangeas! They give you huge, beautiful blooms that last for months. The only thing I have yet to figure out after three or four seasons is how to keep the blooms blue, which is my preferred hydrangea colour. Our soil is so alkaline, I've tried different acidifying fertilizers, and they are very hit and miss, as you can see. But I will keep experimenting!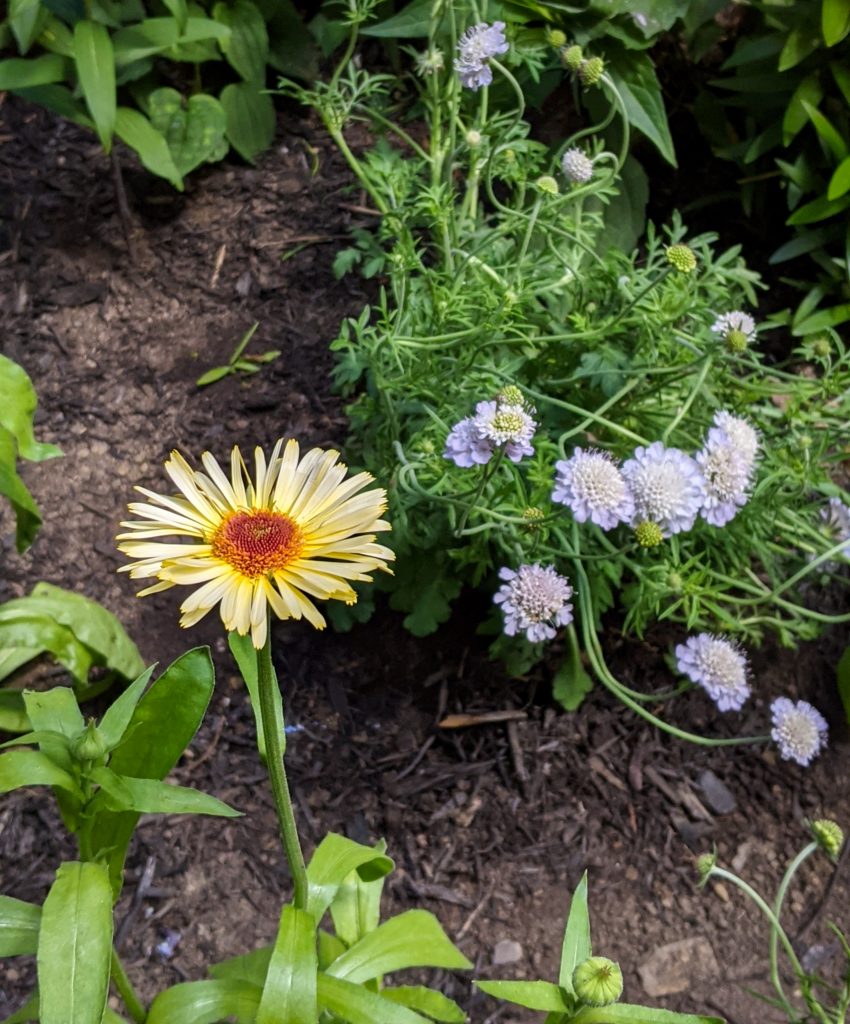 In the spring, there were Darwin Mix and Angelique tulips in this area around the hydrangeas and Japanese maple, but I have since cut them down to the ground after they flowered, and I put in a few Fruit Burst Calendula that I grew from seed and some really interesting Giga Silver Scabiosa that I randomly found at a garden centre. I've never grown calendula or scabiosa before, but a lot of the front yard has been one big experiment so far this year and I imagine it will continue to be so for a while.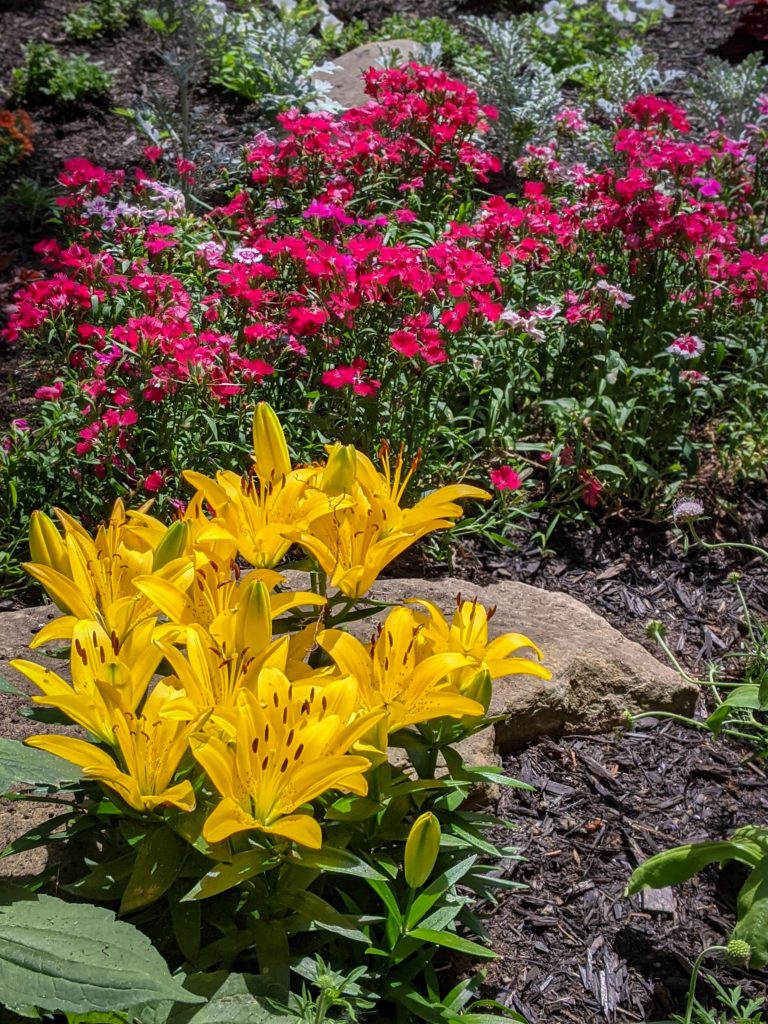 Right in front of the scabiosa are some yellow Asiatic Lilies which used to live in the backyard, but I transplanted them to the front last year because I'm trying to get more perennials in the front of the house and leave the back reserved for more annuals and cut flowers. They are lovely when they are in bloom, but they only last a few days before losing their petals and they don't rebloom. I don't mind allocating small parts of the yard to these types of plants, but I really want it to be mostly filled with things that give colour for more of the season.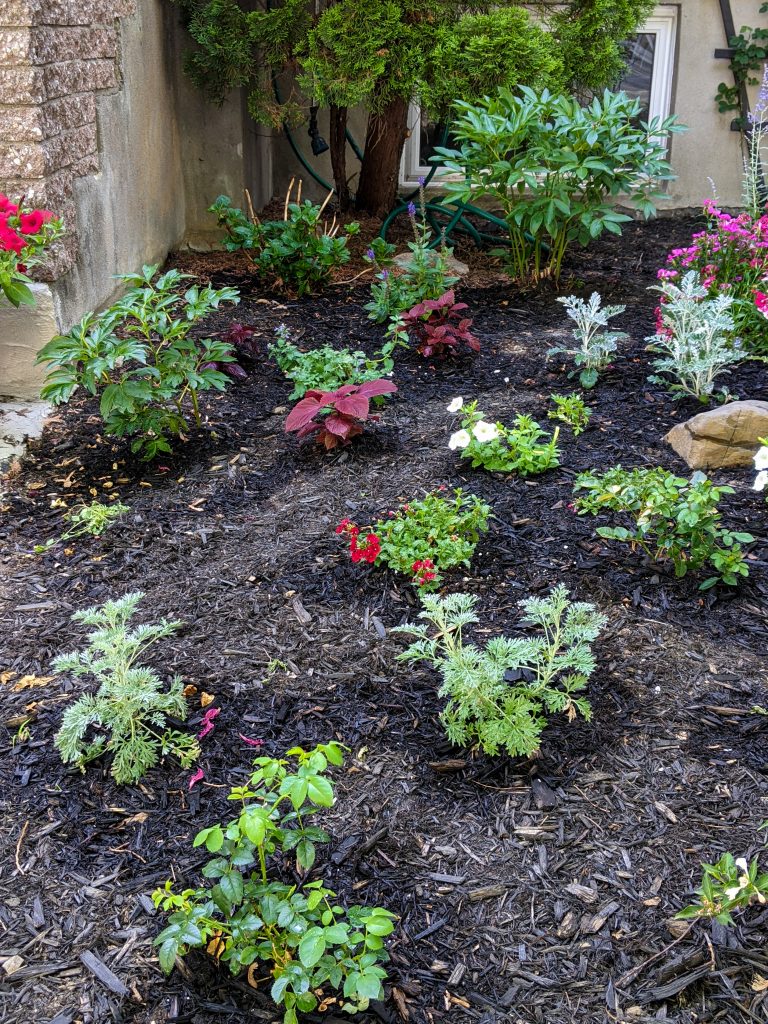 All along the left side of the yard, I have a mix of perennials and annuals and things that have been put in last fall and things that are new for this spring. From the front to the back, we have an At Last Rose, which I ordered online (bareroot) prior to knowing that I wouldn't be able to do much permanent planting in the backyard this year. I have an idea to make a section of backyard into a rose garden, so I had bought some new roses thinking I could get them in the ground in the late spring. Well, the new roses just have to live in the front this year and hopefully be transplanted next year instead.
Behind that, I have two Powis Castle Artemesia, just to add a bit of silver foliage and a different texture in a sea of green. Behind that, I have a Lanai Red Verbena, of which I have four dotted around the middle section of the yard. I love the bright crimson colour and thought the yard could use some more true red.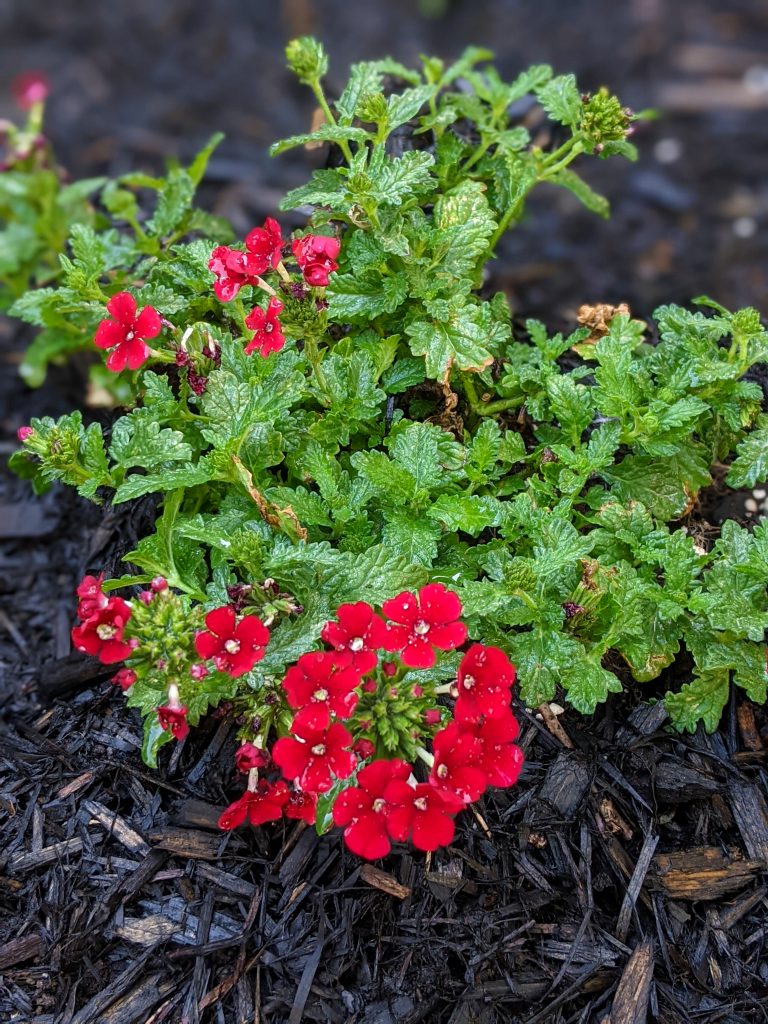 Next to that, I have an OSO Easy Italian Ice Rose, bareroot again, and to be transplanted in the backyard, hopefully next year. Behind that I have a Volt Mix Shock Wave Petunia that I grew from seed and let me just tell you, IT IS NOT WORTH IT TO GROW PETUNIAS FROM SEED. The seeds can get quite expensive (like $6 for a pack of ten seeds) and the germination rate for all the varieties I tried to grow was terrible. Something like 10-20% germination. That could have been my user error, but I don't really want to work with a finicky seed. And you can find fully-grown petunias everywhere from the garden centre to the grocery store, so why waste your time and energy?
Left of the petunia, I have a kind of triangle of red coleus and a Dropmore Nepeta in the middle. Next to the coleus, I have either a Pink Hawaiian Coral Peony or a Coral Charm Peony. I bought both last fall and forgot which one I planted here. It only had two fairly small blooms this year, which makes sense because it's trying to establish itself in the ground and make a nice root system. But imagine how gorgeous this will be when it grows up! I love coral, it's one of my favourite colours in the garden!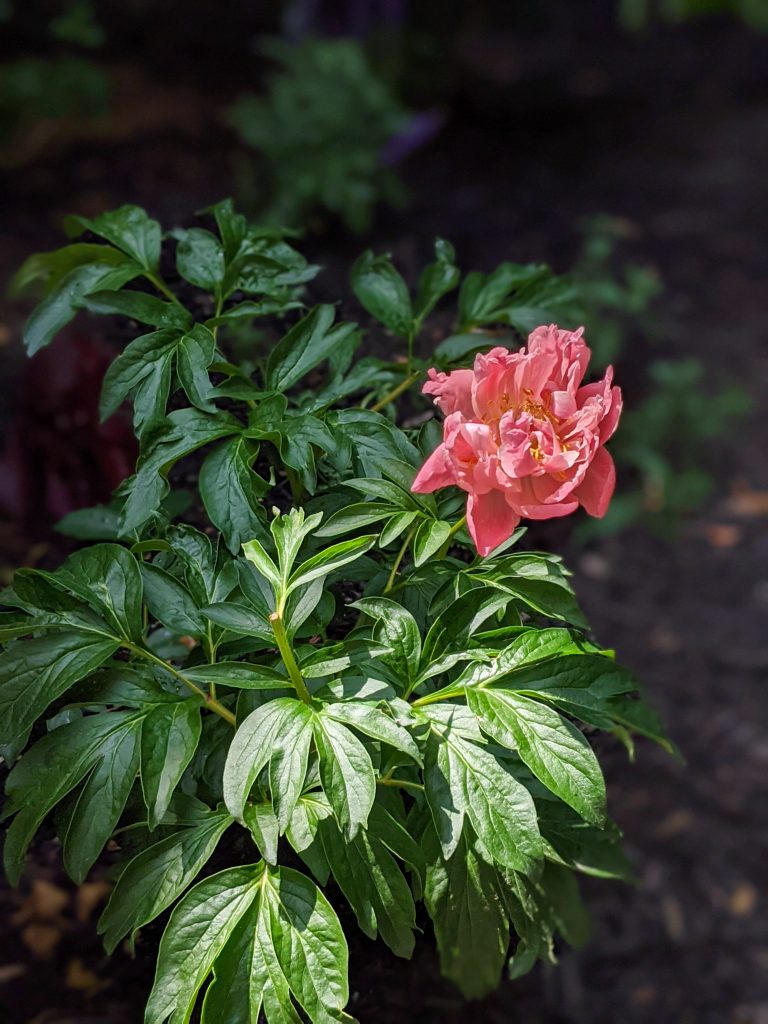 I also have a random campanula in front of this peony and you'll see marigolds dotted throughout the yard which I grew from seed.
And finally in the back, there is a Sarah Bernhardt Peony and a hydrangea (I don't remember the variety) that both used to live in the backyard and I transplanted them to the front last fall. In between the two bushes is a salvia that I planted last fall because it was on sale at the garden centre. I know salvia is a garden staple for most people in our zone, but I have never really had any experience with it. But I think you'll see as we go through the garden, I apparently have a thing for delicate, purple, spired flowers.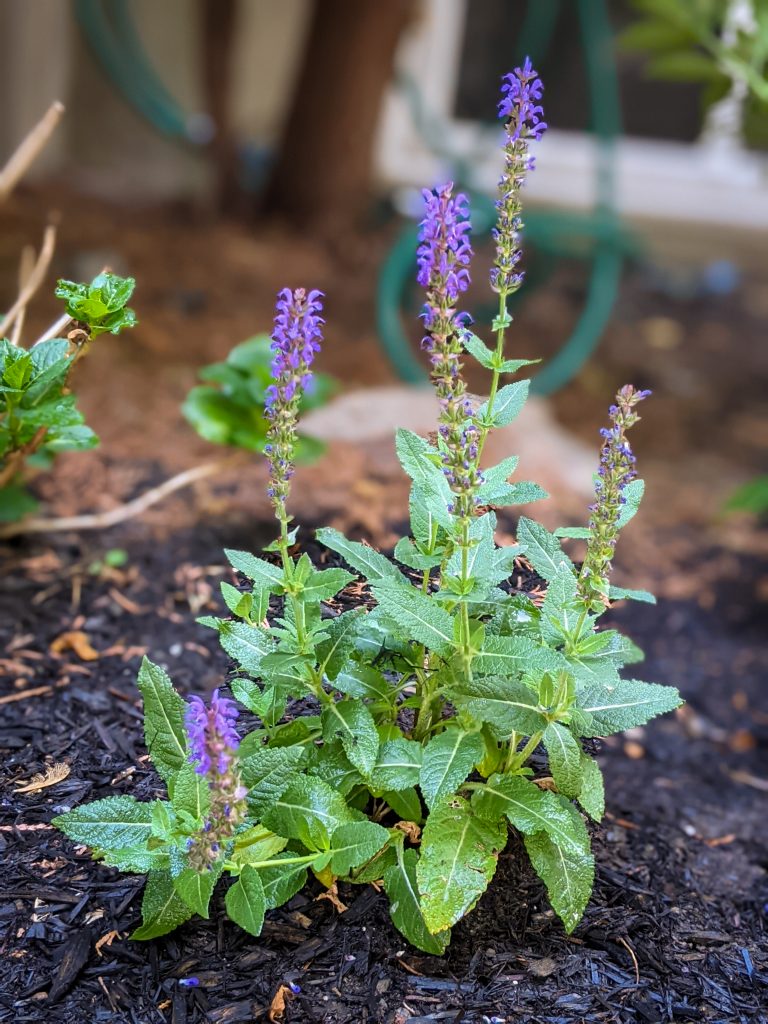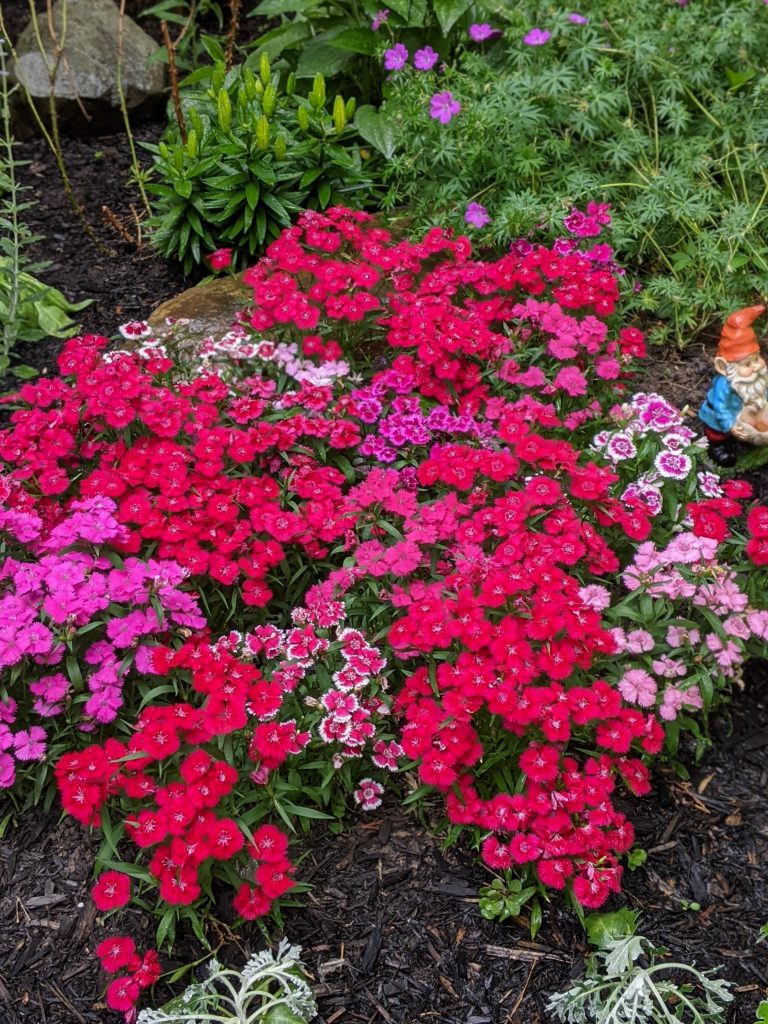 Moving right along to this season's apparent showstopper….I have this huge group of dianthus that I planted last spring that have just been thriving and giving off the brightest shades of pink imaginable. I'm so happy with how they've filled in the spot that I put them in from last year and I hope they'll have a second flush of blooms later, as they're already starting to die back. I don't think the heat waves we've been having have helped any, but I'm not even sure if they are a repeat bloomer because I can't remember the variety. They've truly lit up the entire garden bed for the past month and I couldn't be happier with them!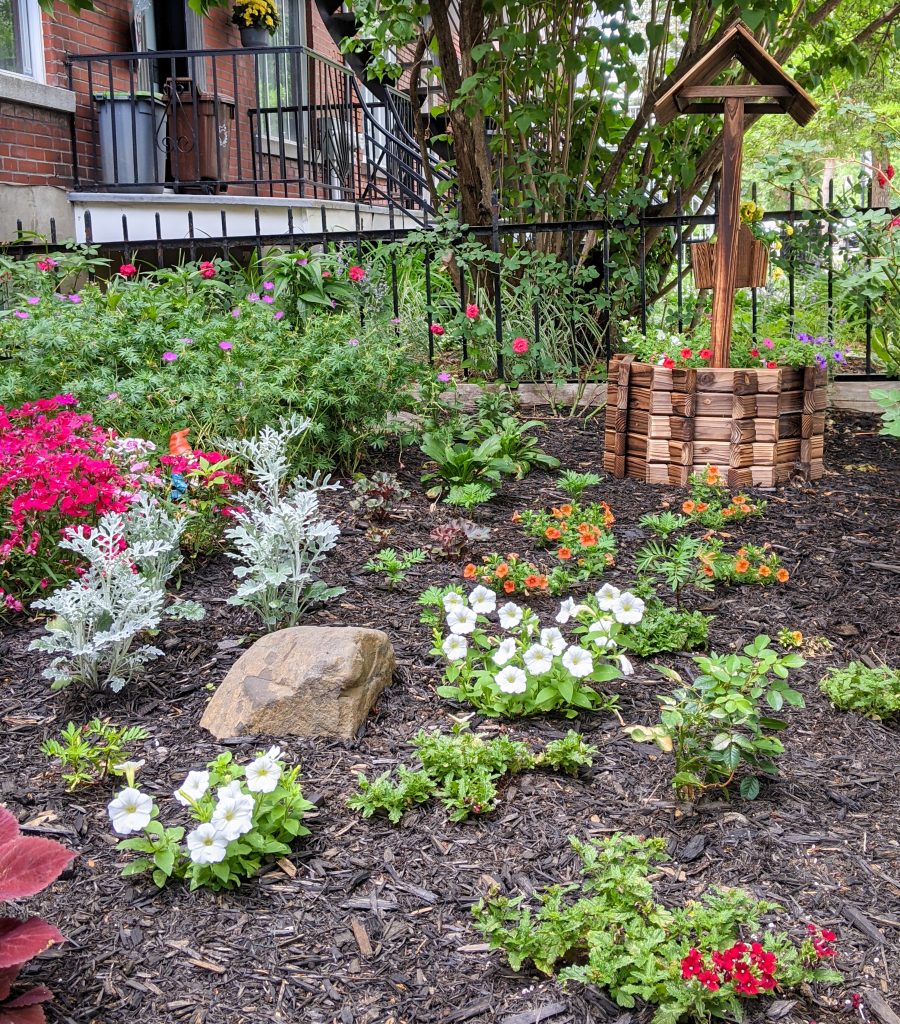 Moving further right, between the petunias and the well, I put in some Pumpkin Spice Calibrachoa because I felt like the yard needed some more orange. And then I put in some marigolds I grew from seed which have not flowered yet, but now I think I may have overdid it with the orange. We'll see! When you're in the process of designing a garden, it's nice to fill in spots with long-flowering annuals just to get that pop of colour until you decide what to do with the space more permanently.
Beside the calibrachoa, I put in some Melting Fire Heucheras, which are perennial and add an interesting ruffled texture and dark red/green colouring. I think it's important to add lots of different foliage colour and texture to a garden space so it doesn't just look like a mass of green, one plant indistinguishable from the next. Unless that's the look you're going for!
Now, behind the well, I put in a couple of Arizona Red Shades Gallardia and a couple of Silver Princess Chrysanthemum Daisy, which haven't flowered yet, but will add a lot to the kind of cottage garden-y vibe I'm trying to achieve in the whole yard. Especially because behind them are a bunch of rudbekia and coneflowers that have been here since we moved in. I do love that classic flower look with the flat petals fanning out from one big, open centre…I love flowers like that!
And just behind the coneflowers is another Sarah Bernhardt Peony, that was also transplanted in from the backyard last fall. I have so many of this variety of peony, but here's the thing. I don't actually like them that much! I got the first one back when I was new to gardening and didn't really know what to get. But when it flowered, the blooms were kind of white-pink and not a bubblegum pink like I thought I was getting, so I went back to the garden centre and they gave me another one. Which was also a light white-pink. So I just gave up. And there's another one that was already in the garden when we bought the house. So it SEEMS like I really like Sarah Bernhardt peonies, but honestly, I just happen to have them and they're living their best life, so I'm just letting them be.
The big mass of green with the purple flowers has also been here since we moved in. It's a type of Hardy Geranium that looks okay, but I do not like how invasive it is. It just grows massive and I believe, unless I'm always pruning them back, they'll just take over everything around them. It also gets kinda floppy after watering or raining. I just feel like I don't need to be settling for things I don't really love, you know? Since taking these photos, I've actually dug out the geraniums and planted some Creeping Phlox and Garden Phlox that I hope will root in well and give a good show next year!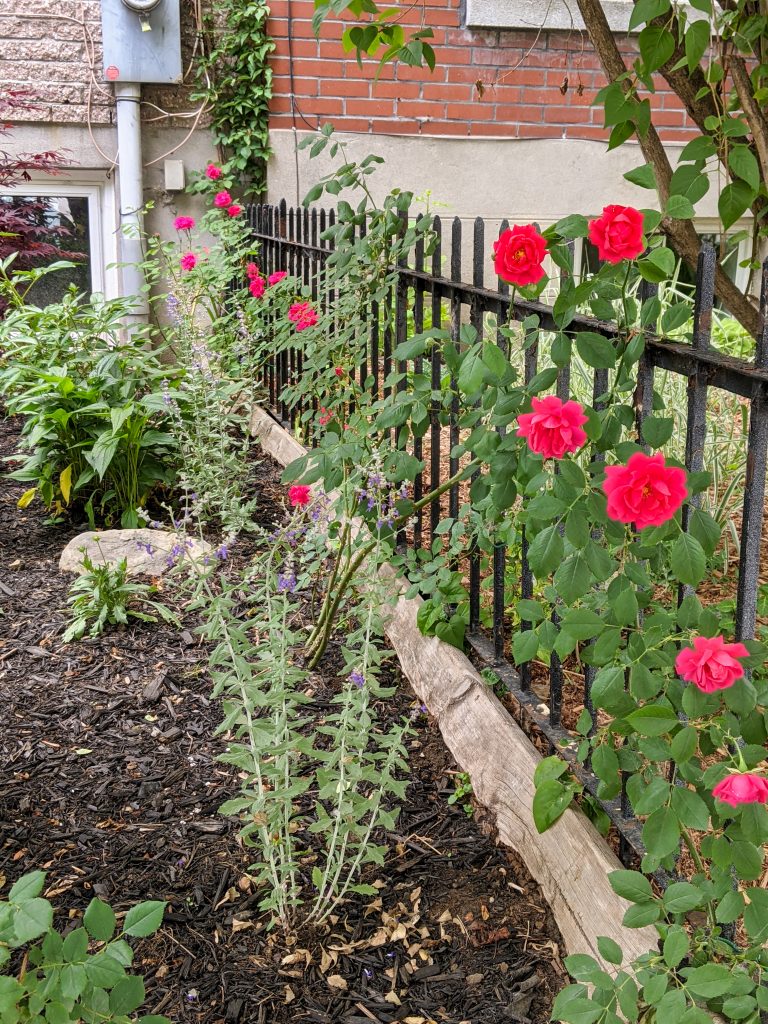 Now all along the fence on the right side, I had transplanted two Improved Blaze Climbing Roses from the backyard this spring and I think they will probably stay permanently in the front yard. I'm so impressed by how well they transplanted, just look at all those blooms! And I also put in a couple of Little Spire Russian Sage along the fence too, one between the two roses and one at the very front of the yard. I love pairing purple/blue with red, I think it's such a beautiful colour combo. Here's an up-close shot of another Russian Sage that I tucked in behind the dianthus. Aren't the spires so delicate and beautiful?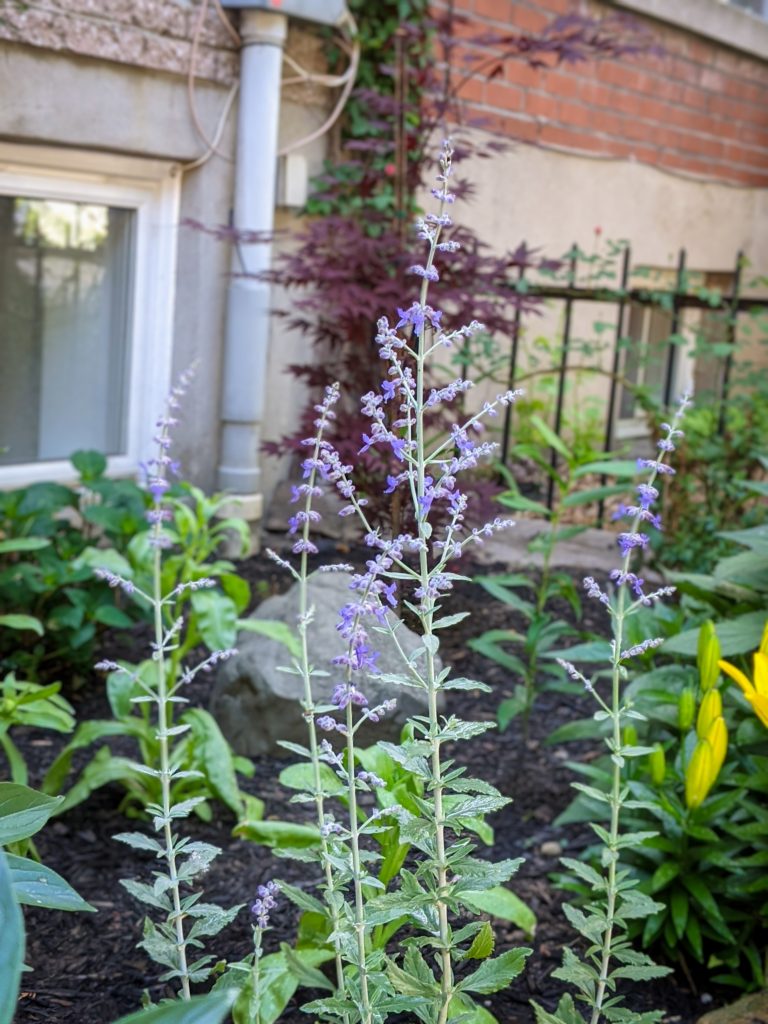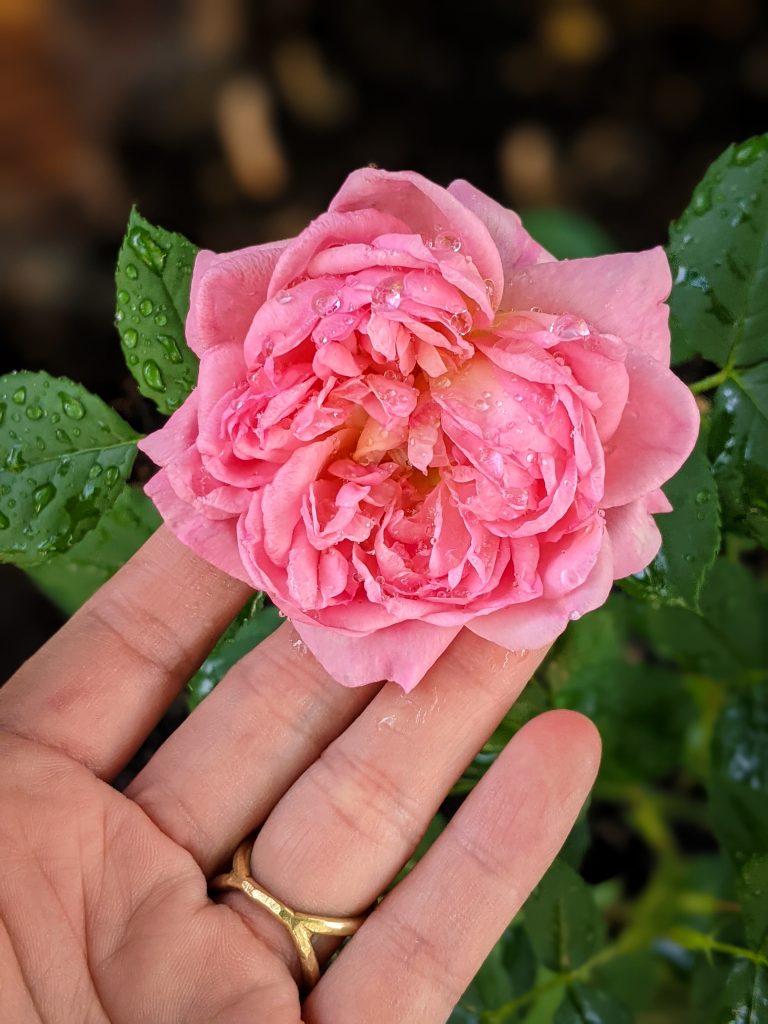 In the very front of the right side of the yard, I planted a Boscobel Rose this spring, which hopefully will be transplanted into the rose garden in the back next year. I have never had a David Austen rose, but if they are all this beautiful, I might have to get some more!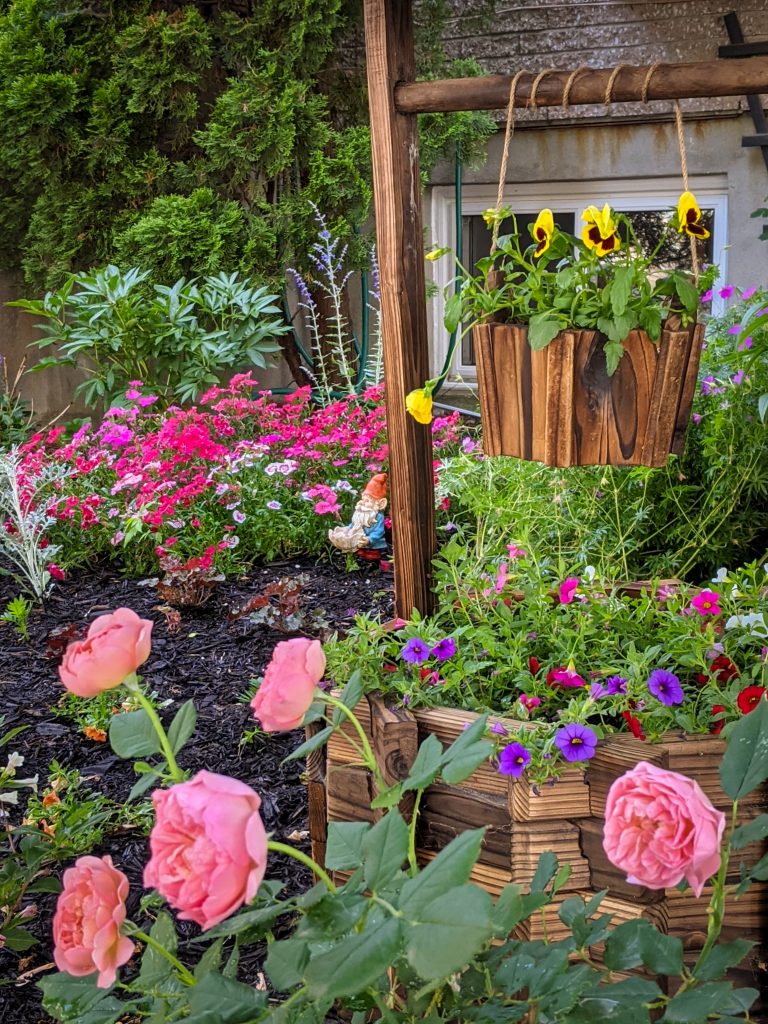 Behind the Boscobel, I added this super cute wooden well that's meant to be a decorative planter. I just love how whimsical and rustic it looks! I planted some white, red, purple and pink calibrachoa in the well part, and I put some yellow pansies in the bucket.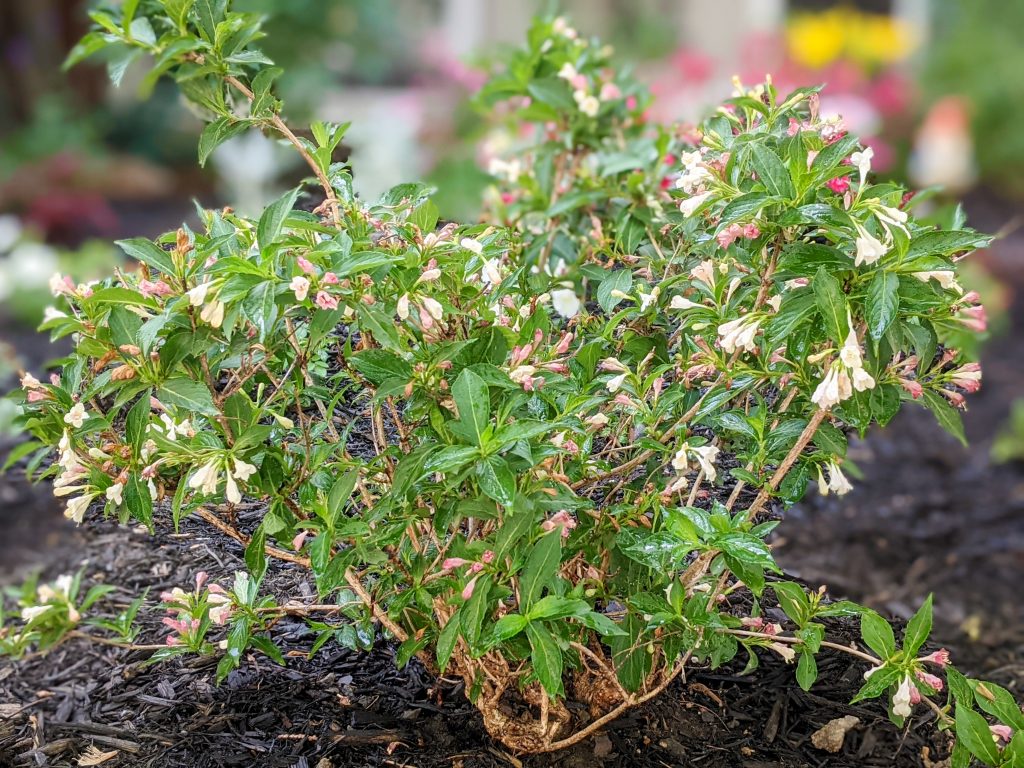 Next to the Boscobel rose to the left, is one of two Sonic Bloom Pearl Weigela bushes that I planted in the backyard last fall and then had to transplant them to the front this spring. I think I'm going to try and create a hedge of weigela all along the front of the garden bed. Unfortunately, I don't think the bushes transplanted well this spring. They seem to be struggling. The blooms are so tiny, much smaller than even at the end of the season last year, and our recent heat waves literally fried half of them. I'm hoping they'll bounce back next year after re-establishing a good root system!
In between the two weigelas, I transplanted an OSO Easy Double Red Rose which I've had for three or four seasons in the backyard. And it is not doing great! The leaves are quite small, some of the branches don't have any leaves or buds at all, and it doesn't have many flowers. I really should have pruned it way back when I transplanted it, but I'm hoping it's just working hard on re-eastablishing a good root system, and will come back strong next year. But who knows what'll happen? I have to transplant it again, back to the backyard, and it's hard to move established roses once, let along twice. Fingers crossed!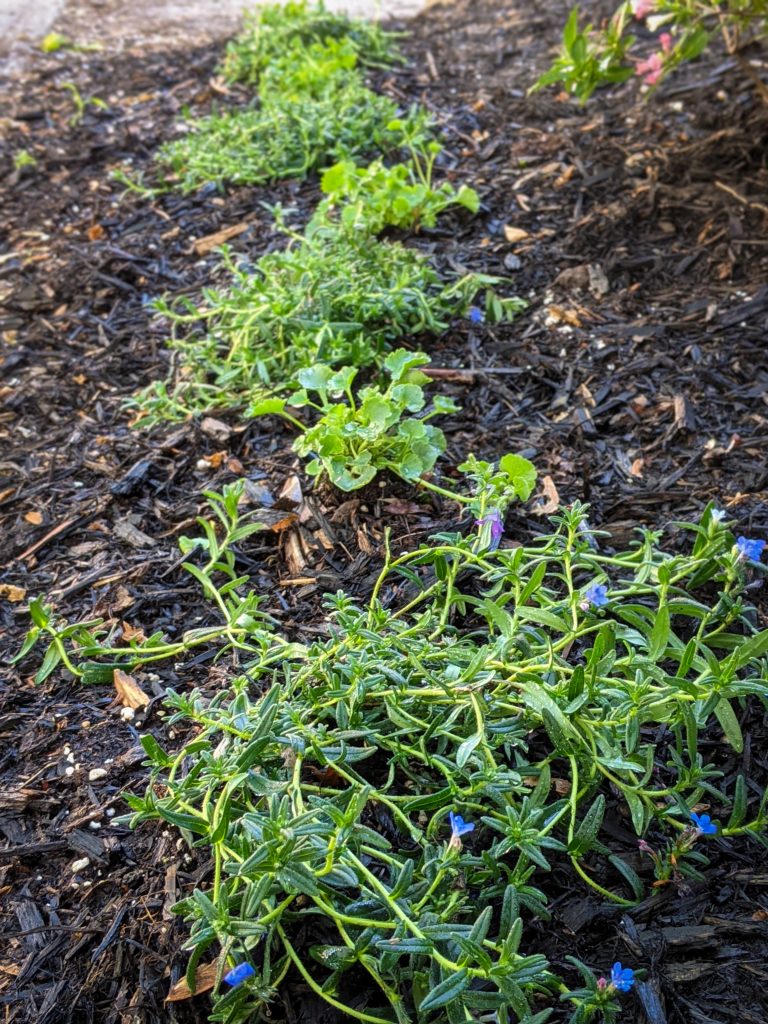 And finally, I planted a whole long, alternating row of campanulas and Grace Ward Lithodoras all across the very front of the flower bed. I really wanted a kind of low-growing, mounding/ground cover type of flower to fill out the front just in front of all the rose bushes and the weigelas, and I had my heart set on some creeping phlox in a light bluish colour. But I could not find that anywhere for the life of me! So just to have something there this year, I planted some purple campanulas and this blue lithodora. I might end up liking this better, who knows? If they can manage to get full of blooms ('cause again, we are dealing with just lots of dappled light in the front), I think the effect of the two colours together could be striking!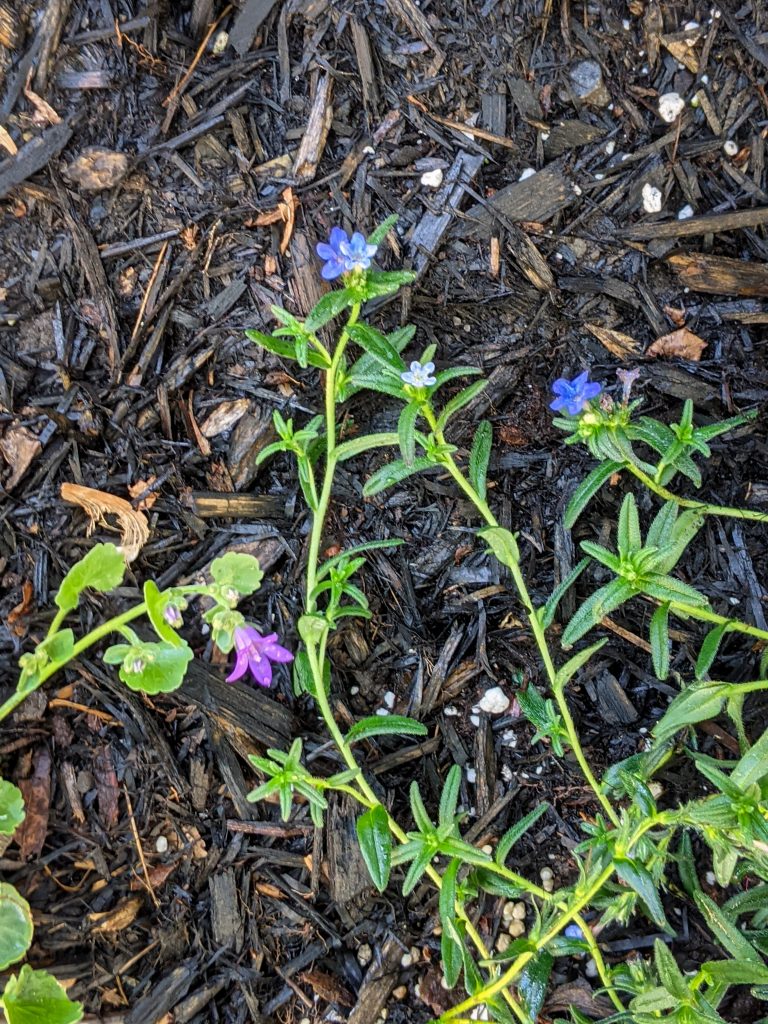 Here's another look at the whole garden bed from the front! I did transplant another rose bush from the backyard, if you recall my last post. I've never known what kind of rose it was, but I think it was a Champlain rose. Well, it didn't make it, so I just took it out. It happens! I'll just have to get more roses next year…
And 'cause I'm apparently just so crazy about roses, there is an America climbing rose at the very back, up against the house on a trellis. It is not doing great, I think because there's not a lot of sun back there, but I do see one flower bud, so all is not lost!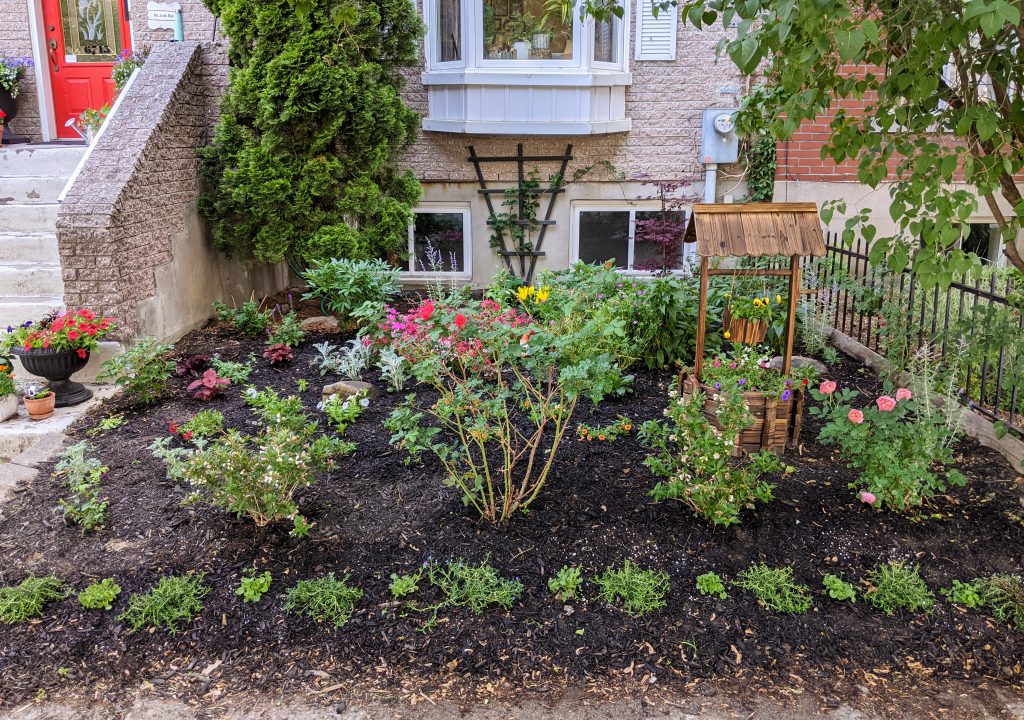 And just quickly, I'll go through the little garden bed on the other side of our front stairs and the containers I have this year.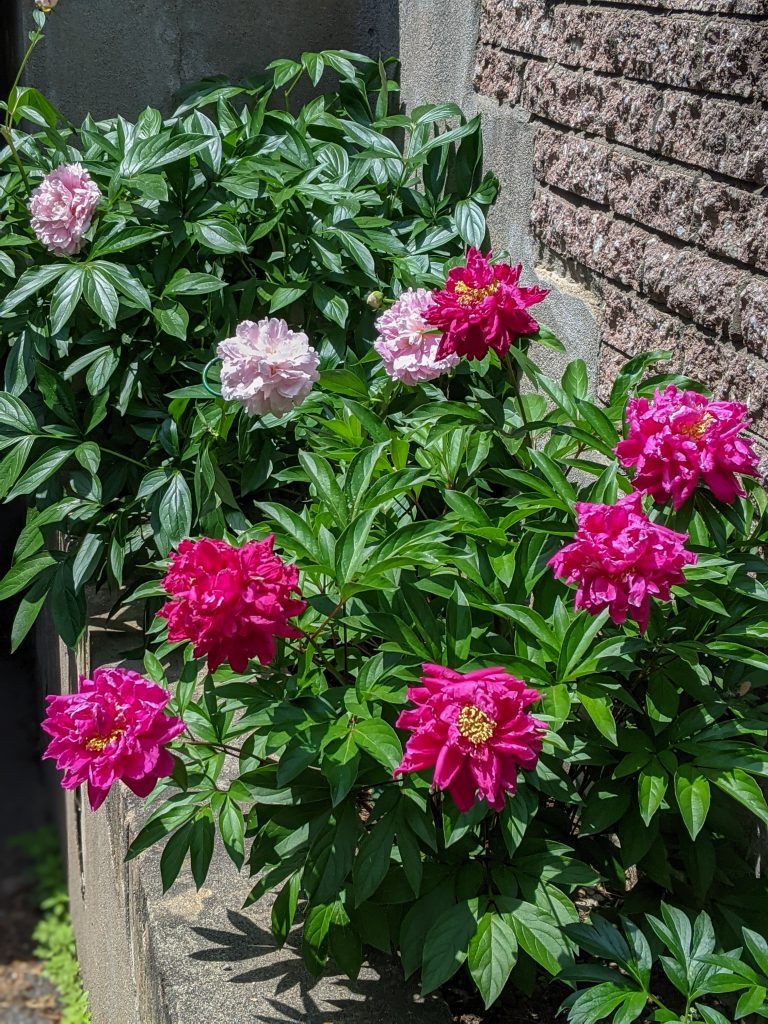 Here's the huge Sarah Bernhardt Peony that's been here since we moved in! In the actual bubblegum pink colour I was expecting of those other two. And in front of that is Karl Rosenfield Peony that was transplanted from the backyard last fall and like I said, nothing seems to ever bother the peonies! They just bounce back no matter how often I transplant them and no matter where I transplant them to. I just wish peonies lasted longer or rebloomed.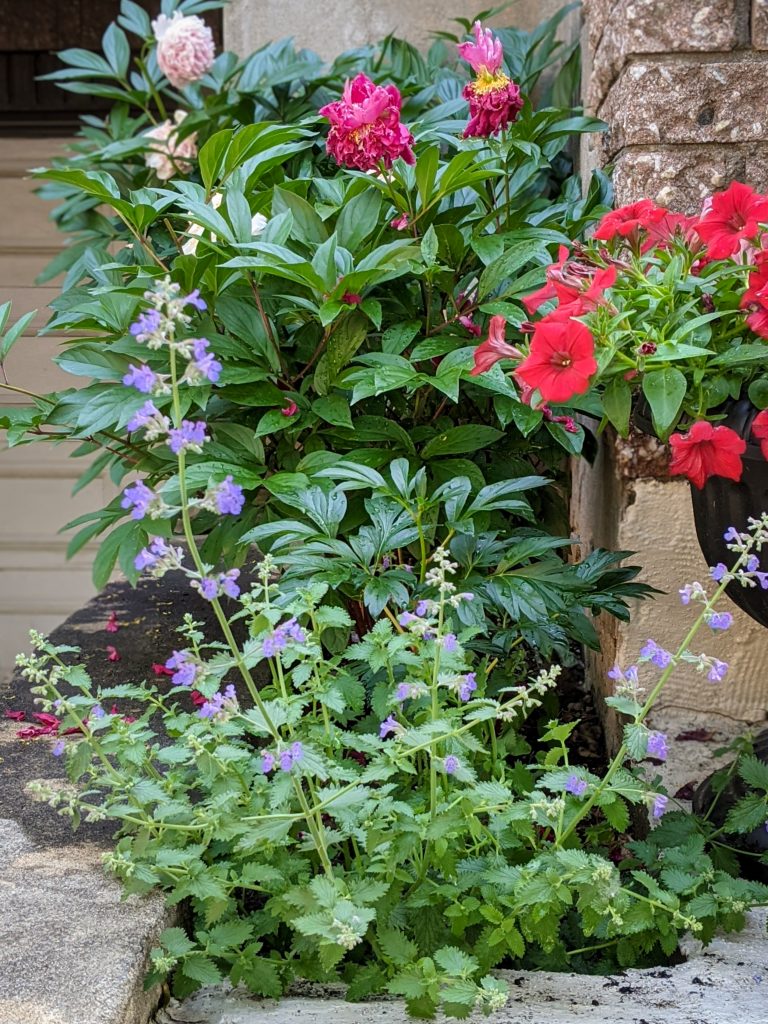 In front of the peony bushes, I put a Dropmore Nepeta that is just thriving! I've never had nepeta in my garden, but I think it'll definitely become a staple.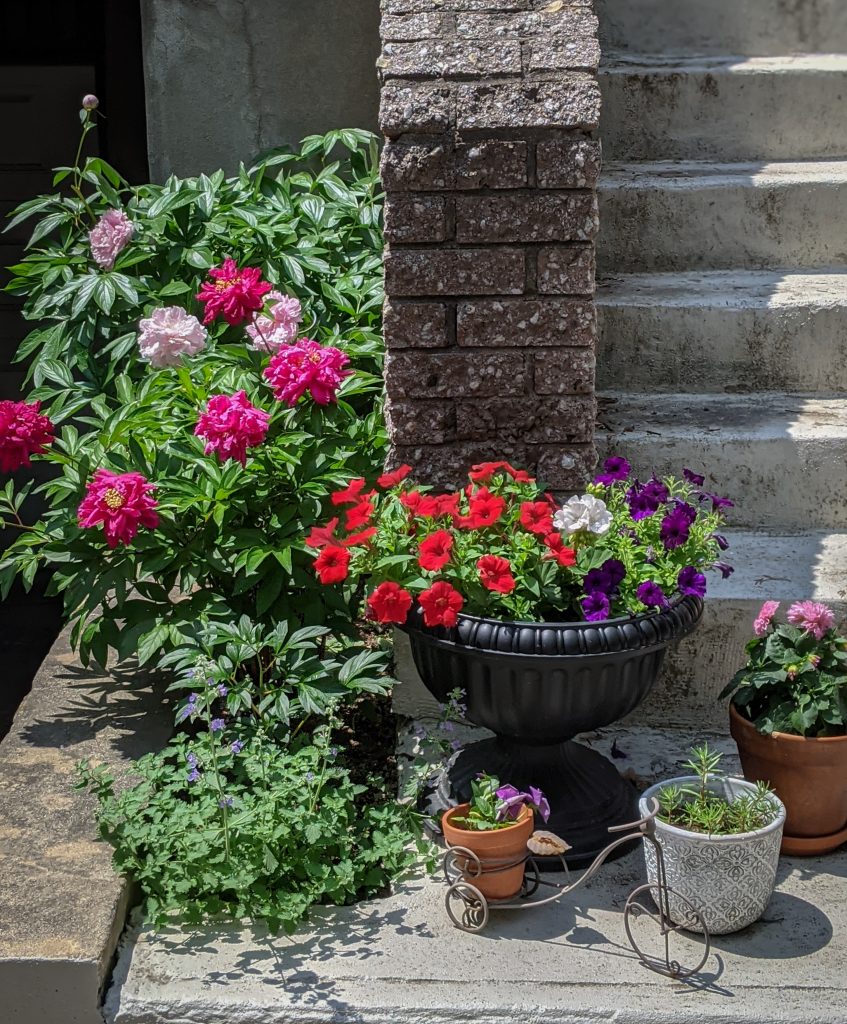 And in the containers at the bottom of the stairs, I have them mirroring each other with a combo of red and purple petunias (I can't remember the varieties), with a white geranium in the middle. In the smaller containers I have a pink dwarf dahlia on either side and some Tanzanite Mix Pansies that I grew from seed. On the left, I also have a container of Portulaca that haven't bloomed yet, and on the right, I have a container of marigolds I grew from seed.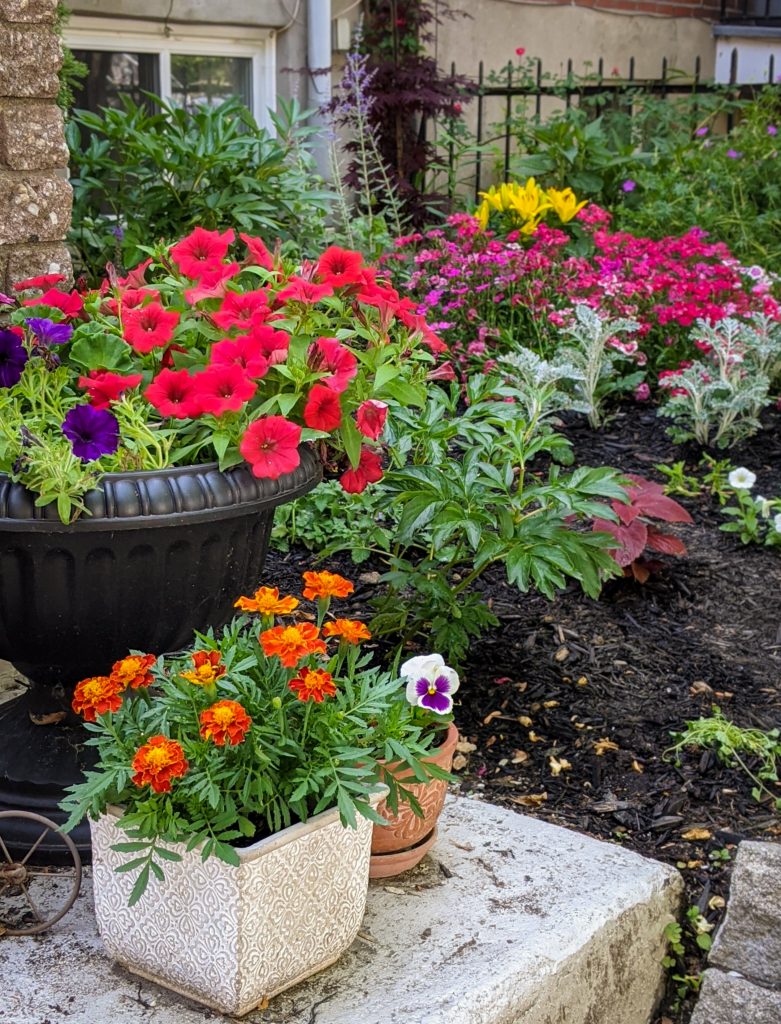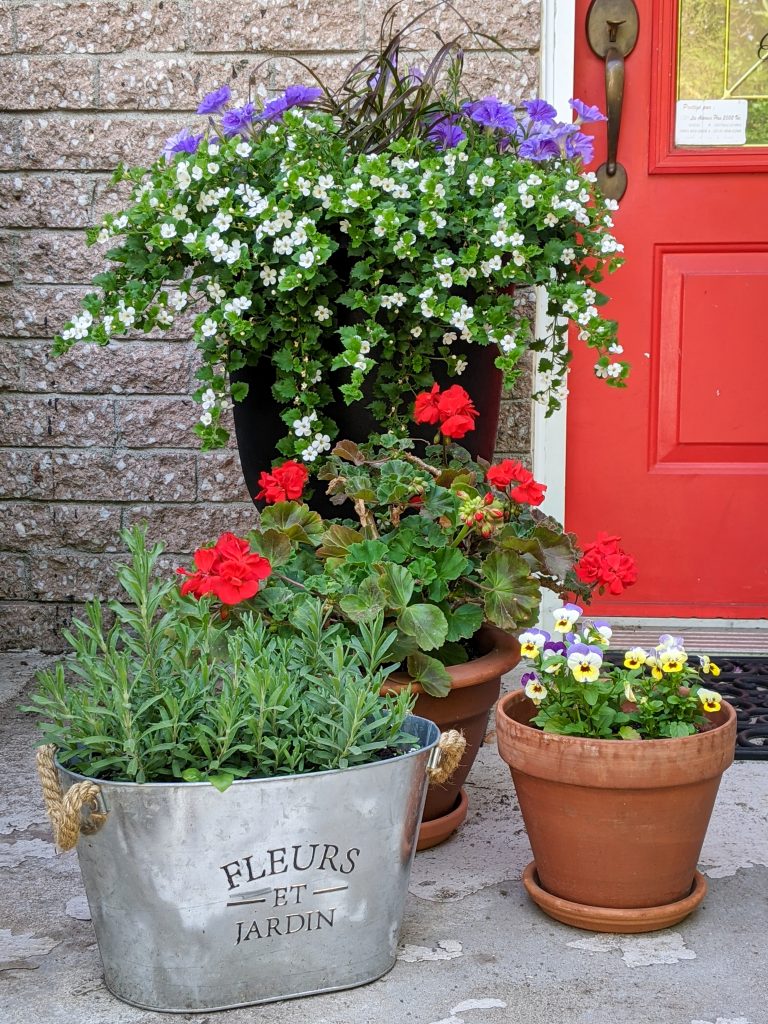 And finally by the front door in the large containers, I have some Surfina Sky Blue Petunias lining the outside of the container, with white bacopa draped down the front, and an ornamental grass as the centrepiece. I can't remember what kind of grass it is, but I think it might be a Fountain Grass. Underneath, the smaller containers mirror each other with a pot of geraniums, a pot of lavender, and a pot of Johnny Jump Up Violas. I also have an extra container on the right of Rumba Nasturtiums.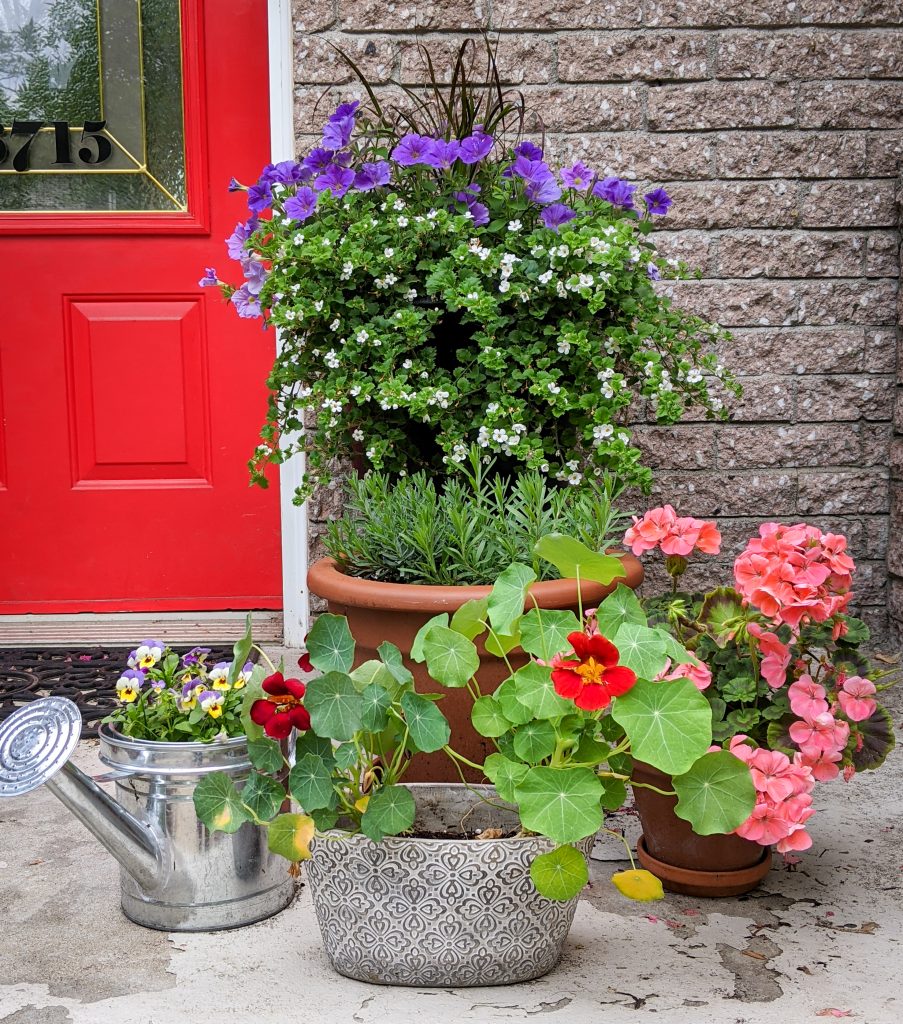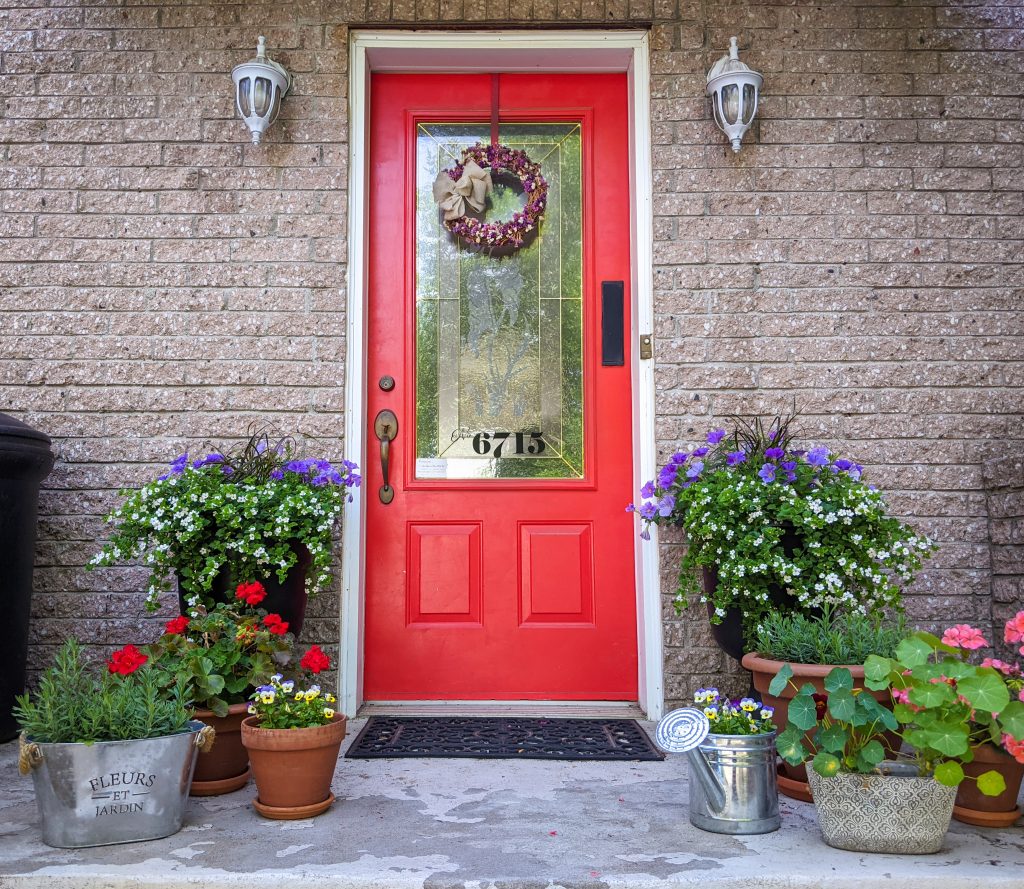 Phew! That was about as long as I imagined it would be. If you have any questions or suggestions about anything I showed, please drop a comment below! I am still learning and this is the first year or really gardening in the front of the house, because I mostly just let it be the way it was for the past five years. And boy, am I glad I tackled this area this year. The difference it makes is just incredible!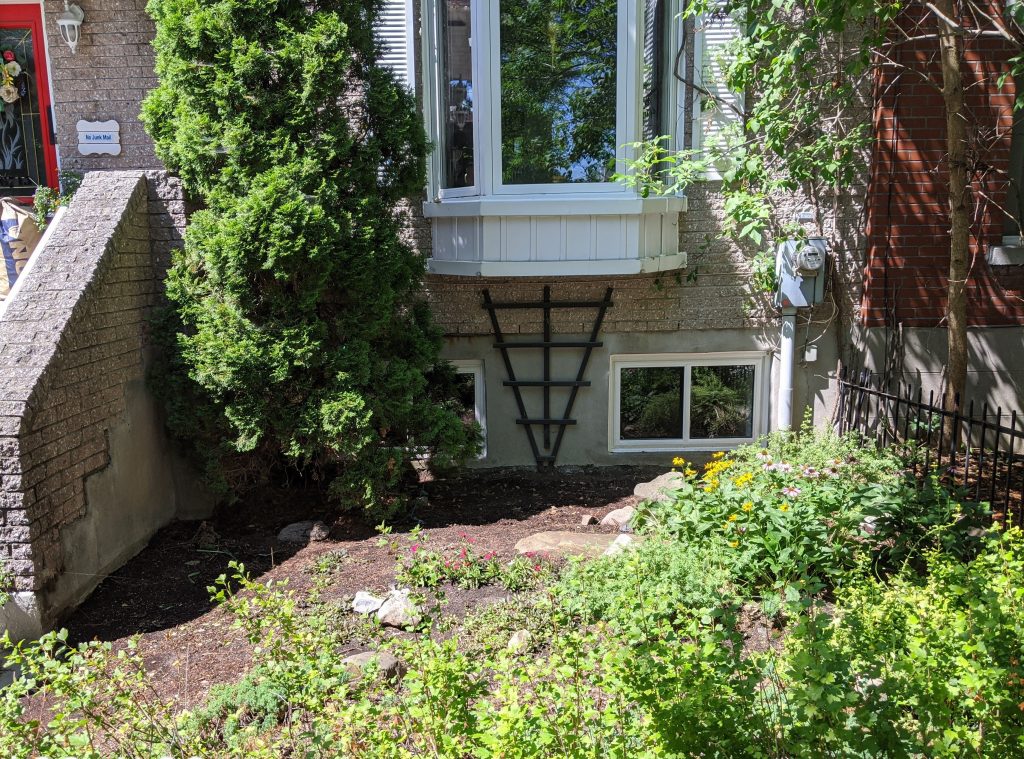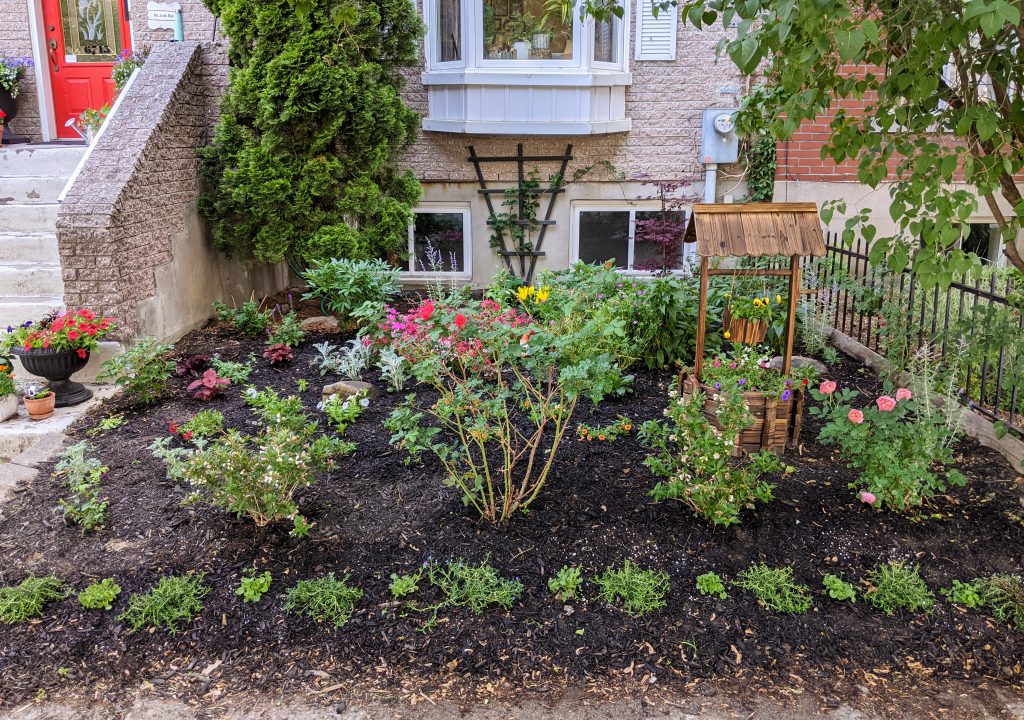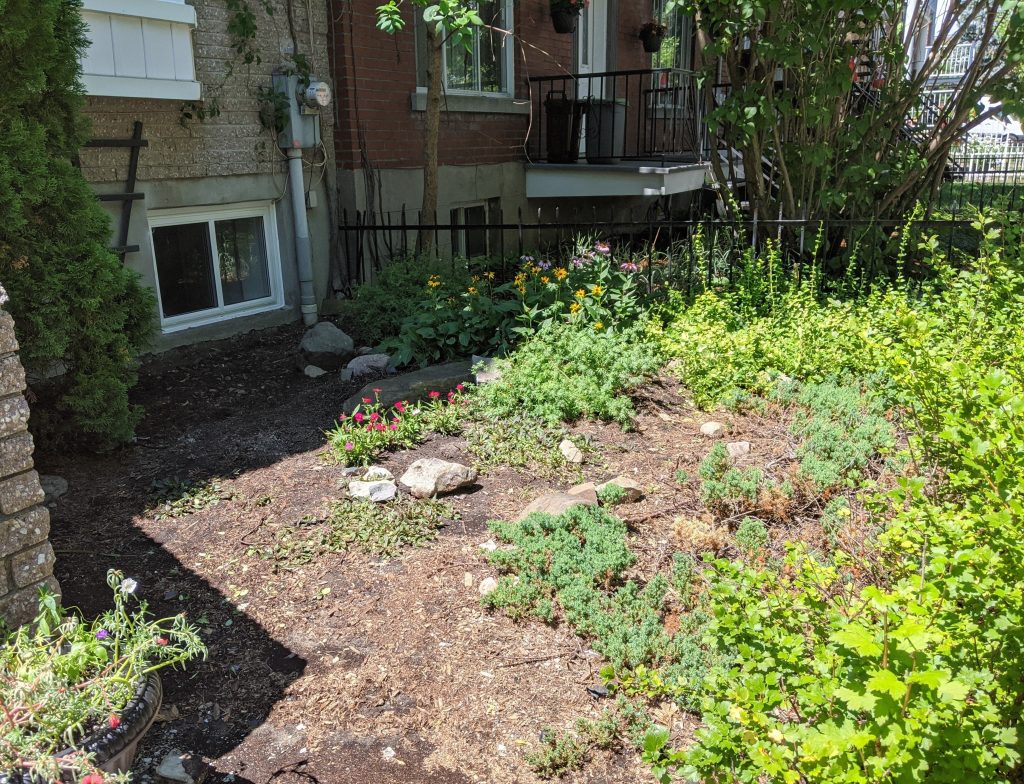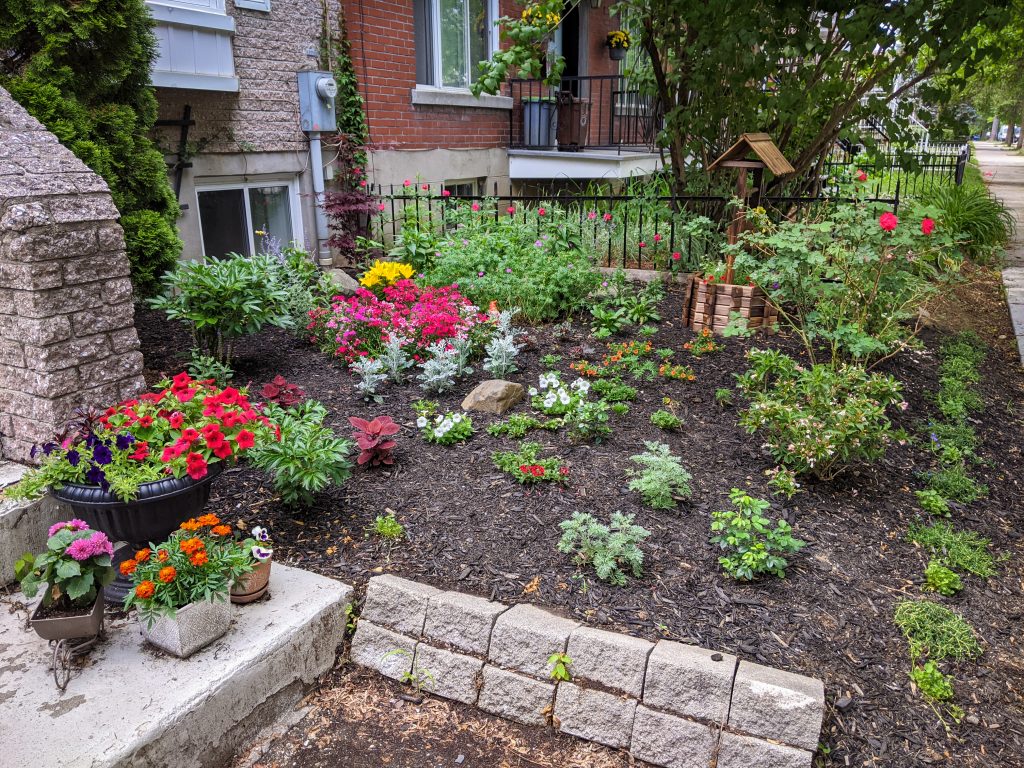 By all accounts, we do not have a huge front yard. We certainly have the smallest lot of all the houses on our block. But I was surprised how much beautiful stuff I could cram in there! And this is not nearly full enough to my liking! I will definitely be putting more pretty things in here for years to come. So if you have an even smaller space to work with, imagine all the fun things you could do with it.
Happy gardening everyone!
xoxo