For those of you who don't know, I work at home. I'm lucky enough to have a room in our house that is just mine, to use for work, painting, crafting, sewing and all my many DIY adventures. But it has been in a sad, sad state for the past two years, basically since we've moved in.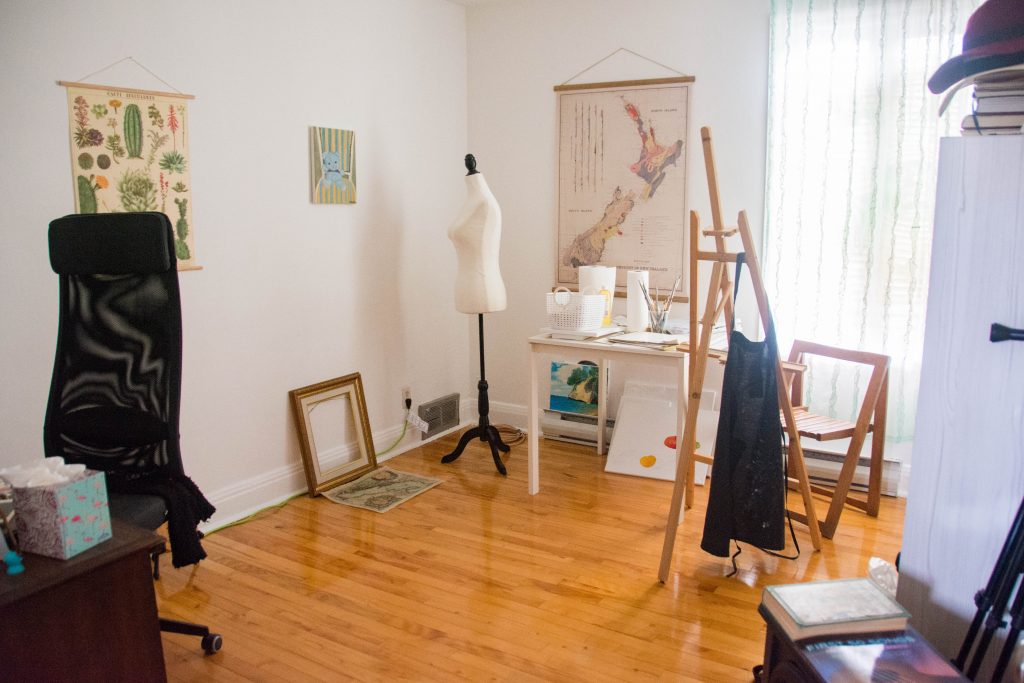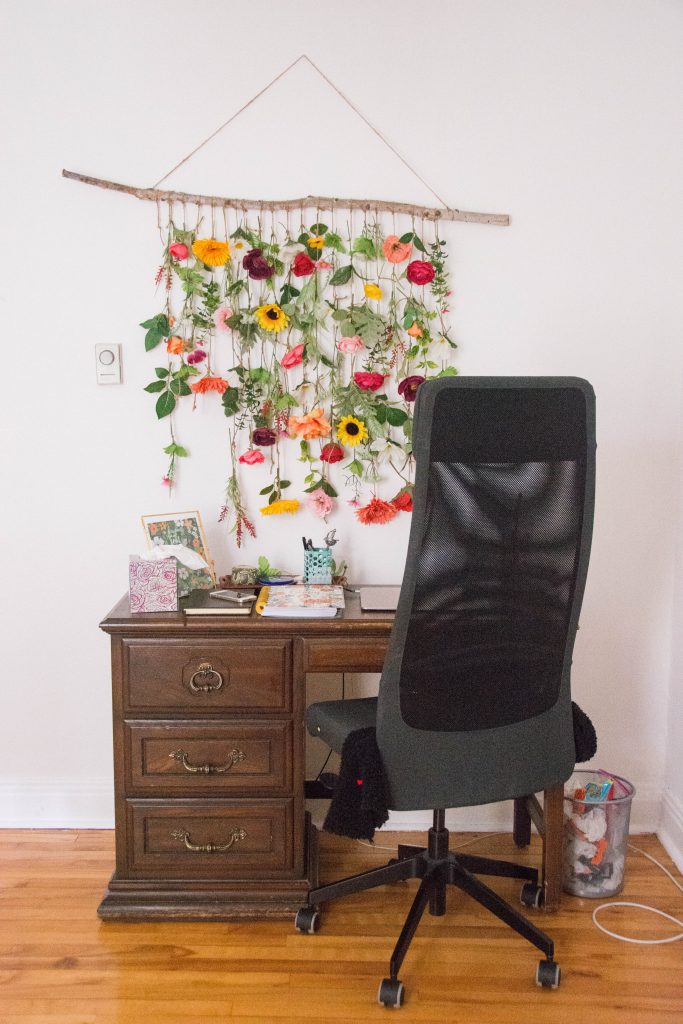 Last year, I finally tackled organizing my closet (full post is here), but I still put off doing anything about the room itself until very recently. I think it was a combination of not knowing what to do with the space, considering I use it for many purposes, and trying to be patient in terms of waiting for the "right" pieces to come along at a time when I can invest in more furniture.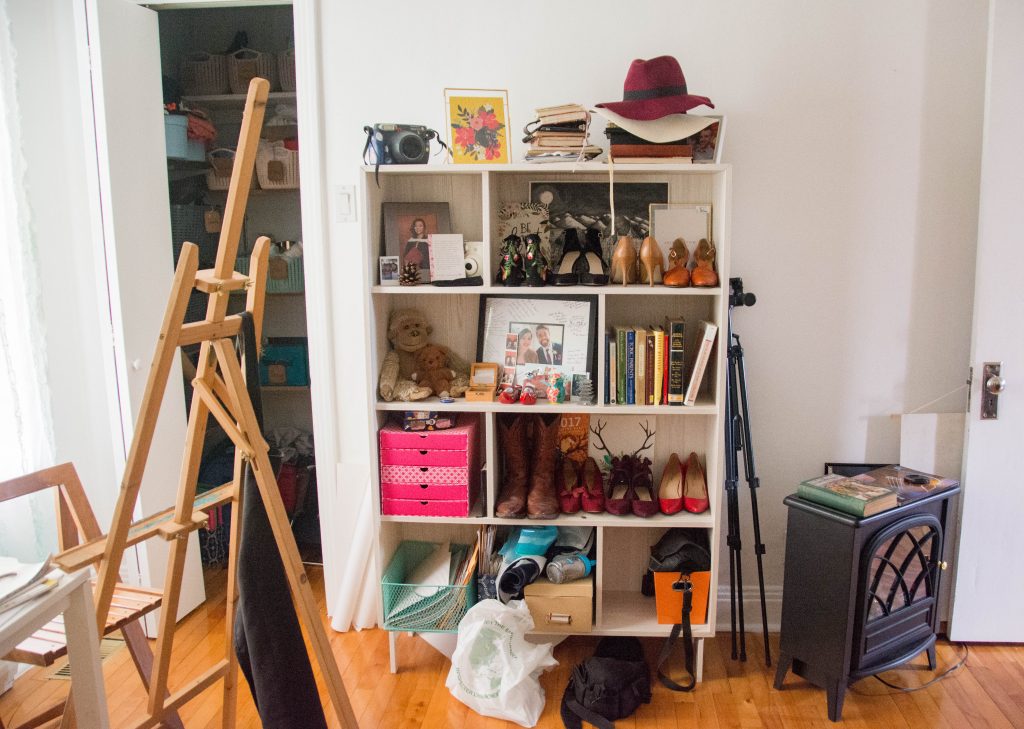 I need my office to wear a lot of hats. I paint in it, so I need a dedicated area for my art supplies, easel and chair, preferably by the window because I like using natural light. I need to be able to sew, measure, build and take photos of my projects for the blog (which I mostly use the floor for) so I need a clear, open floor space. And obviously, I need tons of storage, to keep all my books, journals, photos, musical instruments and mementos organized and nicely displayed. I keep most of my DIY supplies in the closet, but turns out, I have a lot of random crap regardless!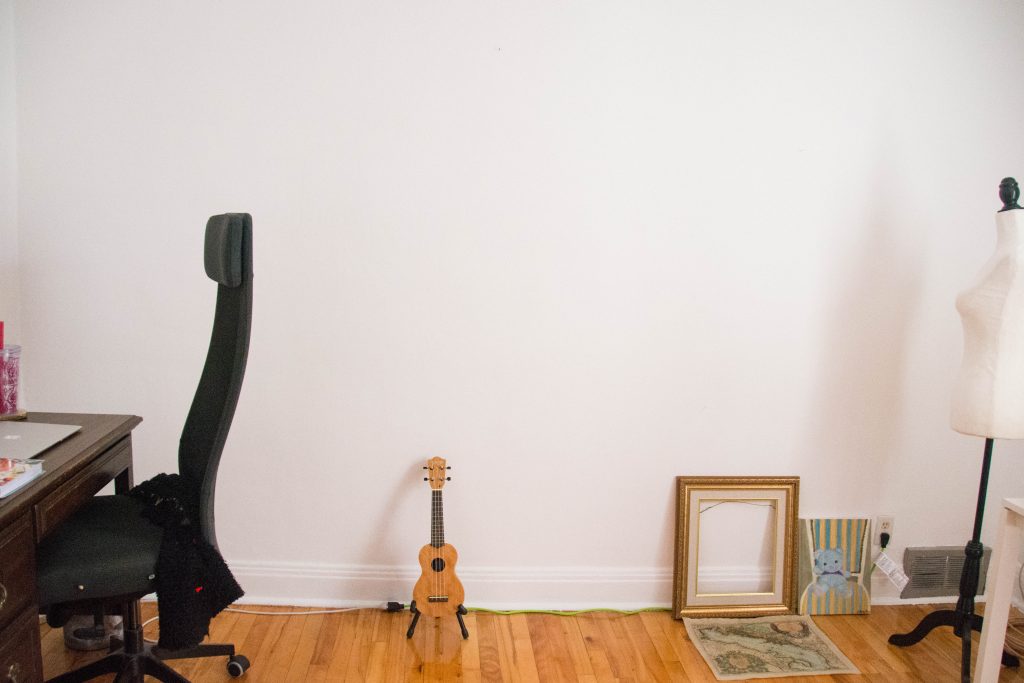 Another thing is, I've always wanted a cozy kind of sitting area in the room, for those times when I just want to curl up with a book or just sit somewhere else with my laptop that's not at my desk all day long. And I just wanted to update some of my dingy furniture. I mean, I spend all day in here, I just wanted a cuter set up. So sue me!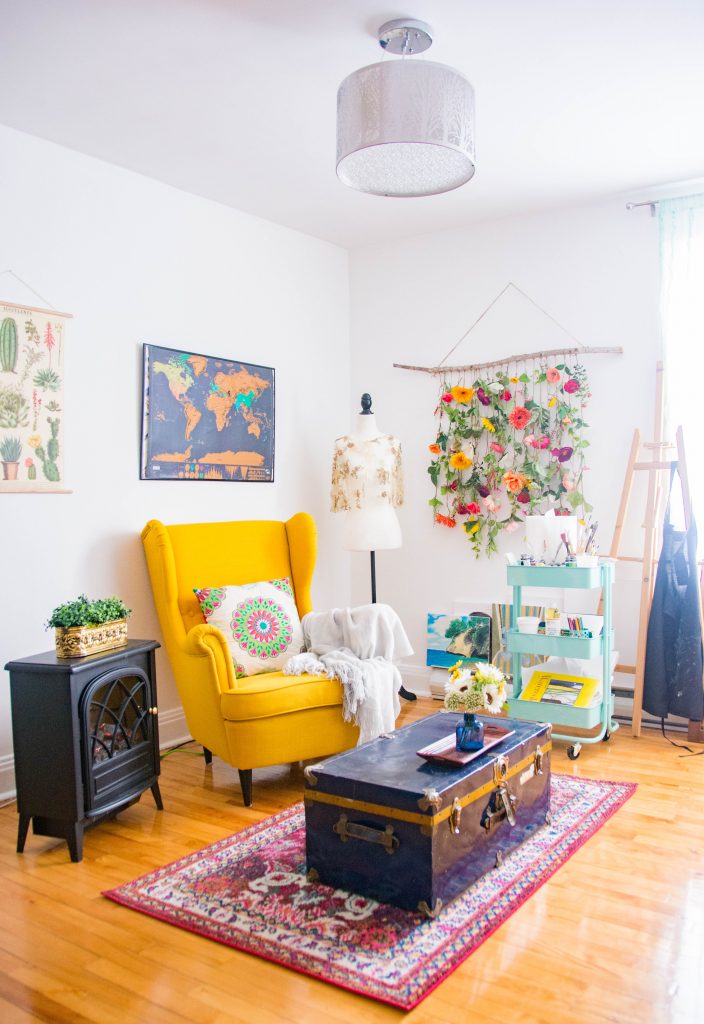 So I started tackling the office remodel just before the new year! All in all, it hasn't been too drastic of a transformation. I had only a few goals. I wanted it to be more chic and organized, make better use of the space and surfaces I had, and keep the budget as low as possible. Consequently, even though I don't really like my office chair or bookshelf, I decided not to get new ones, although I had considered it. But sometimes you gotta prioritize other things and maybe someday in the future, I will be able to invest in nicer pieces.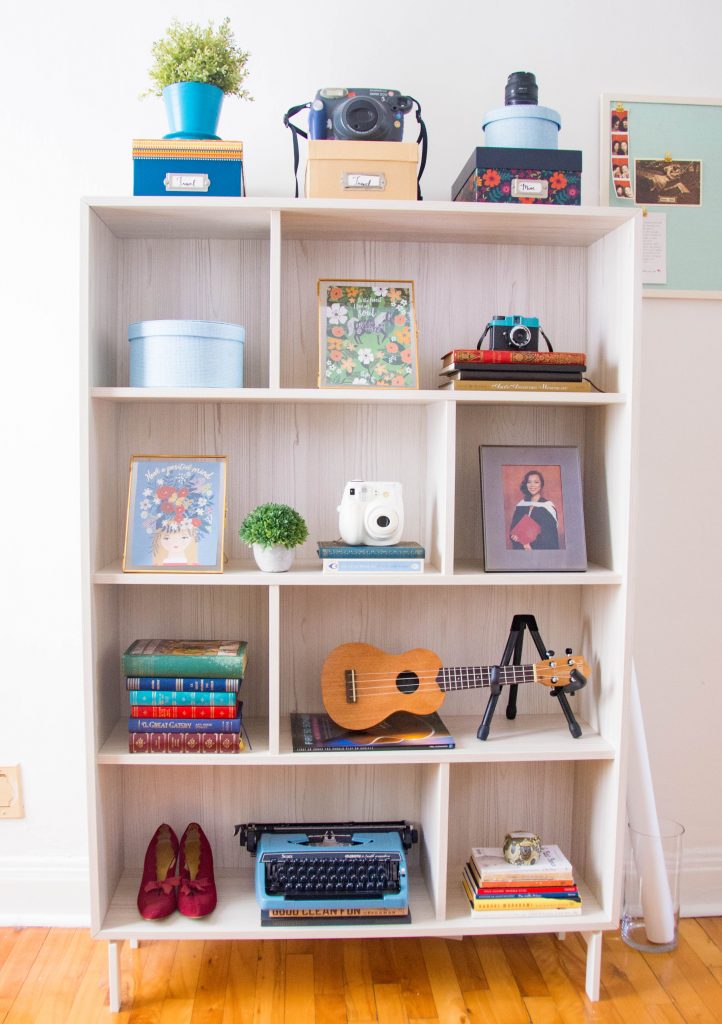 I went through all the crap on my shelving unit, got rid of things I didn't need to keep there, got some more storage boxes, put my shoes in the closet and restyled the piece to be more of a display shelf, rather than simply for storage. I also got rid of the little white table I was trying to use as a storage surface for my art supplies and got a utility cart which is way more efficient in terms of storage and organization, and takes up less than half the space.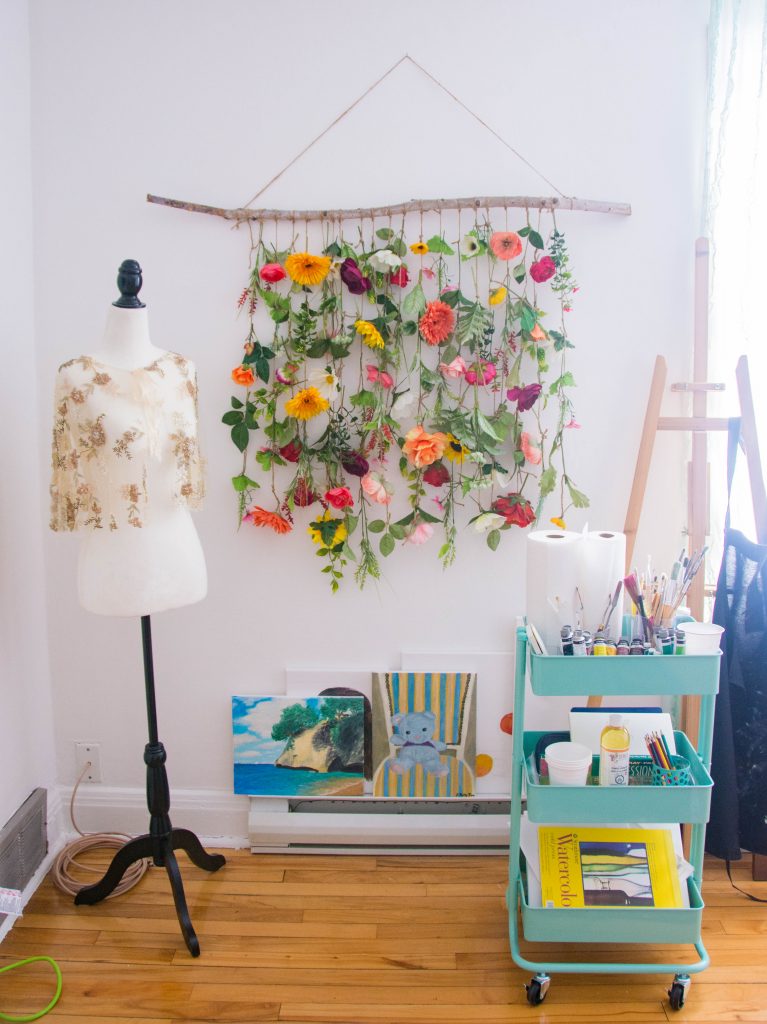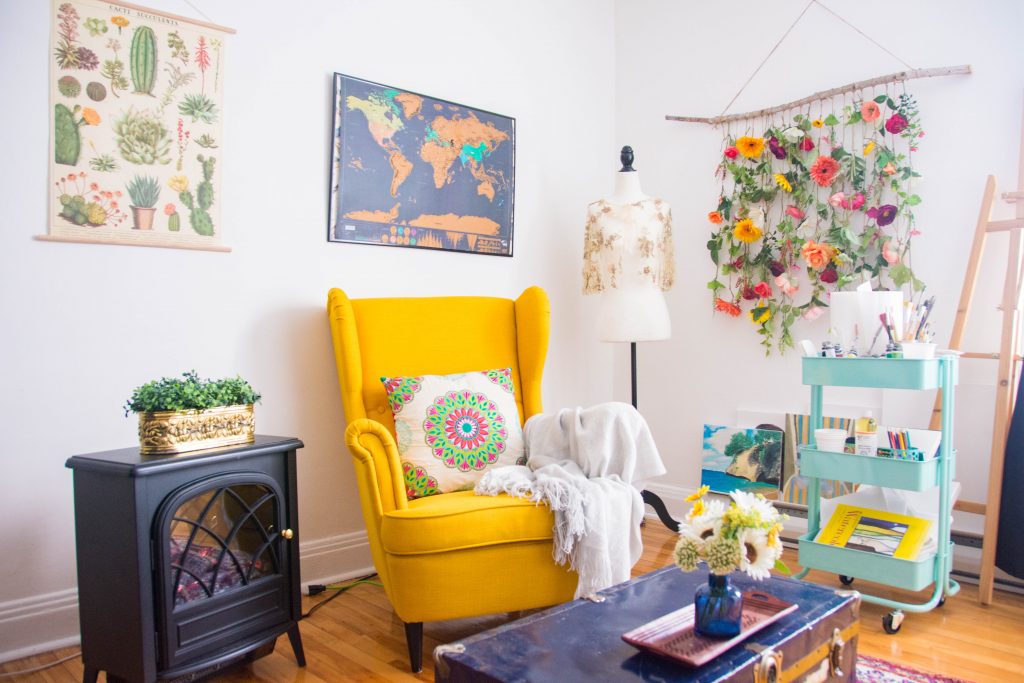 The biggest change is that I finally filled up the empty side of my office opposite the shelving unit with a little seating area, complete with a comfy armchair, little coffee table and teeny, tiny area rug. And even though I kind of hate the look of my super ugly office chair that doesn't go with anything else in the room, I decided not to get another one. I have very specific ergonomic chair needs and the cute ones (that are affordable) just don't make the cut. I settled for just draping a little velvet, fringey shawl over the back of it to kind of beautify the ol' eyesore. Sorry chair, no hard feelings…you treat my back right, but you ugly!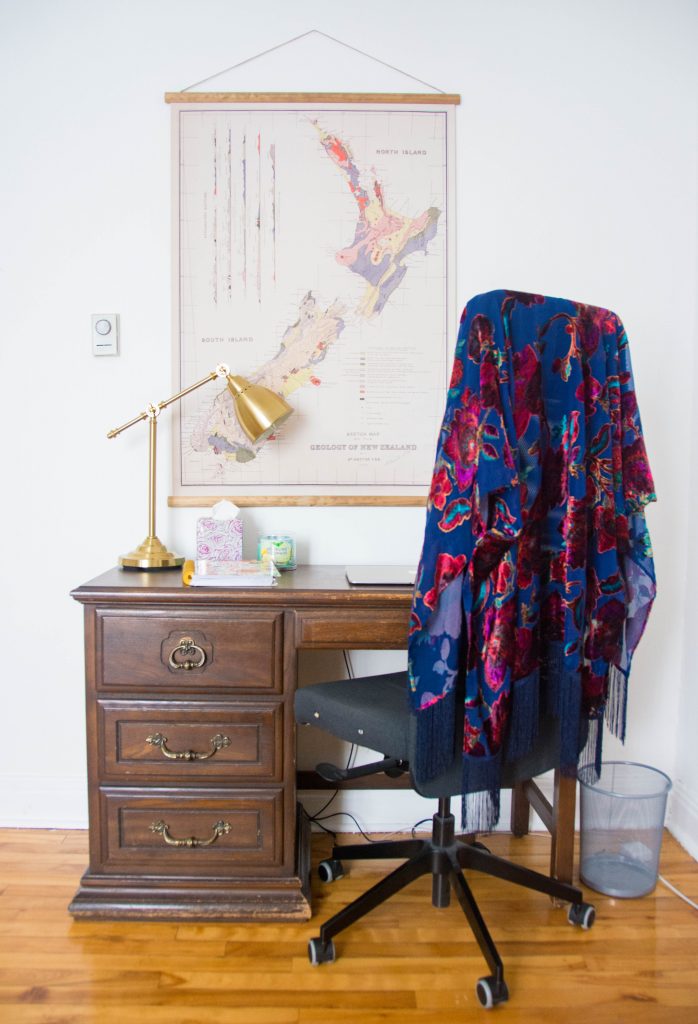 I definitely wanted to keep my vintage desk, though, and I just kind of cleaned up the drawers so that I could put more stuff in them instead of taking up room on the desk surface. And finally, I finished off my work area with a brass desk lamp in a similar retro style to match the desk.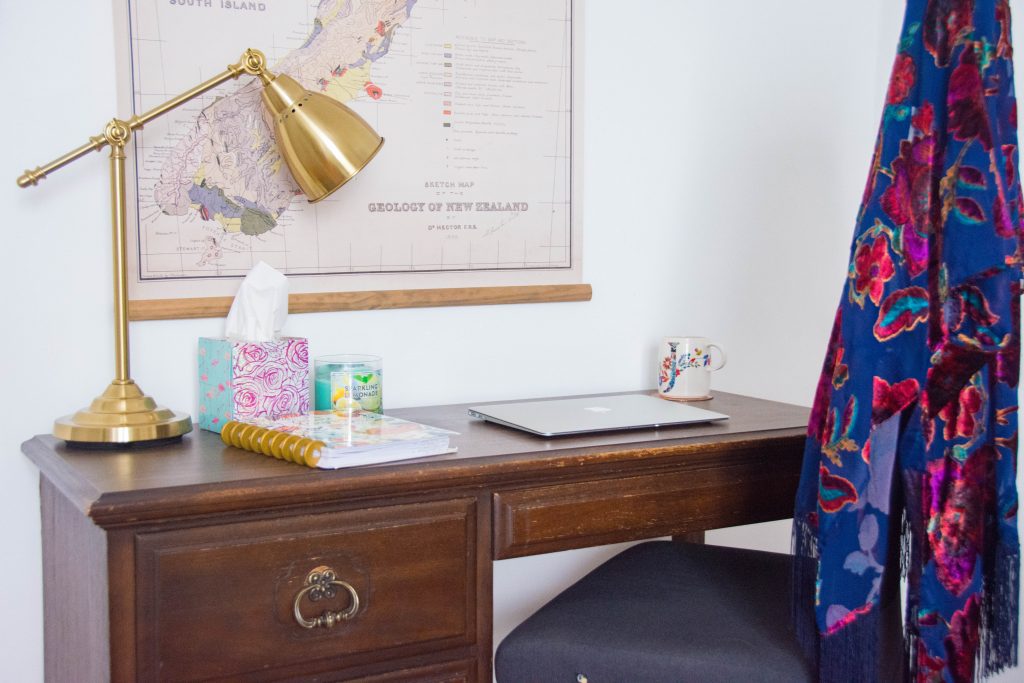 bookshelf – Ikea (discontinued)
utility cart – Michaels
easel, light fixture – can't remember
flower wall hanging – DIY
curtain – Urban Outfitters (old)
rug – Wayfair
trunk, wooden chair, desk – thrifted
armchair – Ikea
desk chair – Ikea
desk lamp – Ikea
space heater – Amazon
dress form – Amazon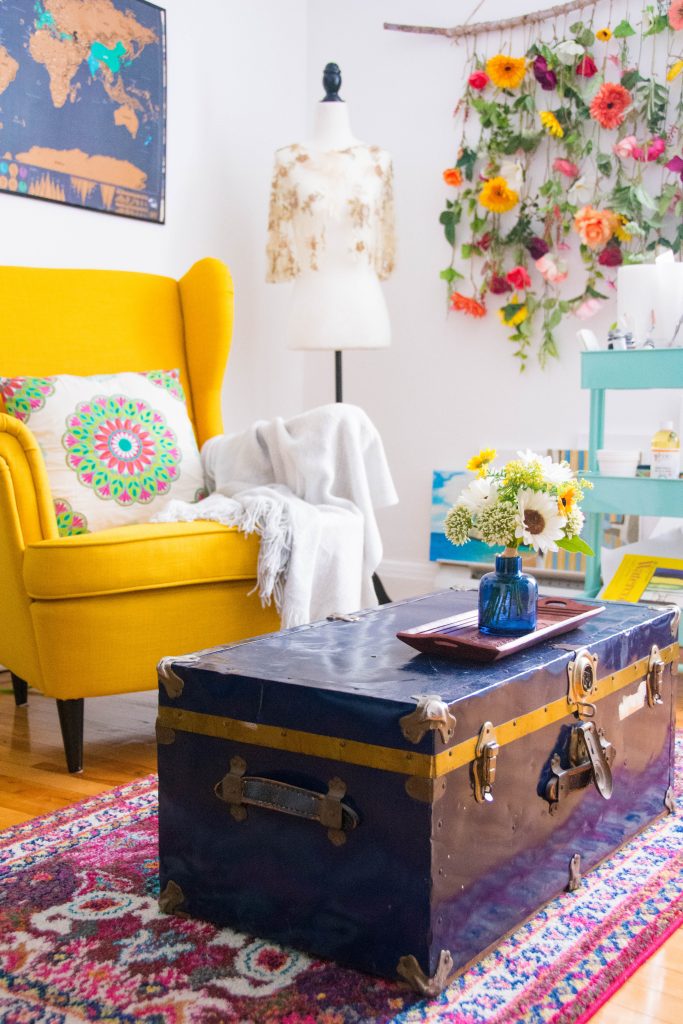 So, what do you think of my office remodel? This is definitely not the "final finished project." More of a simple upgrade/in-between stage that didn't break the bank, but made the space a whole lot cuter and more functional.
xoxo