When last we left off with the kitchen makeover, I had painted the backsplash, stained the cabinets, replaced all the hardware and light fixtures, sewn my own curtains and refinished our little island. All these little DIY adventures have been linked for your reading pleasure.
BEFORE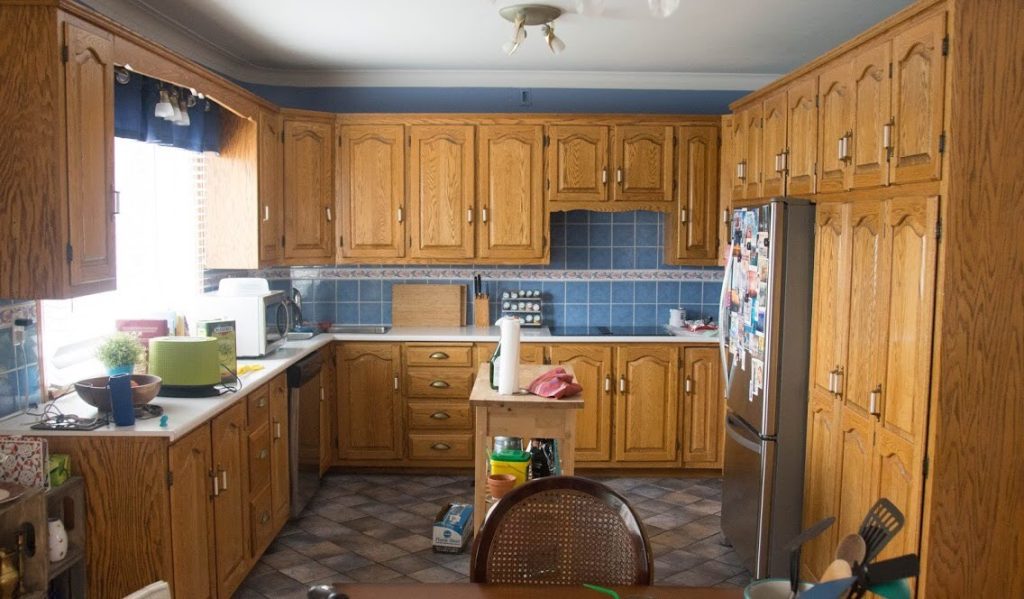 AFTER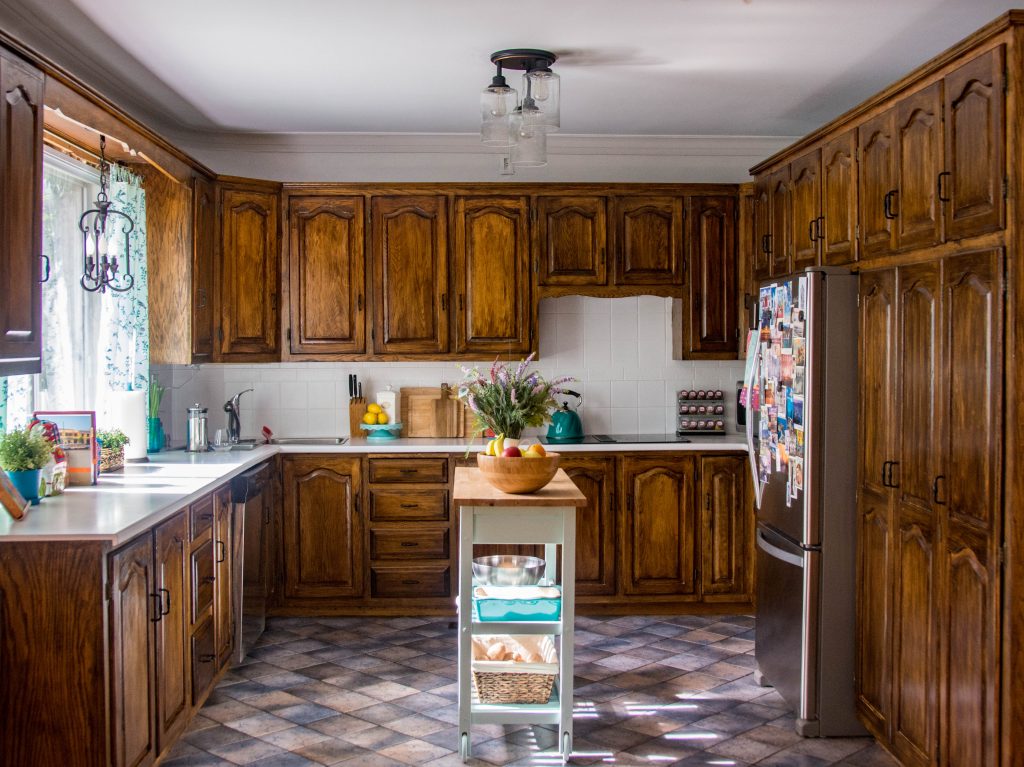 Not bad for a DIYer, if I do say so myself!
But when it comes to the kitchen counter, I knew we had to get professionals in to help. I feel like a counter is not something you wanna cheap out on, in terms of materials and installation. It's your main kitchen work surface. You use it every single day. And it goes through so much! Food prep, knives, kitchen gadgets, water…it has to withstand it all.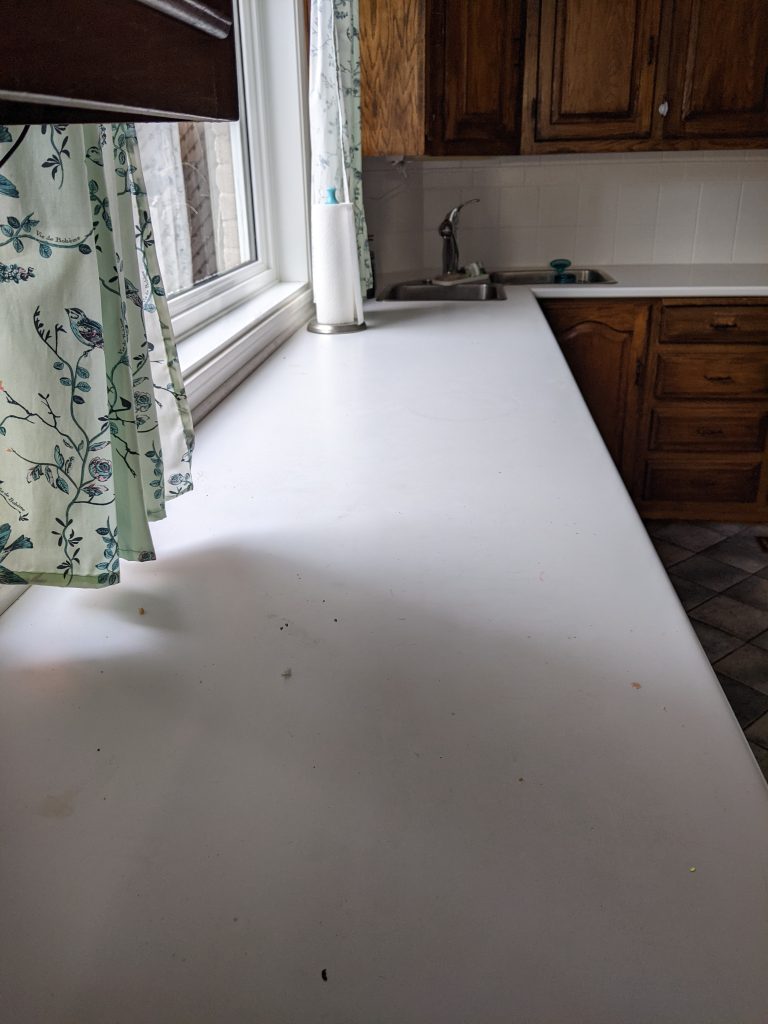 As you can see, our kitchen had a pretty dinged up laminate countertop that, from far away, didn't look too bad. I actually agreed with the aesthetic decision to keep the countertop simple and white. It's obvious that the main focal point of the room is the custom oak cabinets, and a patterned or colourful countertop would just compete with all the rich tones and textures of the wood.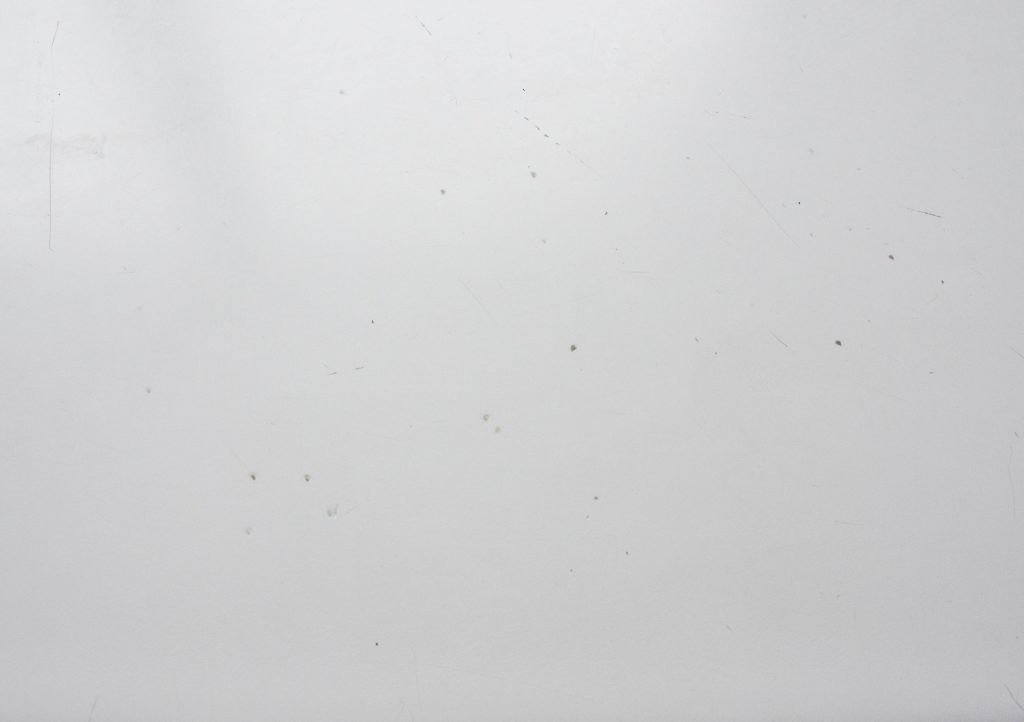 If the previous owners of the house had just picked a more durable/attractive material, I probably would've just left it as it was, but this laminate countertop had seen better days! So many knicks and burn marks…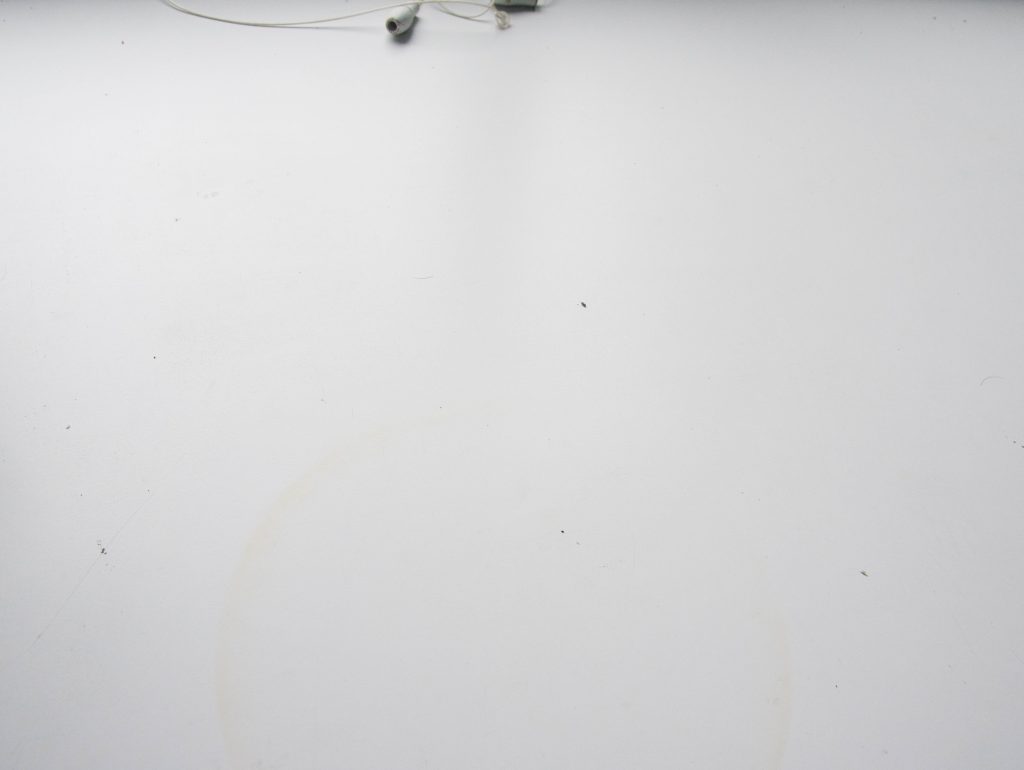 Most of 2021 had been consumed by thoughts and planning of exterior renovations, but as autumn was approaching and construction season was drawing to a close, I decided to turn my attention to the indoors. I know you're never truly "done" fixing up a house, but the countertop really felt like the last big piece that was missing from the many improvements we've already made to the interior of our home. So I set to work designing!
Picking A Countertop
In terms of material, I was mainly interested in quartz or Dekton. My main concern was functionality and durability. I absolutely did not want an expensive-looking countertop! Especially since the style of the kitchen is somewhat vintage French farmhouse, I don't think glam/fancy would really go with that aesthetic. And I can't imagine a more practical household item besides a kitchen countertop. Maybe a toilet.
Don't get me wrong. When we were looking at designs and countertops, I was really digging the bold designs and interesting colours (I saw a black marble with gold veining that I still think about sometimes…) Just not for our kitchen! I just knew we had to stick with a simple, all white or white with subtle speckles look.
And as it turns out, Dekton is quite expensive, so we ended up going with a quartz with some very fine, grey speckles throughout.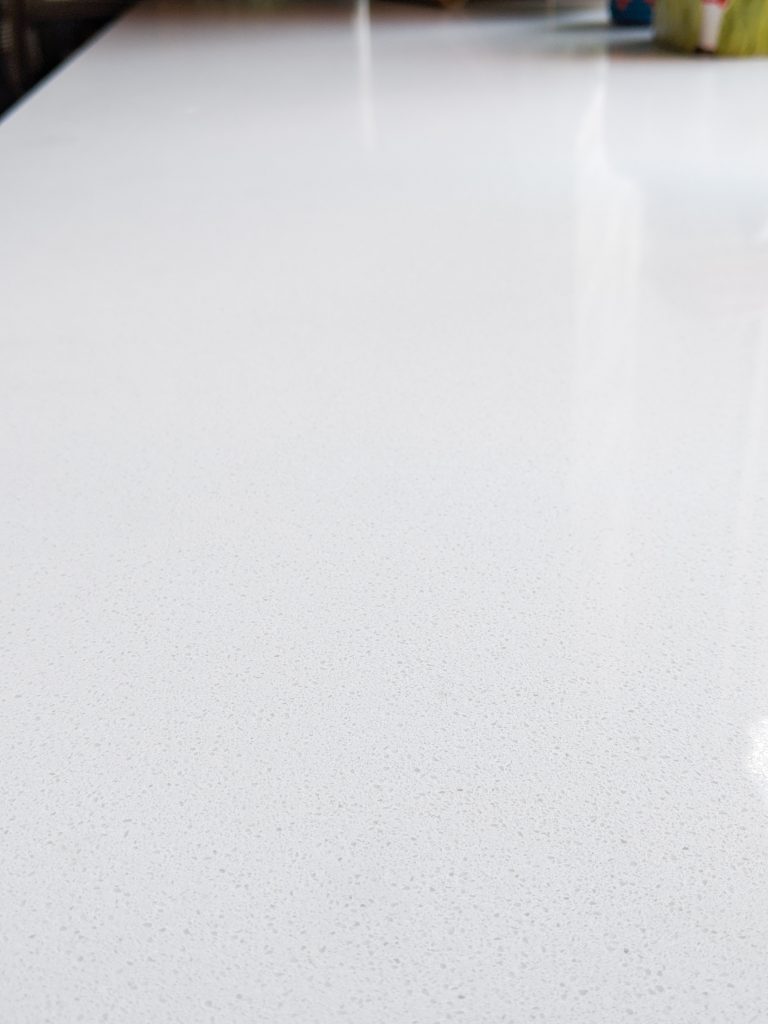 I like that from far away, it looks all white, but when you get up close, you can see the finer details. And I actually love how glossy it is! I didn't think that was a detail I cared about, but it just elevates the whole thing for me. I didn't realize how boring the matte laminate was.
Picking A New Sink And Faucet
Now obviously, if I was gonna spend a pretty penny on a new quartz countertop, I was gonna upgrade the sink and faucet too. I mean, just look at this ugly builder grade setup we had.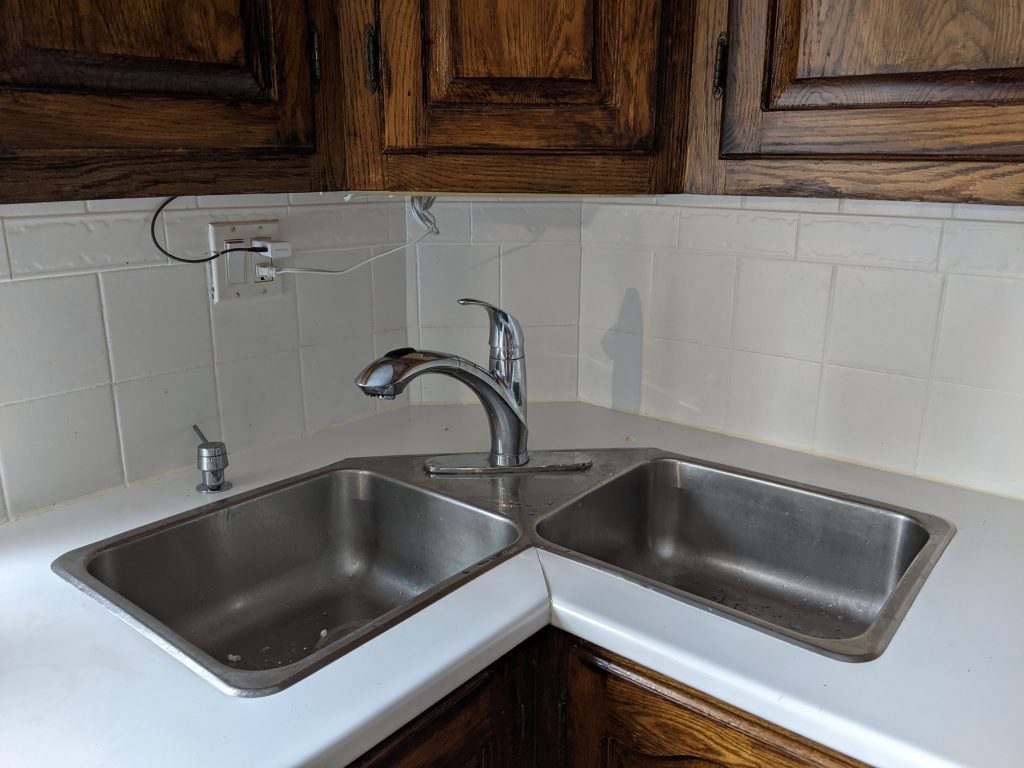 Now, we decided early on not to change the location of the sink. I actually find it to be a great use of the corner of a countertop. It's such an awkward spot to work in or store stuff, but for some reason, a sink really works there. Also, we would have to cut into our cabinets to change the location of the sink and update the plumbing. I don't even wanna think about how much that would cost.
Unfortunately, the downside of a double corner sink is, they don't make very many of them! So we were extremely limited in our sink options. I would've loved to get a cast iron apron sink to really lean into the vintage farmhouse vibes, but a double corner cast iron apron sink does not exist. Or even a black double corner sink to match the kitchen hardware (also doesn't exist). I ended up just getting this stainless steel undermount sink that is roughly the same dimensions as our existing sink, but much deeper.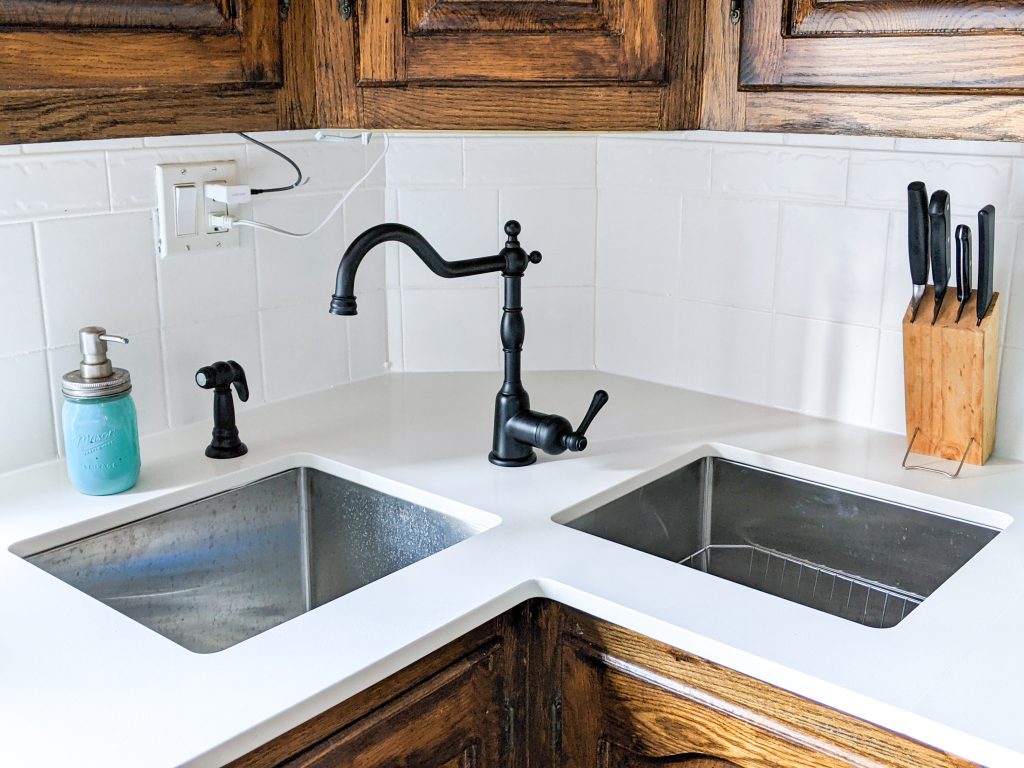 For the faucet, I went with this vintage style gooseneck model in a matte black to match the cabinet hardware. I was a little concerned about having a matte black and stainless steel combo, but because the sink is undermount, I feel like it's not that noticeable of an odd combo.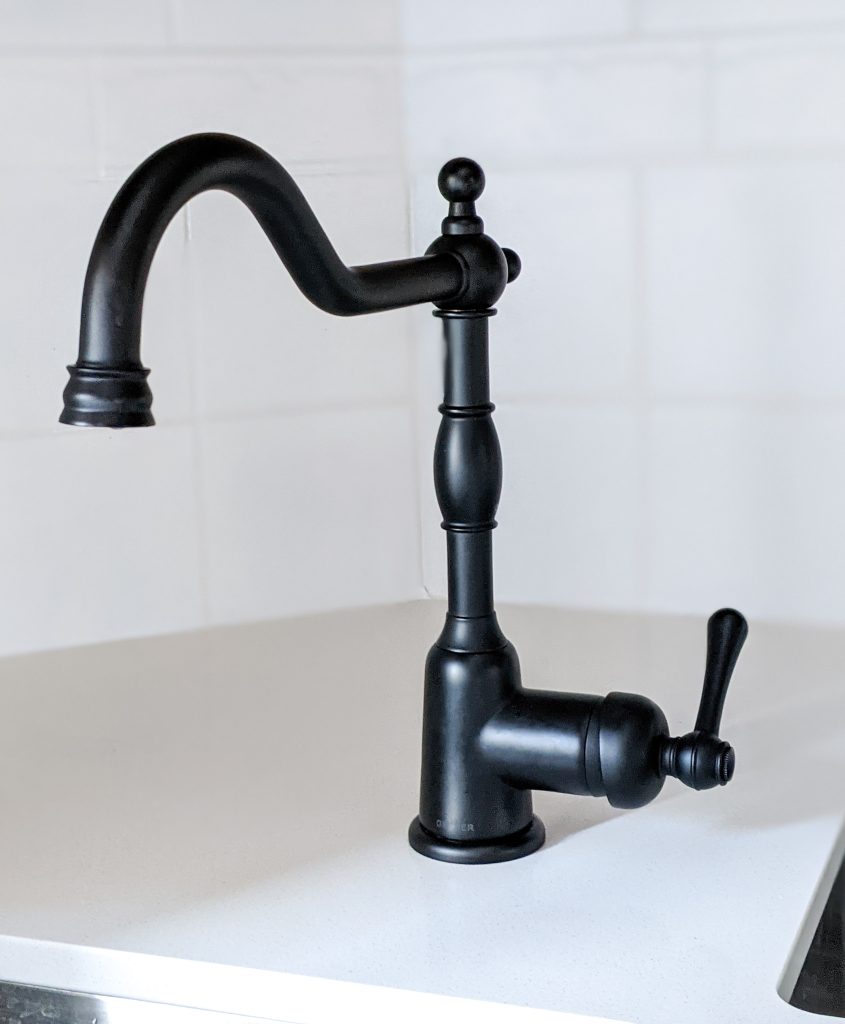 Installation
For the installation, we hired a company to do it and while I feel like they did a fine job of the installation itself, I feel like the process could've been much smoother and more well organized. It's not like we've ever installed a countertop before…a lot of this was completely new to us and we didn't exactly know what questions to ask.
I had to follow-up to get a date for measurements and the actual installation. We were not advised on how to prep the kitchen (cleaning out the cabinets underneath would've been a good idea for example). We didn't realize our ceramic cooktop had wiring instead of just being plugged in, so Kyler had to unhook it from the electricity himself and hire an electrician to reinstall it afterwards. And no one thought to check and see if our cabinets were level before trying to install the new countertop. Surprise, surprise, our decades old cabinets were not level!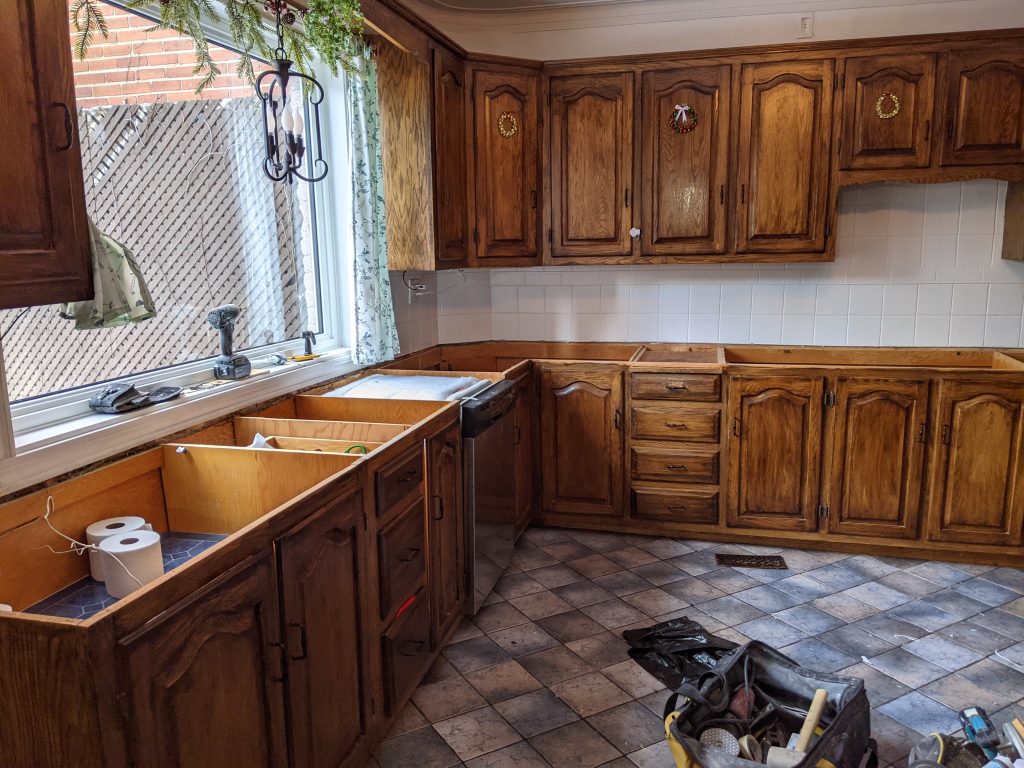 Obviously, these are not impossible problems to overcome, it just felt kind of disorganized and lacking in communication. In the end, everything was installed fine and I do love how it turned out! I mean, what a difference it makes!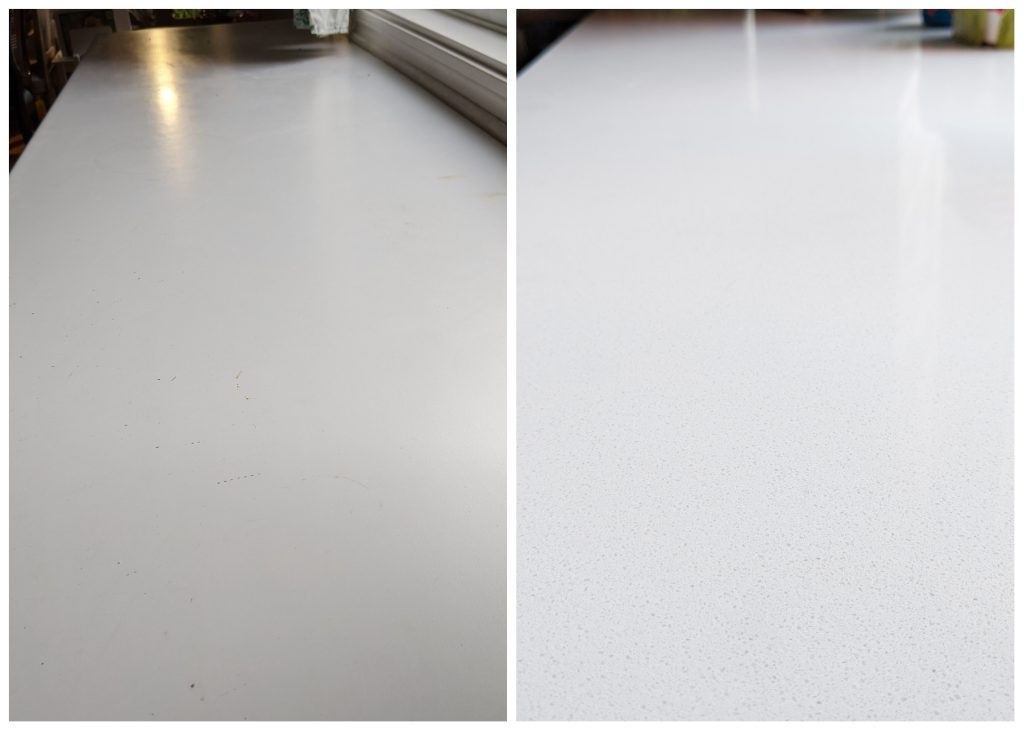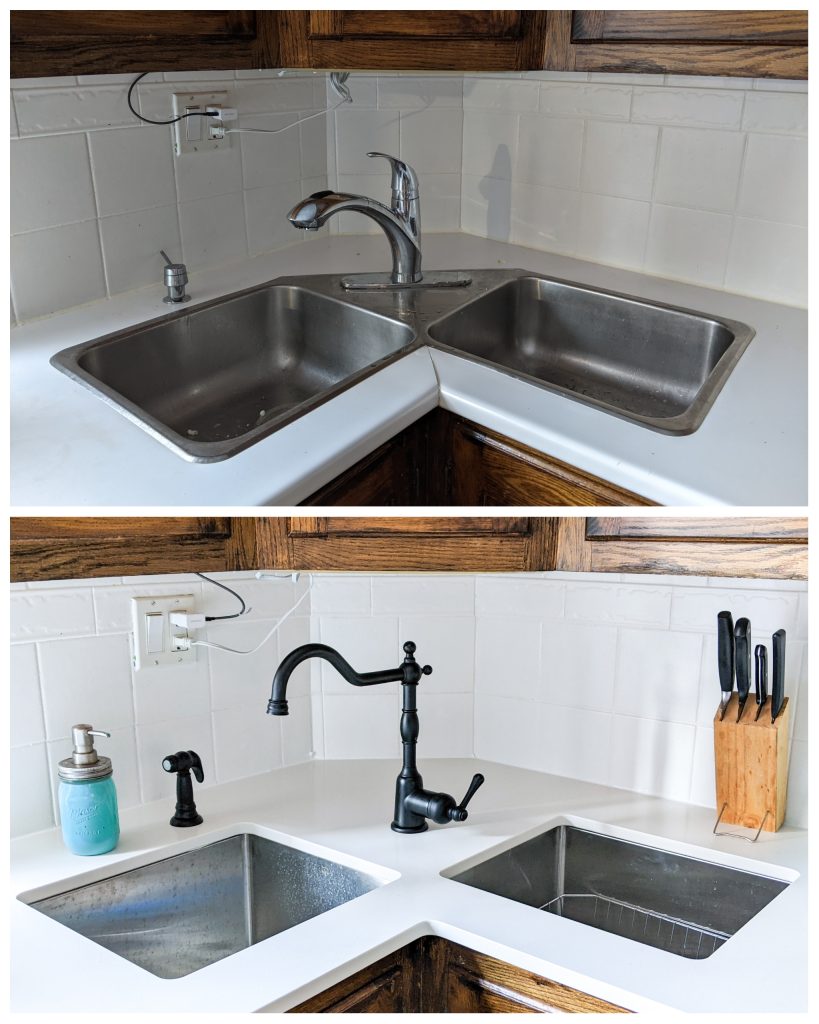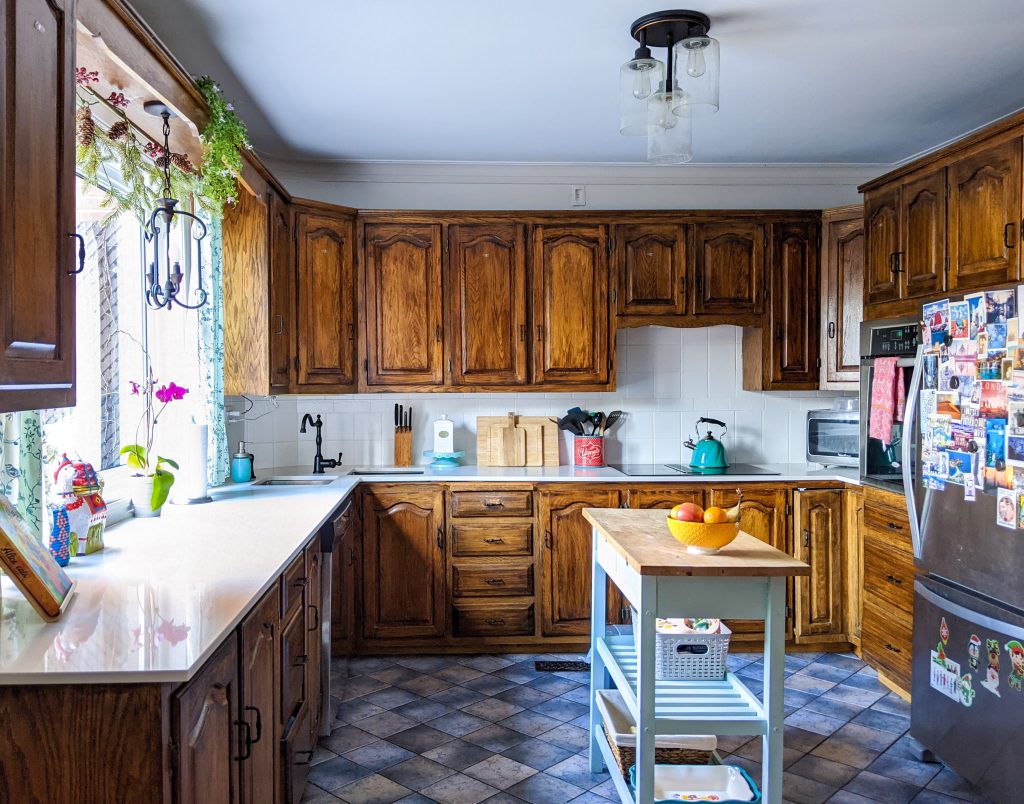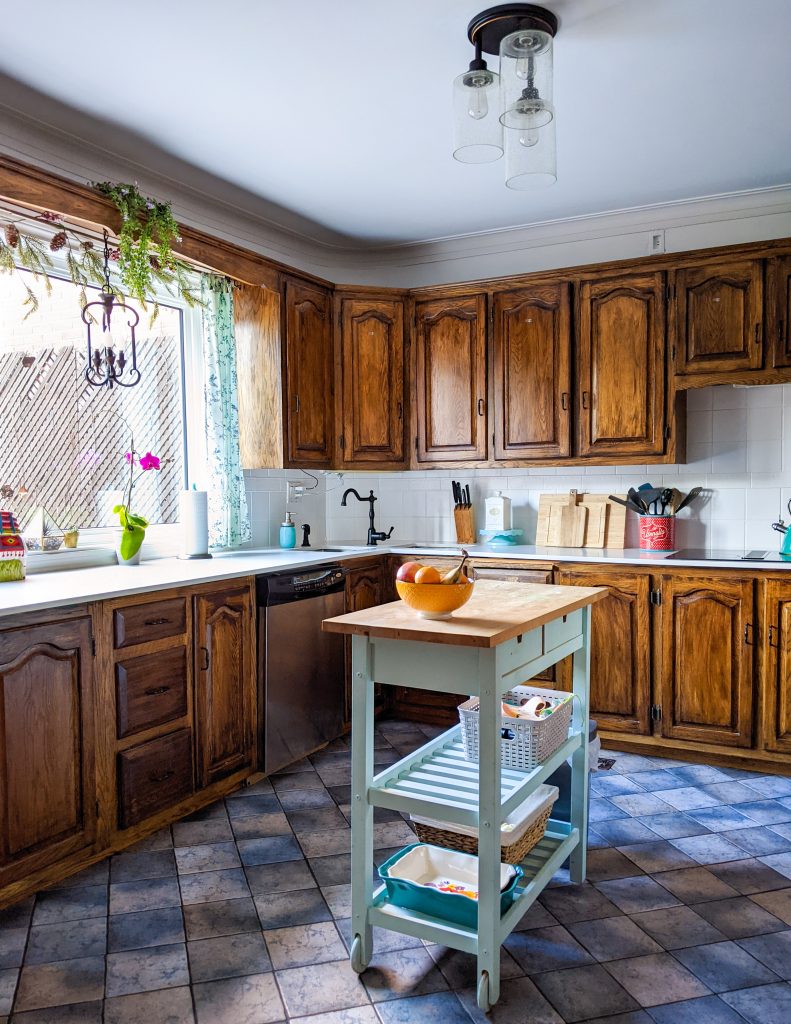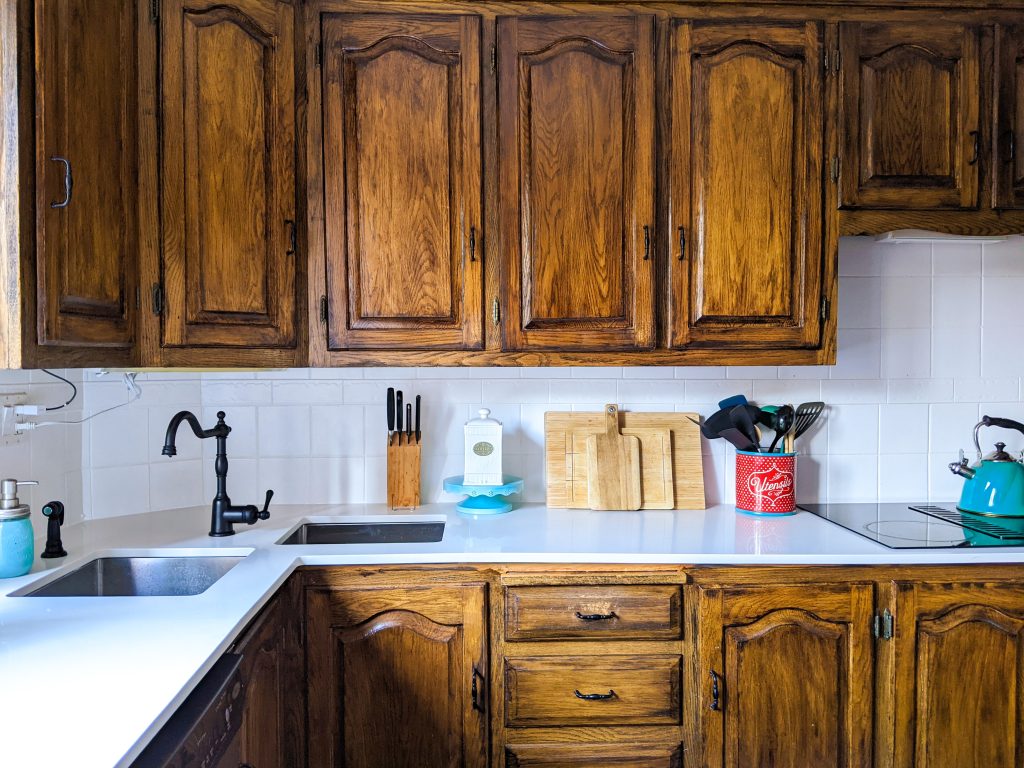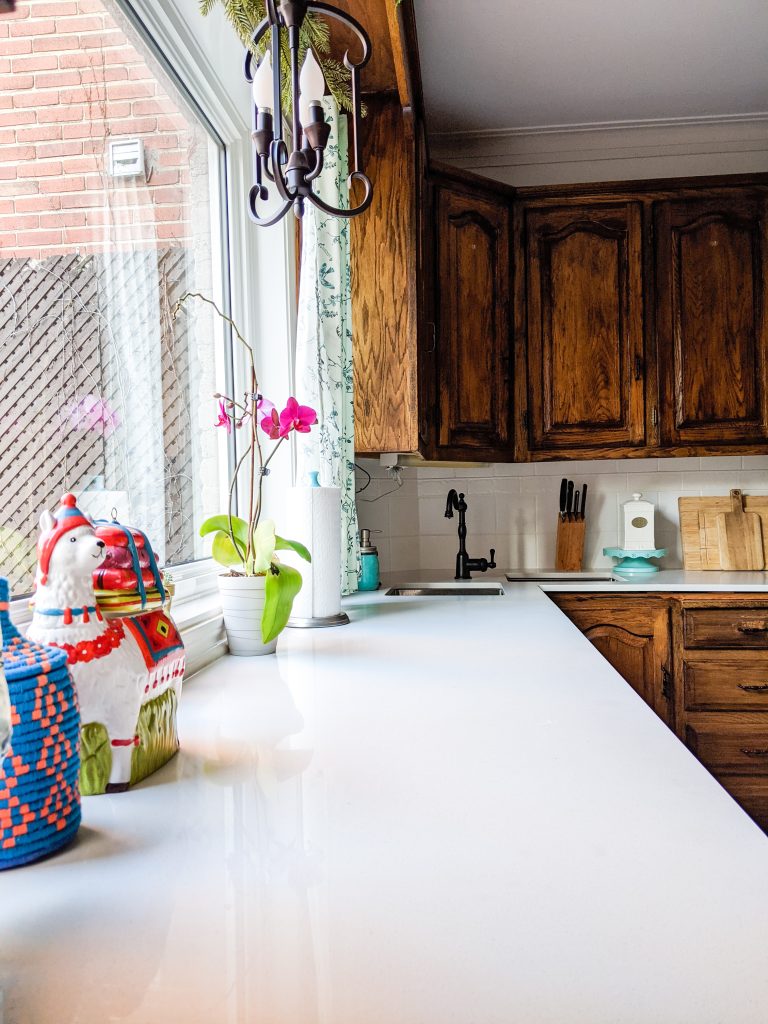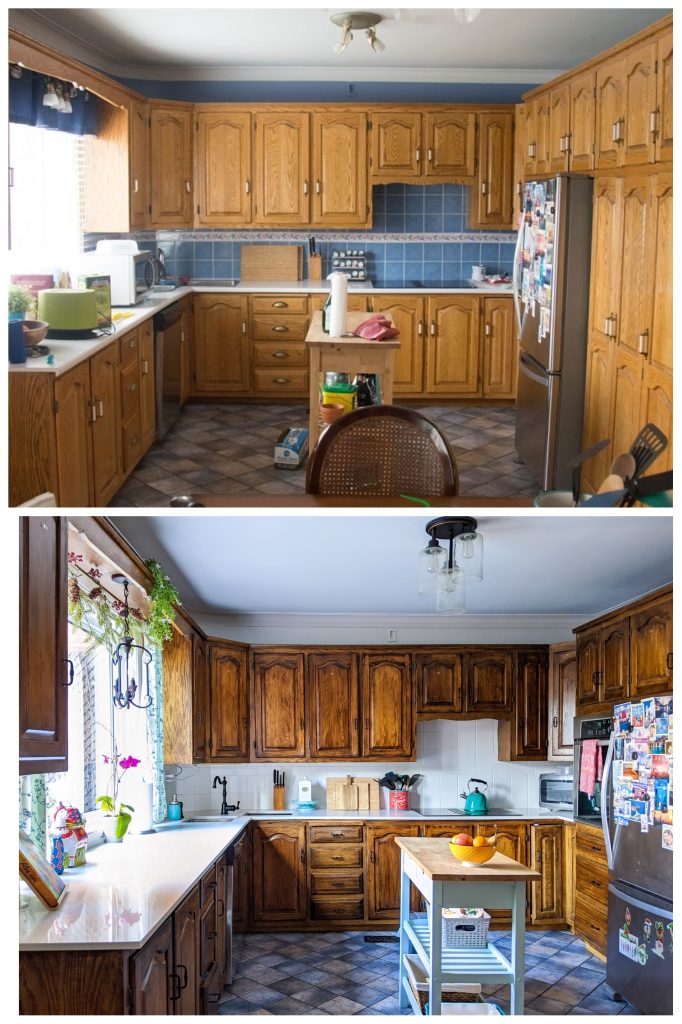 It's been three years in the making, but our vintage kitchen makeover is finally complete! Don't get me wrong, we might still change the backsplash and flooring someday, maybe even drastically change the cabinets. But for the foreseeable future, I can't imagine changing anything else about our kitchen setup.
xoxo