I had been toying with the idea of getting Theo a little Montessori calendar to start teaching him days of the week, months, seasons etc. but when I started looking into it, they seemed kind of expensive! Now, being a kind of reusable calendar, I guess you could always justify the price, but it did also seem like a pretty easy thing to DIY.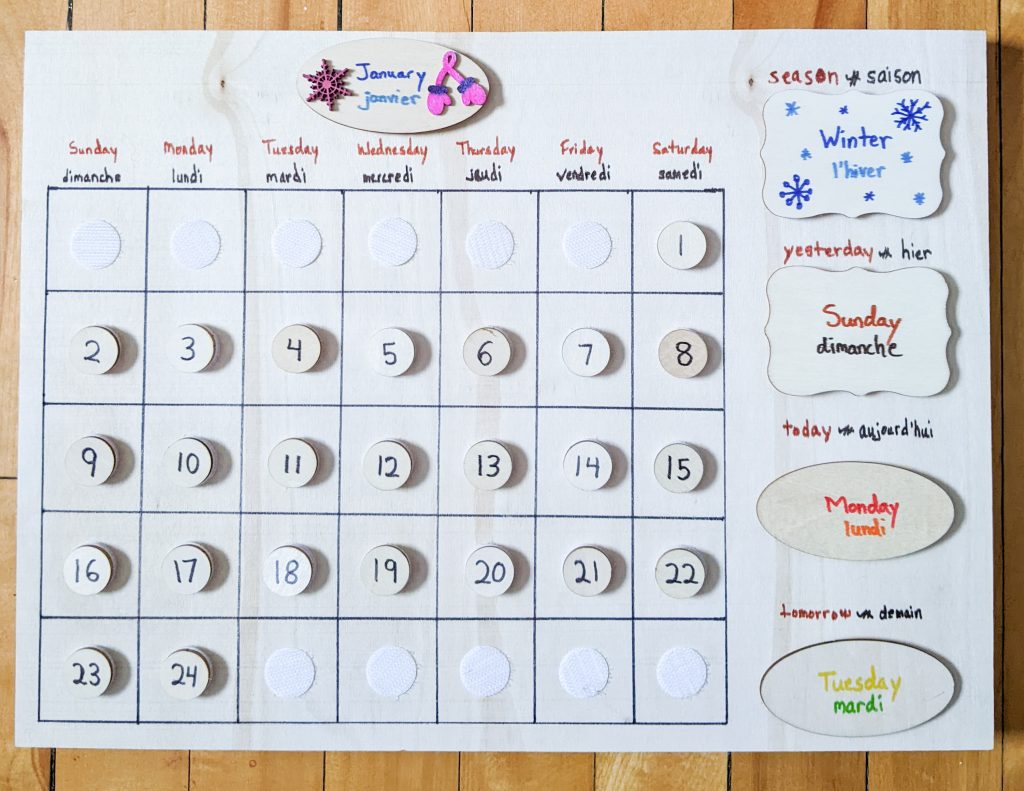 Moreover, I wanted a bilingual French-English calendar and those do not seem to exist! So I made up my mind to make the calendar myself and it did turn out to be pretty easy. Here's how I did it!
Materials
wooden canvas/rectangular piece of plywood or similar (I found mine at the dollar store!)
wooden cutouts/shapes (I used these and these, and random laser-cut shapes I found at the dollar store for decoration)
velcro dots (I used these)
markers (I used Staedtler Triplus Color Dry Safe markers)
a standard piece of 8.5″ x 11″ printer paper
ruler
craft glue
Make Calendar Template
You could always skip this step, but I found it very helpful in terms of making a good scale of calendar. In a Montessori calendar, you usually don't just have the grid with the dates, there should be room for other things and I wanted to make sure I wasn't taking up too much space for the grid part.
I used a wooden canvas that was about 16″ x 11.5″ and I just taped a standard piece of white paper to where I wanted the grid to go.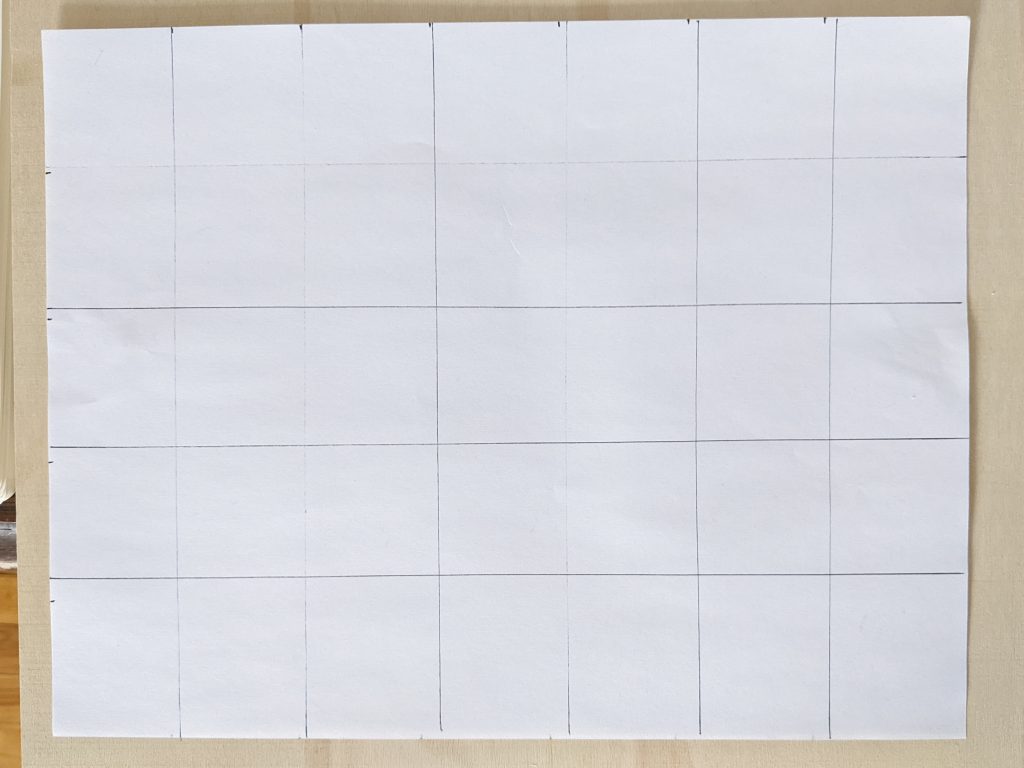 I marked the paper where I thought the grid lines should go and then used a ruler to draw the lines all the way across the paper. I did some measuring, but in the end, kind of just eyeballed it, and I think it turned out fine.
Transfer Grid To The Canvas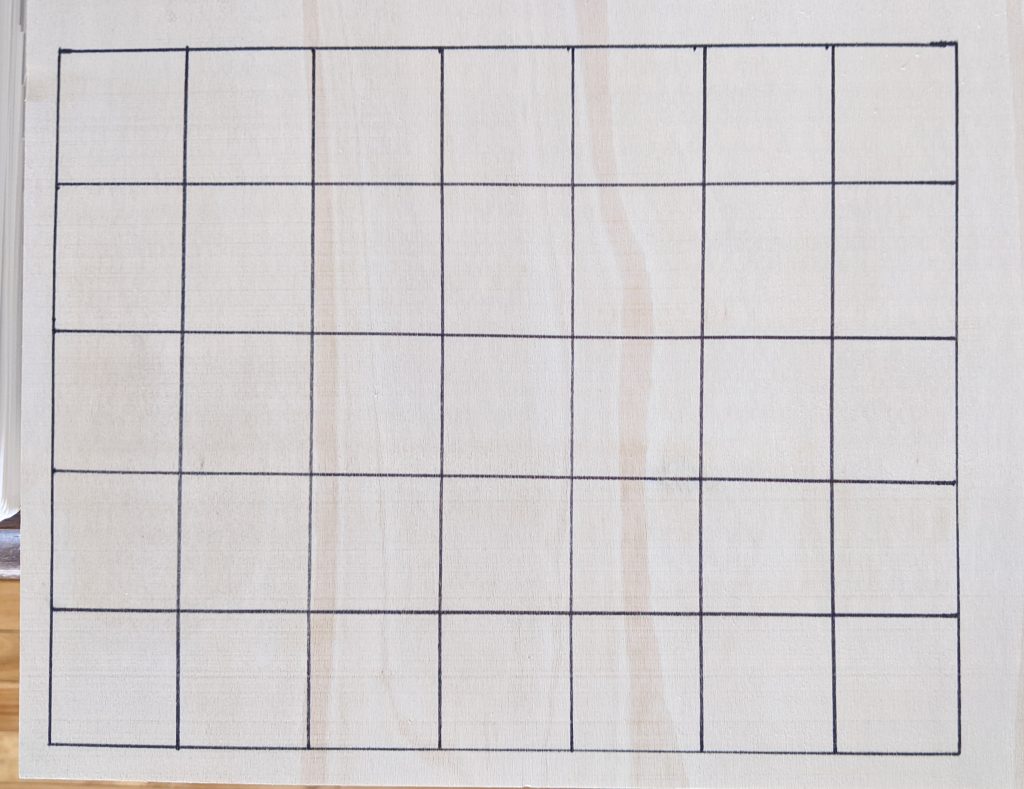 After I made the grid on the paper, I made a tiny mark on the canvas where the lines should go and just completed the lines with a ruler. I used Staedtler Triplus Color Dry Safe markers, which worked really well on the wooden canvas, but did end up bleeding a bit on the other wooden pieces I used. But it's hardly noticeable.
Make Calendar Pieces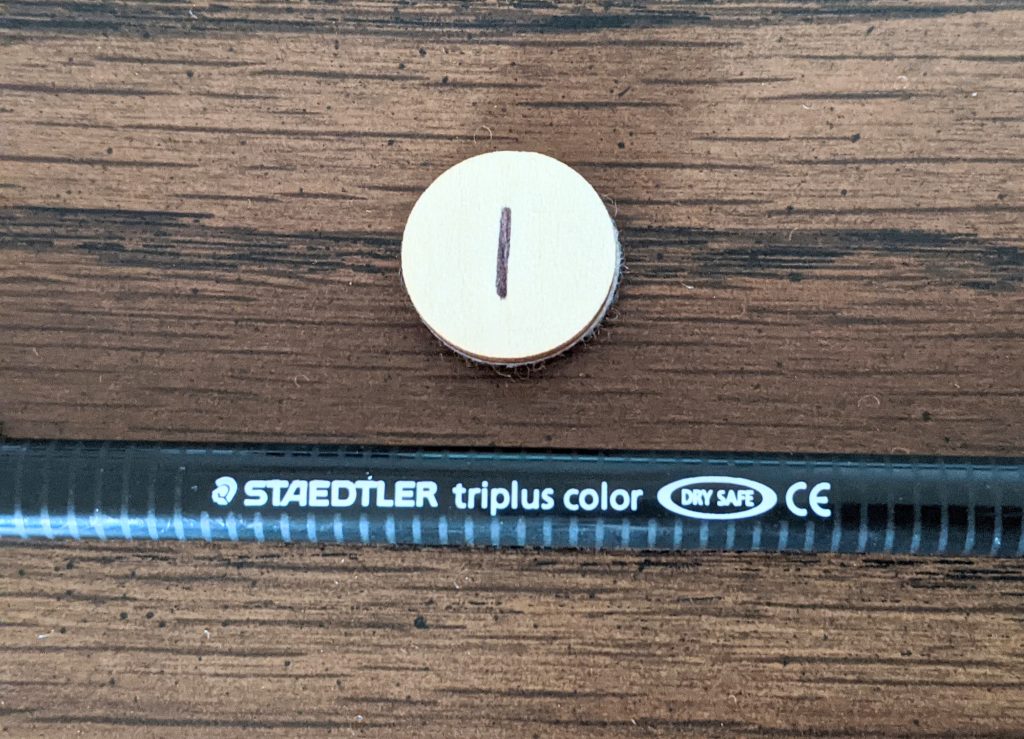 Now obviously, you can choose what to include in your calendar, but I think most calendars would have the standard dates, days of the weeks, and months, so I would start there. I also decided to add in seasons, but that was all I could fit onto my calendar so I stopped there. I've also seen people include things like weather, temperature etc. It's entirely up to you!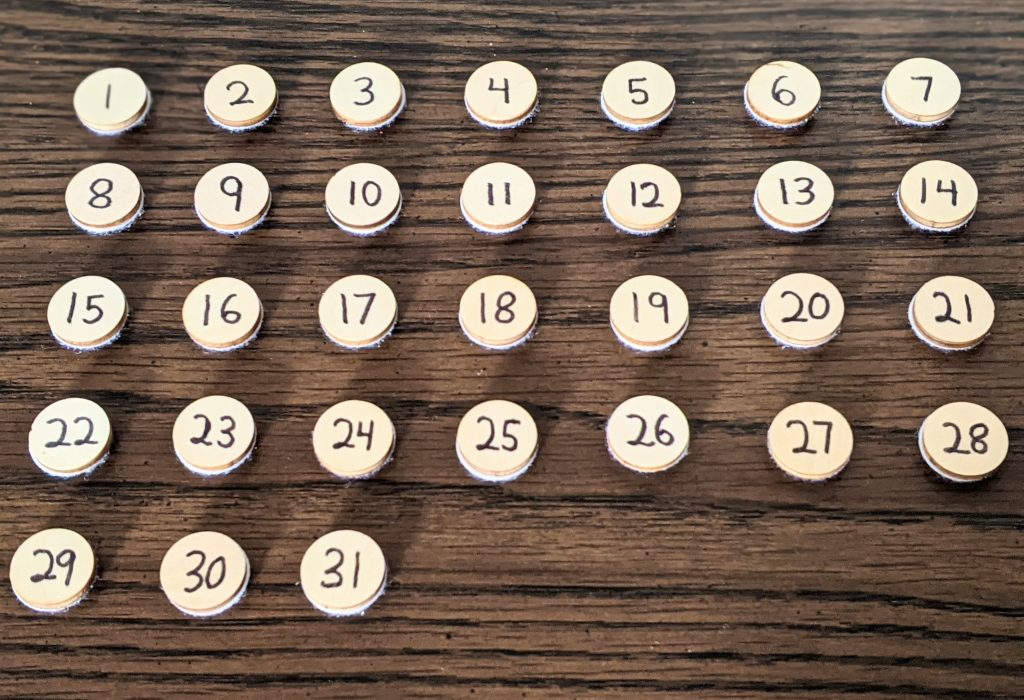 I used small, round wooden pieces (a little smaller than 1″ in diameter) for the dates, and larger pieces (about 3″ wide) that were for the days of the week, months and seasons. I wanted to decorate the months and seasons, so bigger pieces worked better for that purpose.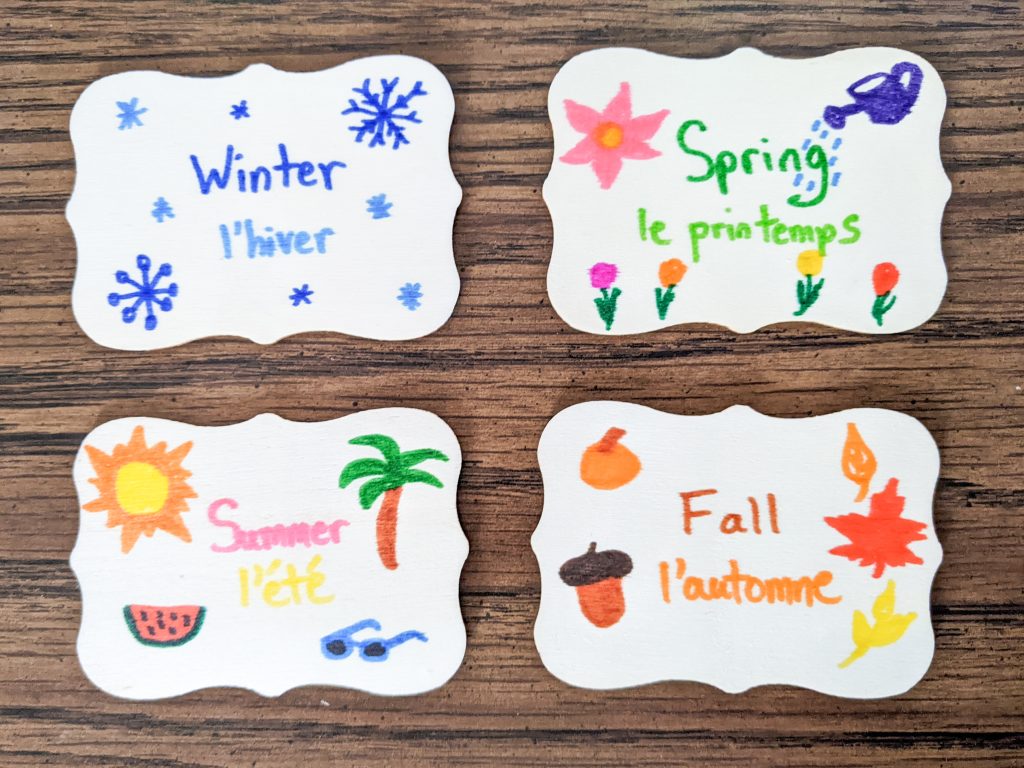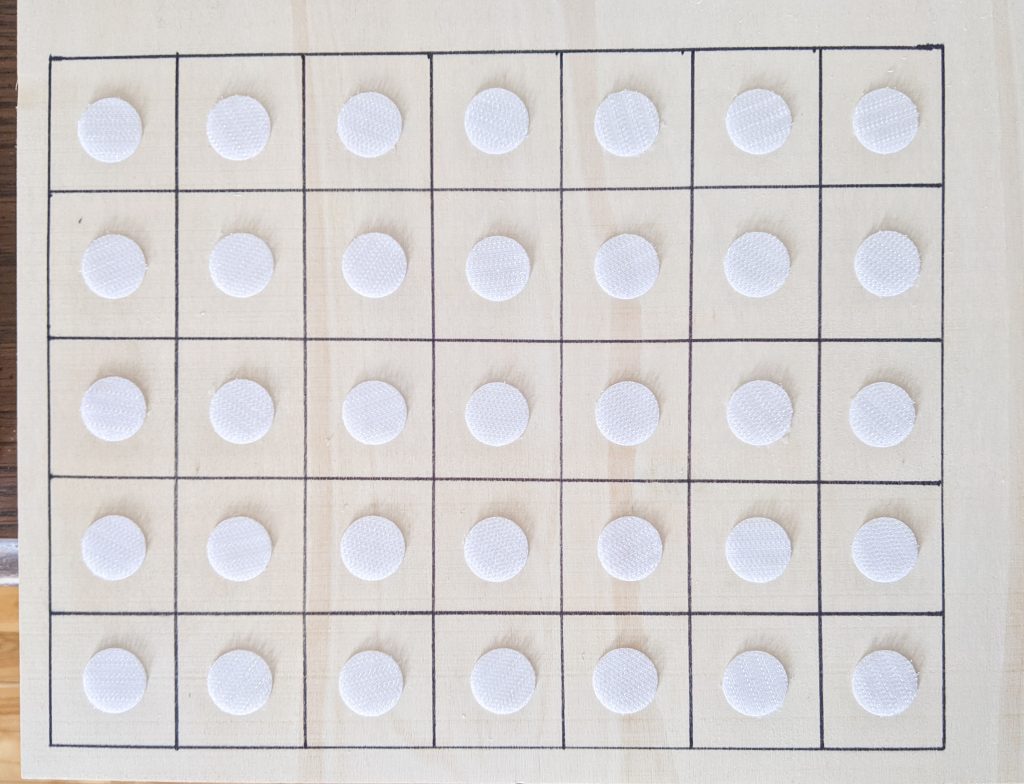 It's important that all of the loose pieces have a velcro dot on the back that would line up with a corresponding velcro dot on the board.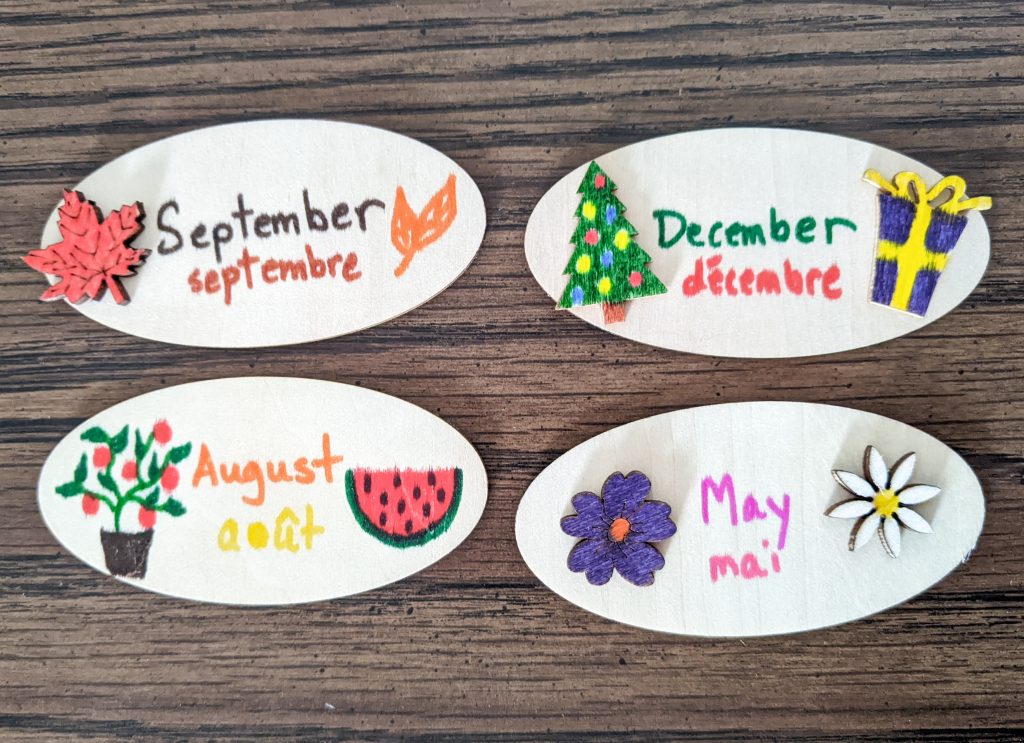 And how you decorate the calendar is up to you. I think some Montessori calendars don't really have decorations, but I wanted to make mine a little colourful and fun. I used little wooden cutouts that I found at the dollar store that I coloured in with markers and glued onto the month pieces, along with simple marker drawings.
Add Labels To Calendar Board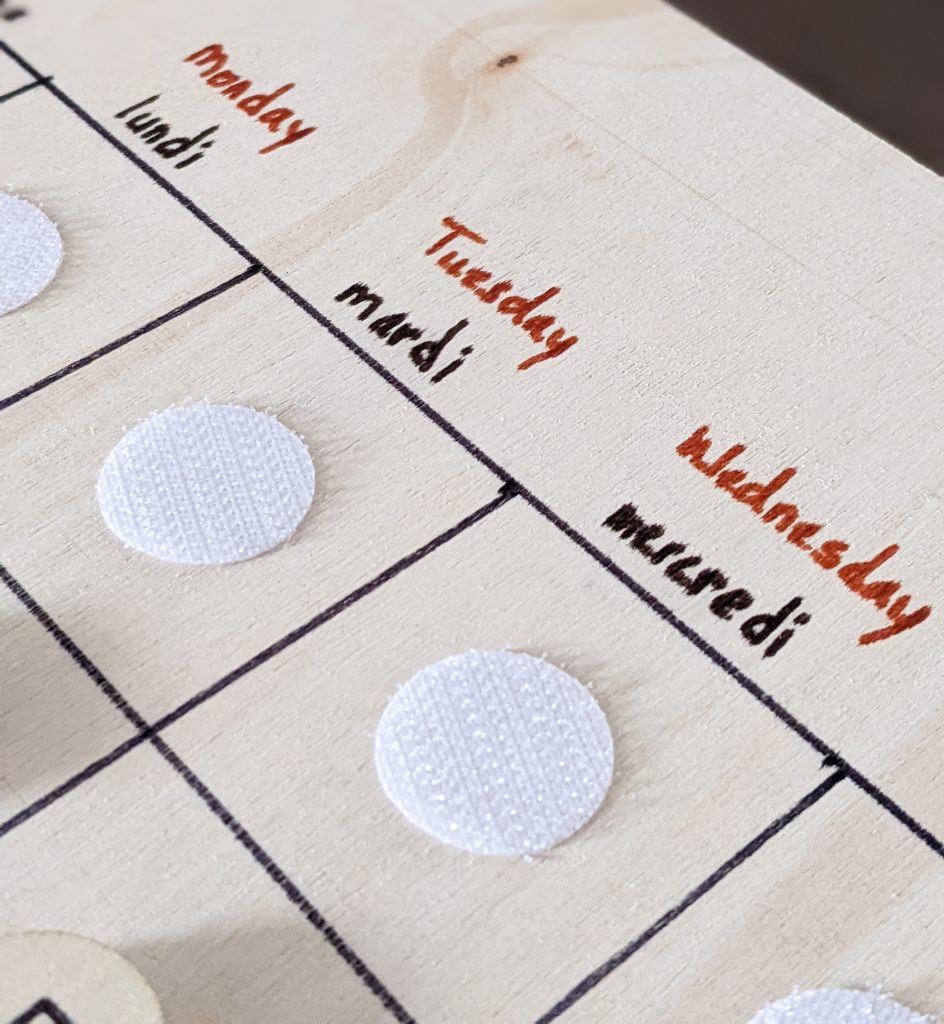 For the days of the week on the calendar grid, I just wrote it onto the wooden canvas above the grid, since their position would never change.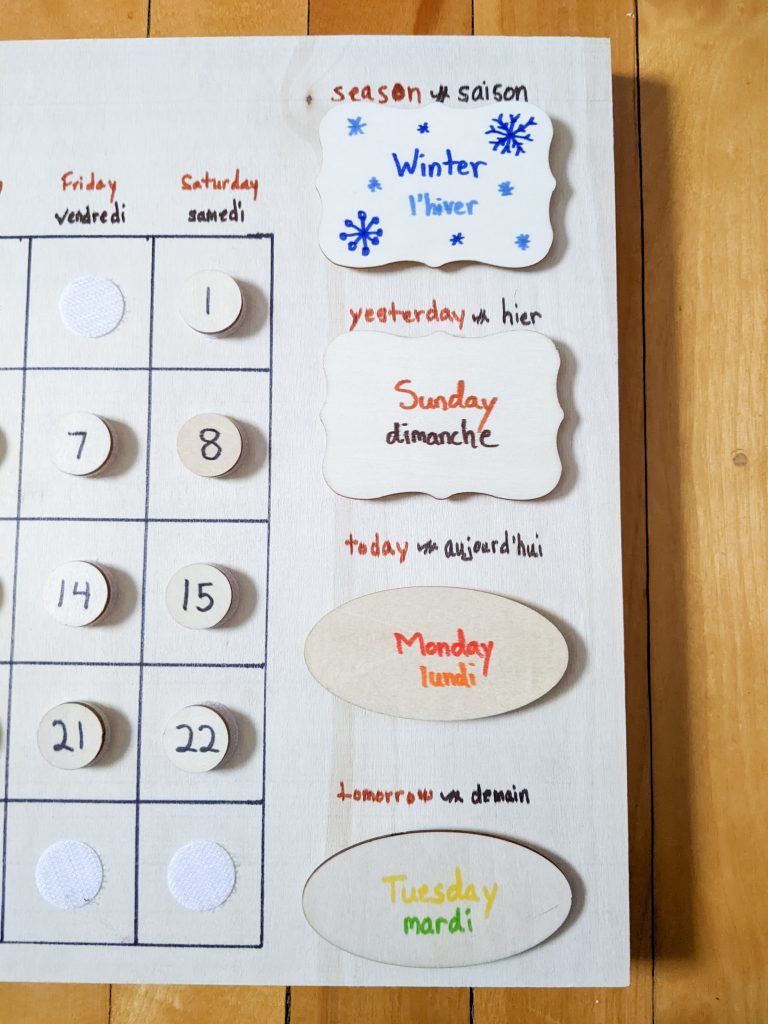 And I included a section next to the calendar grid where the season, and yesterday/today/tomorrow's day of the week could be placed.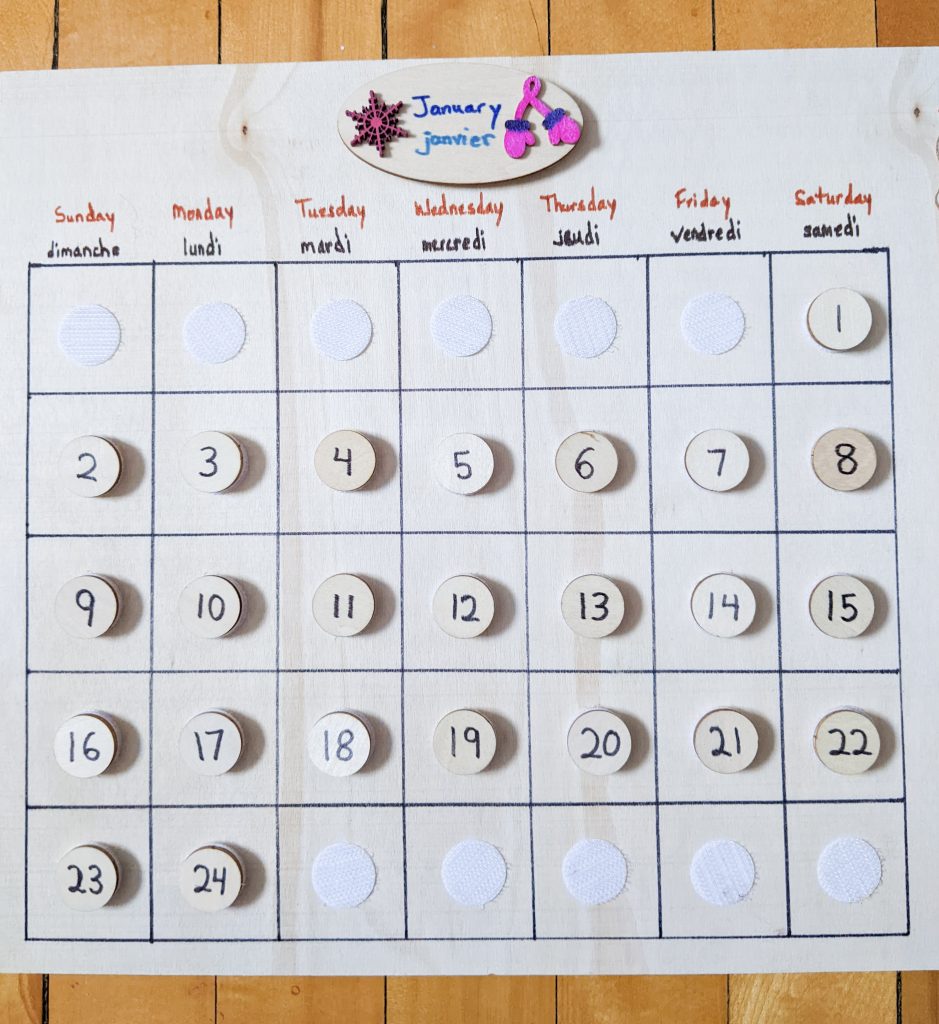 And of course, there's a section on top of the calendar grid where the month goes, but I decided not to label it.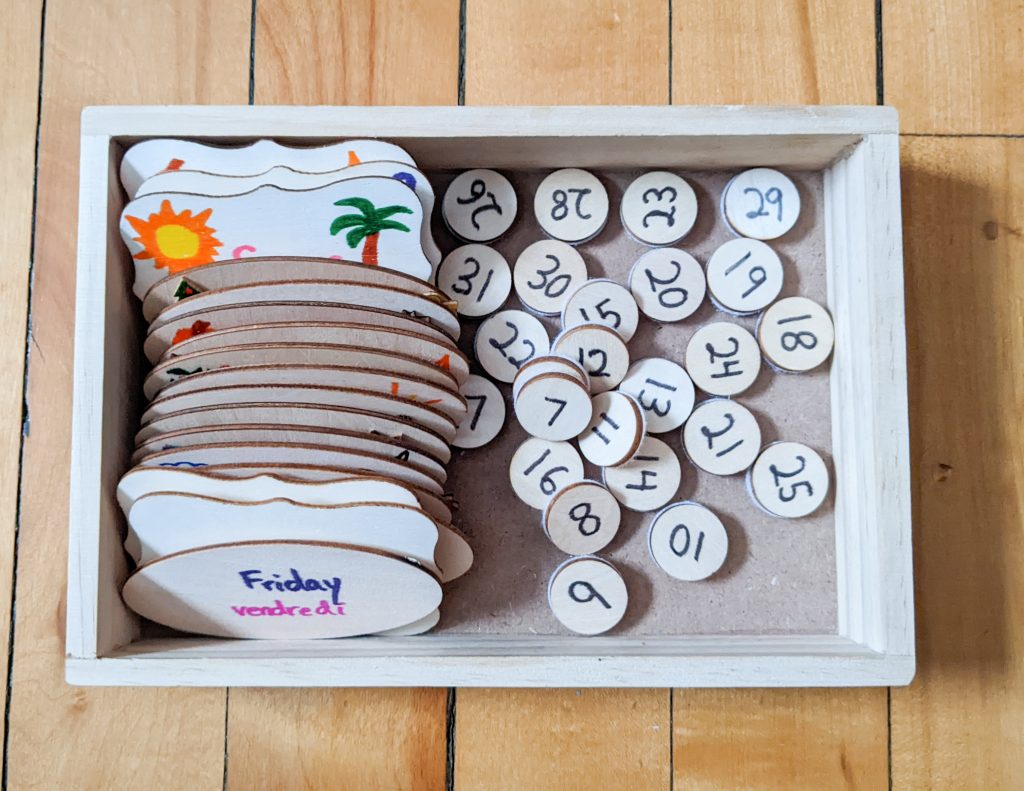 For the extra loose pieces not currently on the calendar, I just used a wooden tray I had on hand to contain them, and I placed it next to the calendar.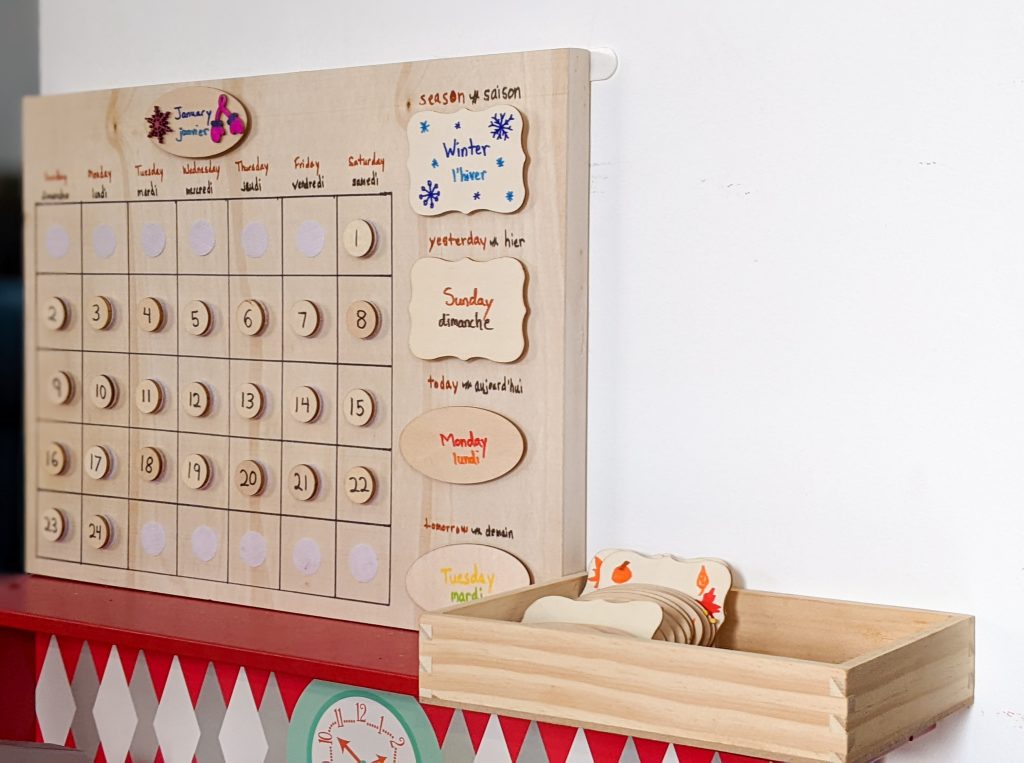 And that's basically it! You may have to order some of the materials online, but other than that, I cannot stress enough just how fast and easy this is to make. I especially love how customizable something like this is when you make it yourself. I seriously searched high and low for a bilingual calendar and I could not find one!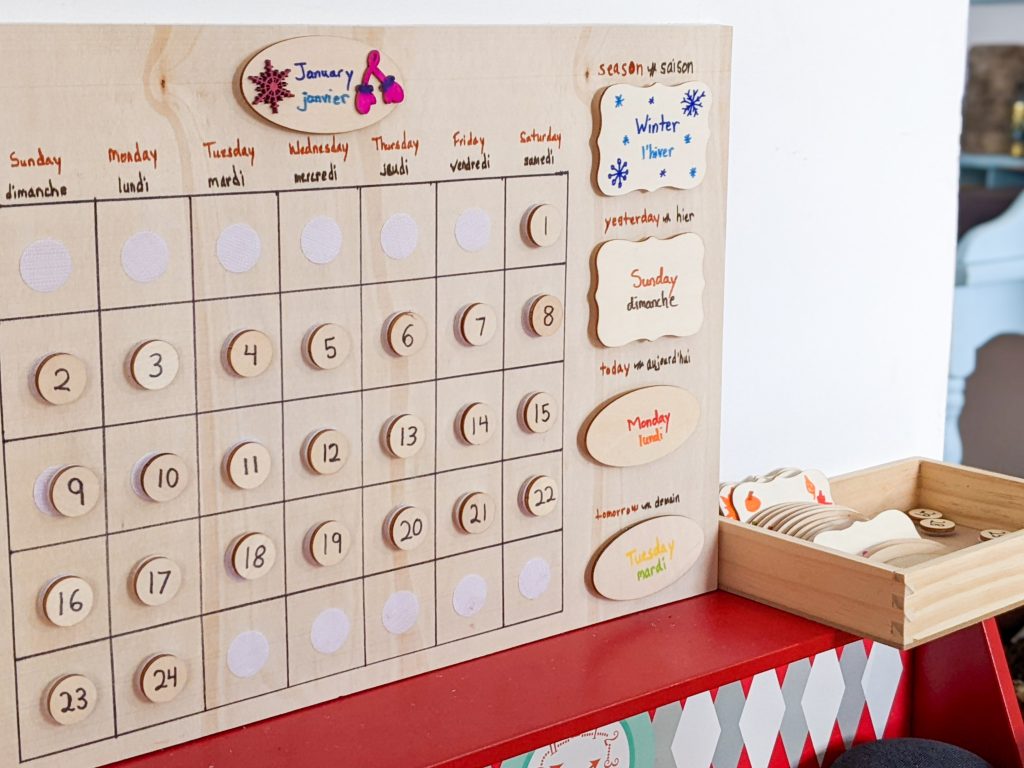 I think Theo's a bit too young to really understand how to use this still, but I certainly don't think it hurts to introduce concepts a little early, especially if your child shows an interest in it.
And what else is January for if not getting a new calendar???
xoxo