Out of all my makeup, the lip products are the category that saw the least amount of love in the past couple of years. Which is a real shame, because it's my favourite category! But what with the pandemic and all the mask-wearing, I've just been mostly wearing tinted balms for the past year and a half. I'll occasionally put on a long-wearing matte lipstick, but honestly, not very often! Someday, my lips will be free, and when that time comes, I have to be ready with a whole collection of favourite lipsticks and glosses.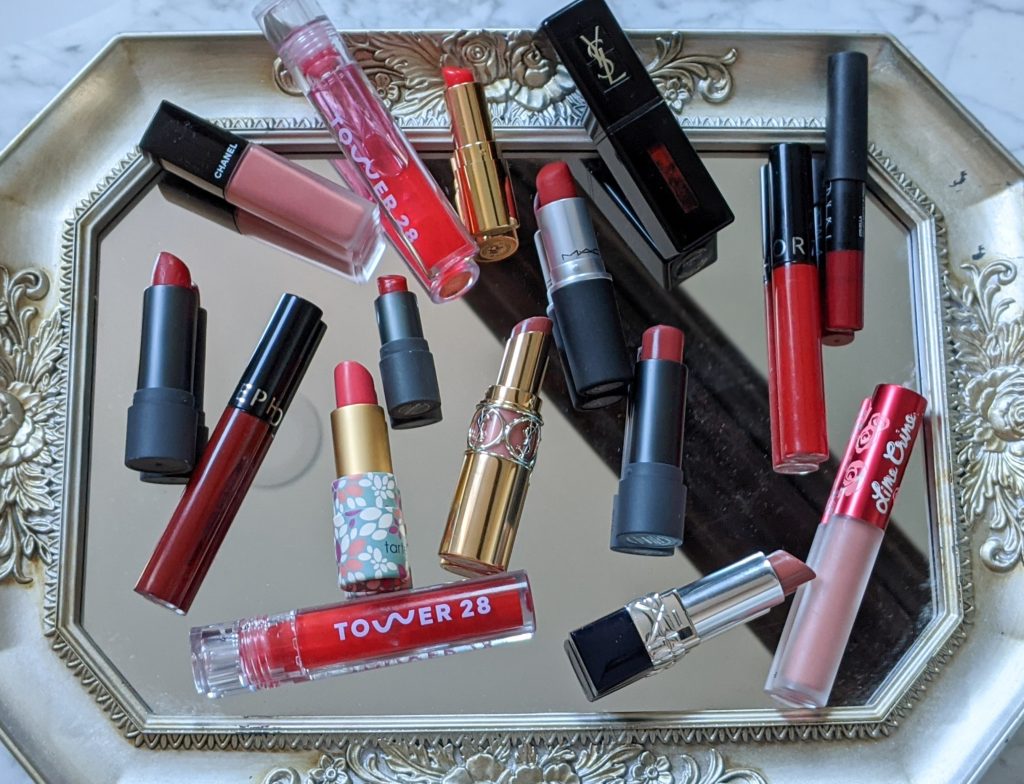 One thing you have to keep in mind when looking for swatches of lip products is that no swatch on an arm or a hand will ever match what it truly looks like on your lips. You have to take into consideration how saturated your natural lips are, if they're more cool or warm toned, and how that works with your skin tone. For example, my skin is obviously very warm toned, but my lips are quite pigmented and lean kind of purple/cool.
Here's a good example of what I mean. The swatch of Lime Crime's Bleached is more of a dark dusty rose hue on my arm, but on my lips, it shows up as a much more nude peachy-pink.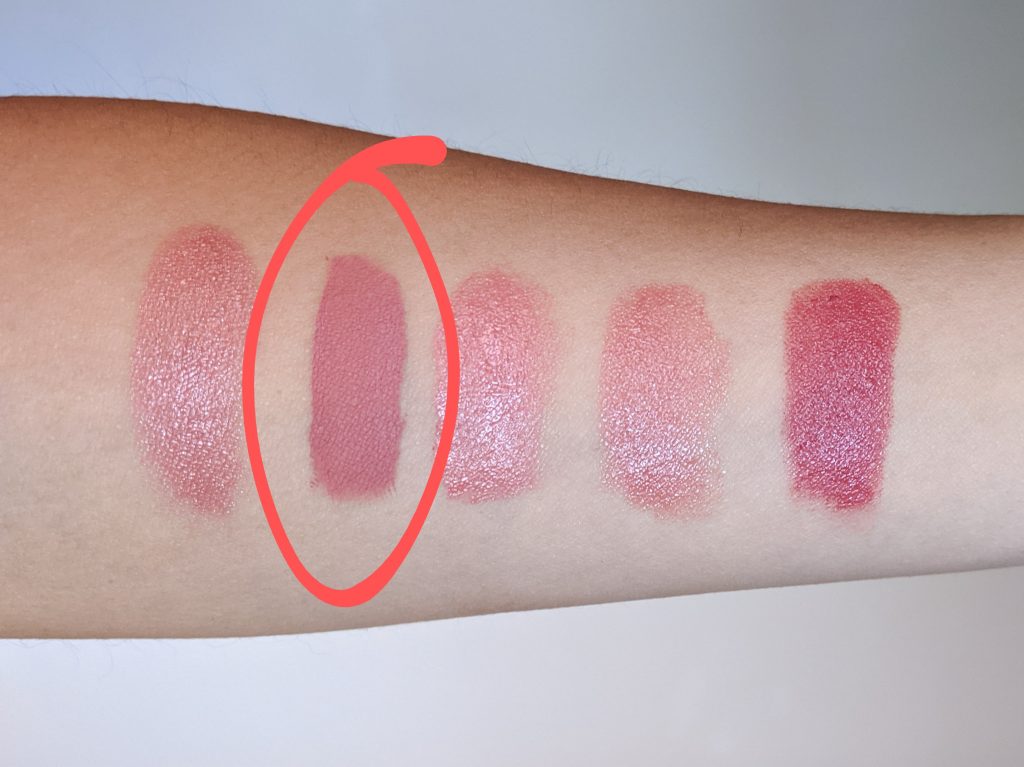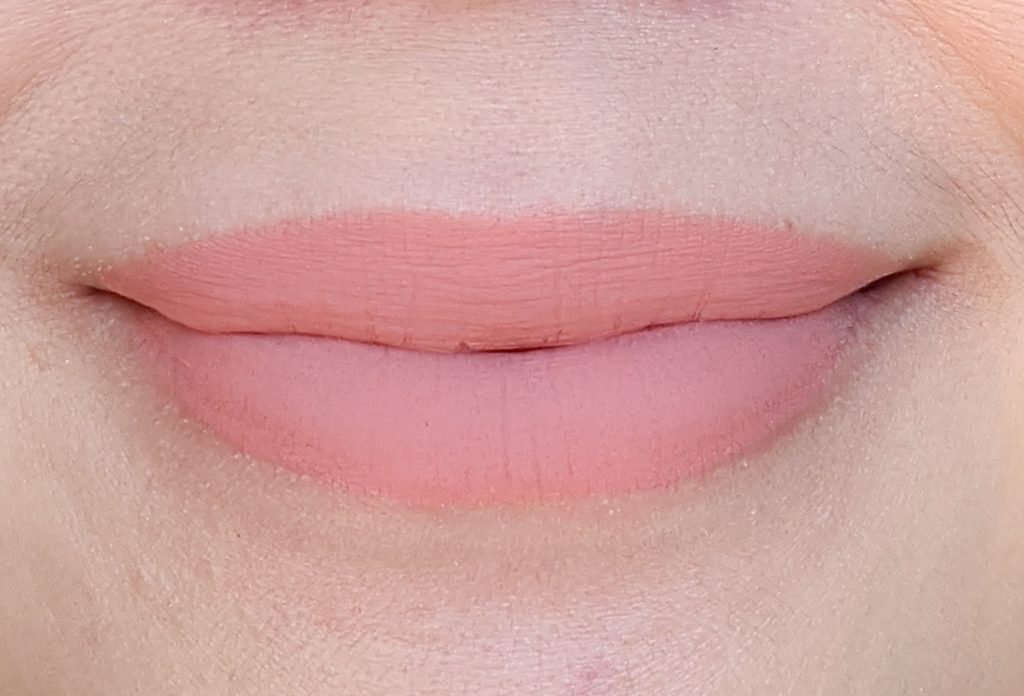 Your best bet if you're not sure if a lip colour suits you is just to try it on your lips!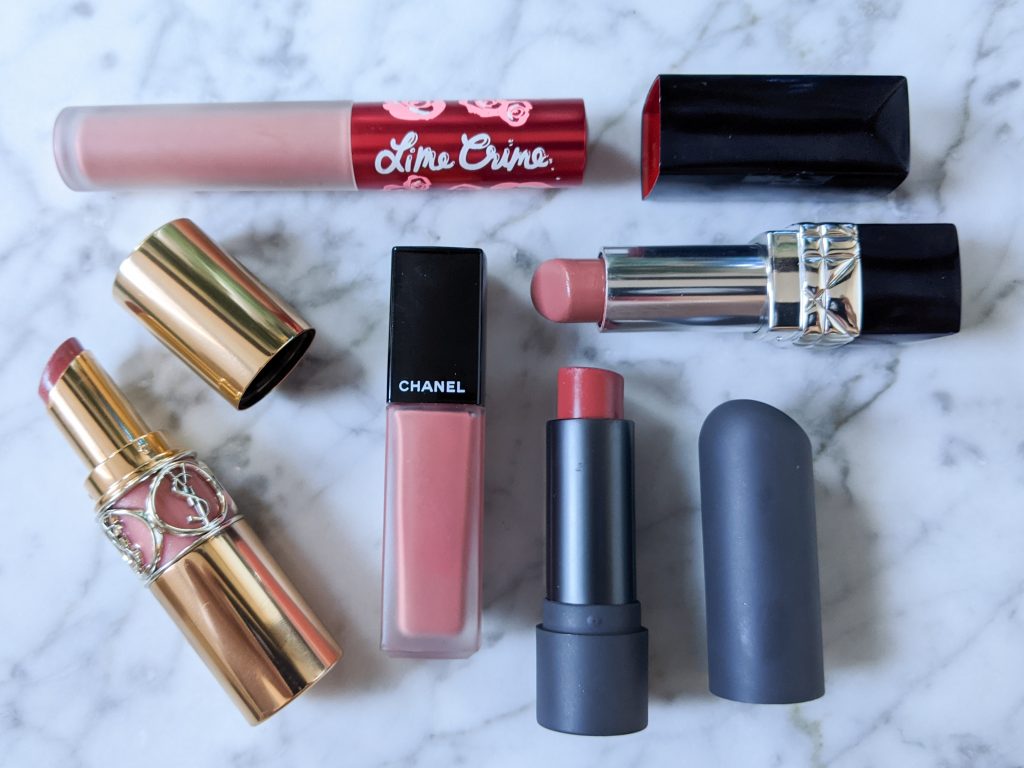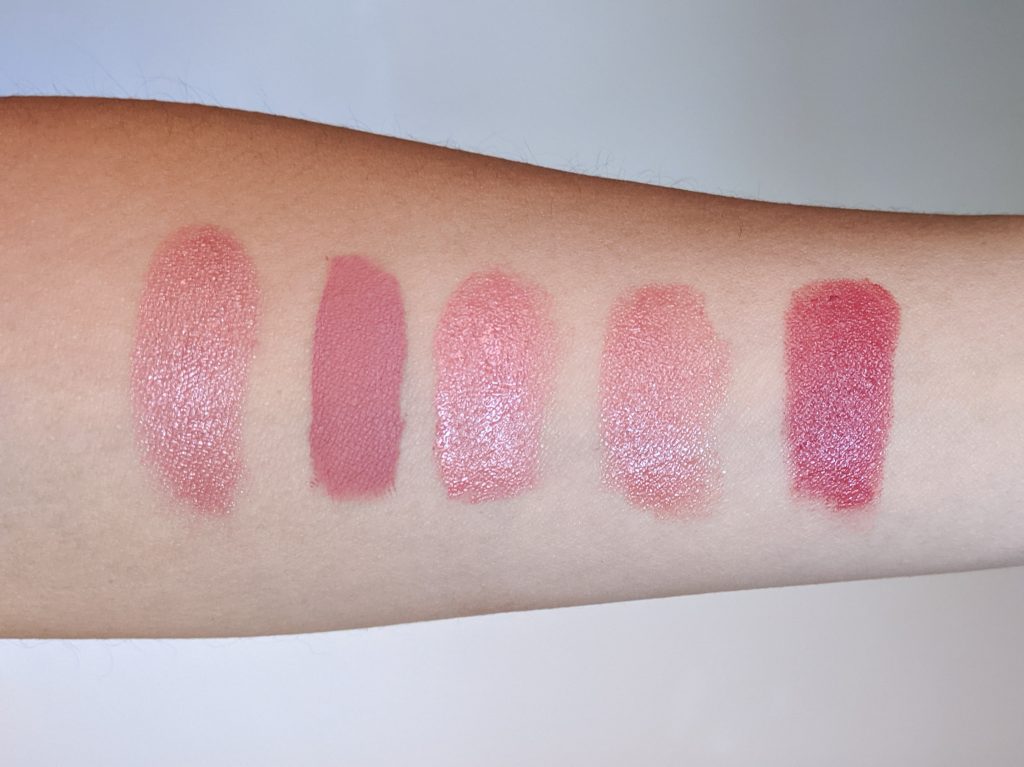 Nudes (from left to right):
Bite Beauty Amuse Bouche Lipstick in Verbena (discontinued)
I think YSL's Rouge Volupte Shine Lipstick in No. 9 is the only lipstick I've ever finished. And I bought a new one once it was done! That's really saying something. Usually, I'll get tired of a shade/formula, or 5 or 6 years will past (aka, long past a lipstick's shelf life), but this is such a good everyday lipstick. If you don't know what to put on your lips and you want something that's gives just a bit more than a regular balm, this formula and colour is perfect. It's a light pinky nude with a bit of shine and it fades really evenly on your lips. Now, I'm not saying I can't live without this lipstick or anything, but I do think it's a perfect everyday lipstick and like to have it in my collection.
Now, when it comes to my perfect nude lipstick, Lime Crime Velvetines Liquid Lipstick in Bleached rises far above all the others. It's the perfect nude pinky peach on me. And I love the long-wearing matte finish! I can be super confident it'll last for hours. Obviously, some will come off when you eat, but it doesn't end up patchy when you reapply. If I could only have one nude lip colour, it would be this one for sure!
One thing I've come to realize in doing this makeup collection series, is just how much I could declutter. If you look at the swatches, the YSL looks pretty similar to the Chanel Rouge Allure Ink in 140 and the Dior Rouge Dior in 169 Grège 1947. But in my defence, the Chanel dries quite matte and on my lips the Dior pulls more peach than pink. But again, I might have to do some more decluttering once this series is over… These are all fine nude lipsticks, but do I need them all? No, probably not!
And finally, there's Bite Beauty's Amuse Bouche Lipstick in Verbena. This is such a nice natural-looking, rosy nude colour. I like dabbing this gently on my lips to get that perfect "my-lips-but-better" look! I almost never do full swipes. I like to keep a darker nude in my collection because my lips are a bit pigmented and my skin tone is on the light-medium side. If I go too light in my nude lipsticks, it'll definitely wash me out. If I want a nude lip to show up well in photos, I'll reach for the Bite Beauty or Lime Crime. I would say the YSL, Chanel and Dior look nice in real life, but are kind of undetectable for me in photos.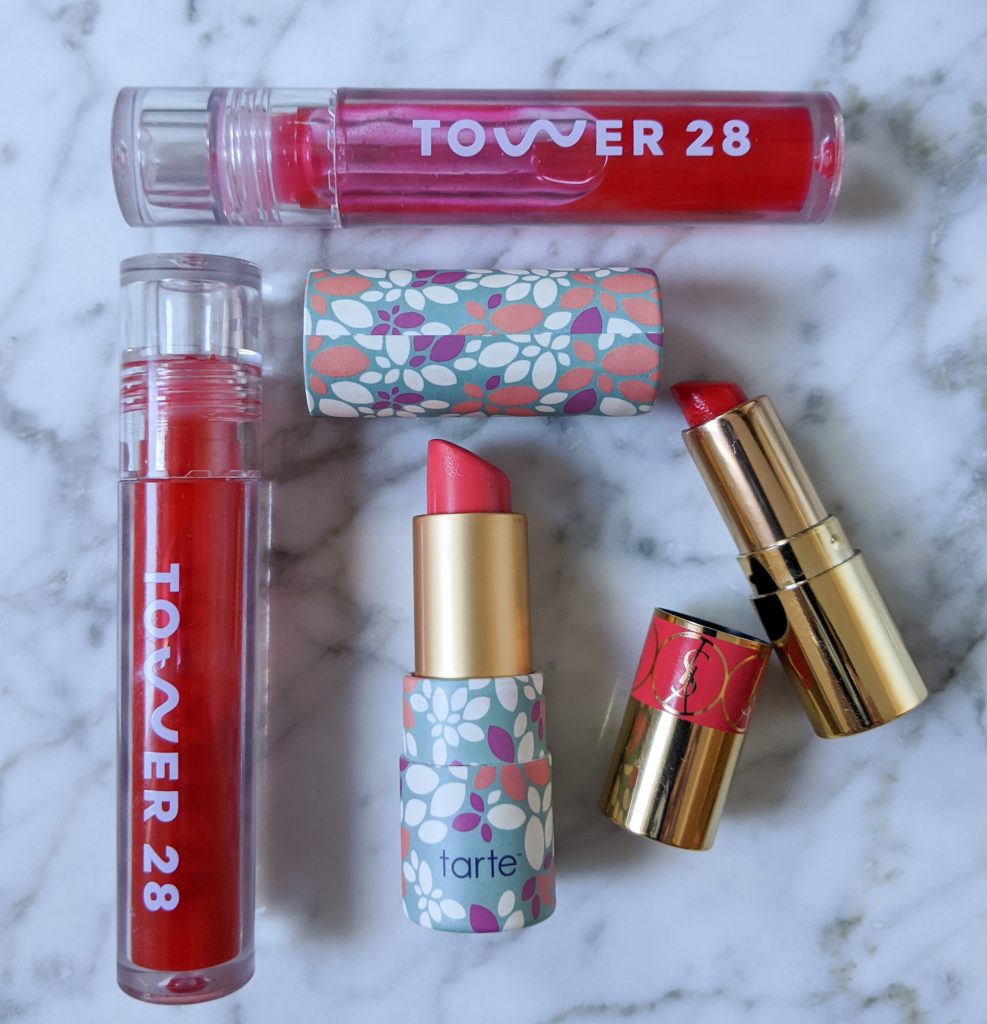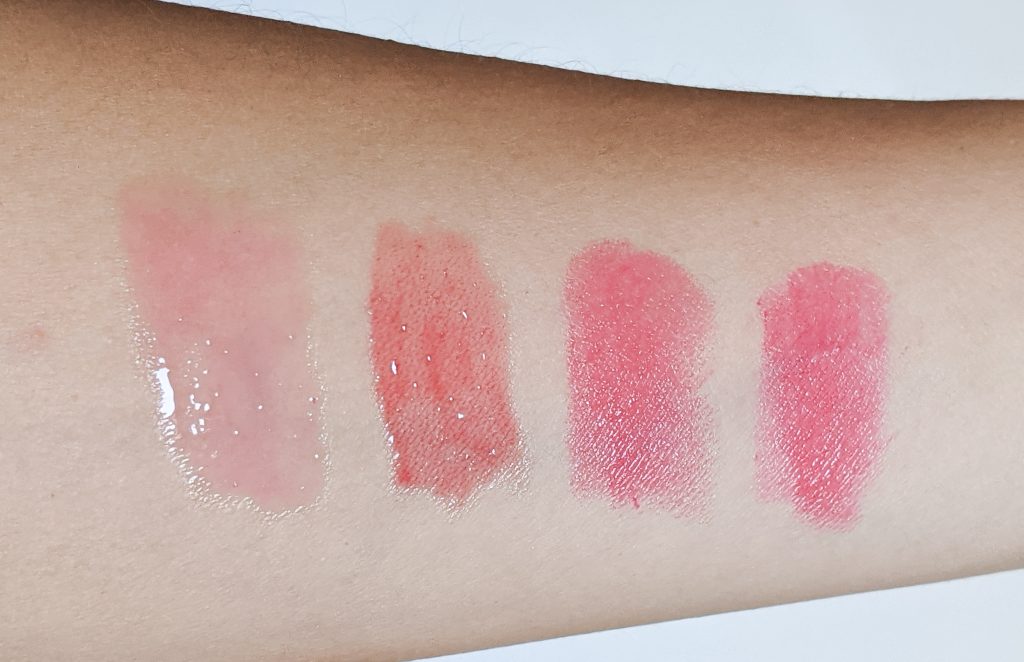 Pinks and corals (from left to right):
Tarte Amazonian Butter Lipstick in Watermelon (discontinued)
If I wear a lip colour, it'll usually be a nude or a red (hence all the nudes and reds!) but I do find myself enjoying the occasional pink, especially in the summer time. As much as I love the Tower 28 ShineOn Jelly Lip Gloss in XOXO, I just haven't been able to wear it that much in the past couple of years because lip gloss and masks are not a good combo! But this is a great everyday lip colour. Super shiny and juicy with a perfect hint of colour. XOXO is a translucent shade, whereas Spicy is more opaque and warm. I actually think I prefer a true gloss to be transparent, but Spicy has its moments. I like to just dab a bit on the lips for a hint of colour and not for the full-on gloss effect.
When I want a straight-up pink lipstick, I reach for Tarte Amazonian Butter Lipstick in Watermelon. It's the perfect warm medium pink on me. When paired with a pink cheek, it just screams summer to me! It's a little bit sheer, but you can build it up, and it has a kind of natural, satin finish. Unfortunately, it is discontinued, but I bet you could find similar shades, even at the drugstore.
And finally, I have a deluxe sample sized lipstick that you could call either a red or a pink, in my opinion: the YSL Rouge Volupte Shine Lipstick Balm in 45. It's a kind of cherry pink/raspberry on me, very similar to Tarte's Watermelon, but a little darker and more red. But because it's so sheer, you could do one swipe and have it be a true pink, or you can build it up and make it look more red. I love this formula of lipstick, but I don't know if I would ever purchase the full size of this. I just don't find myself reaching for this shade very often.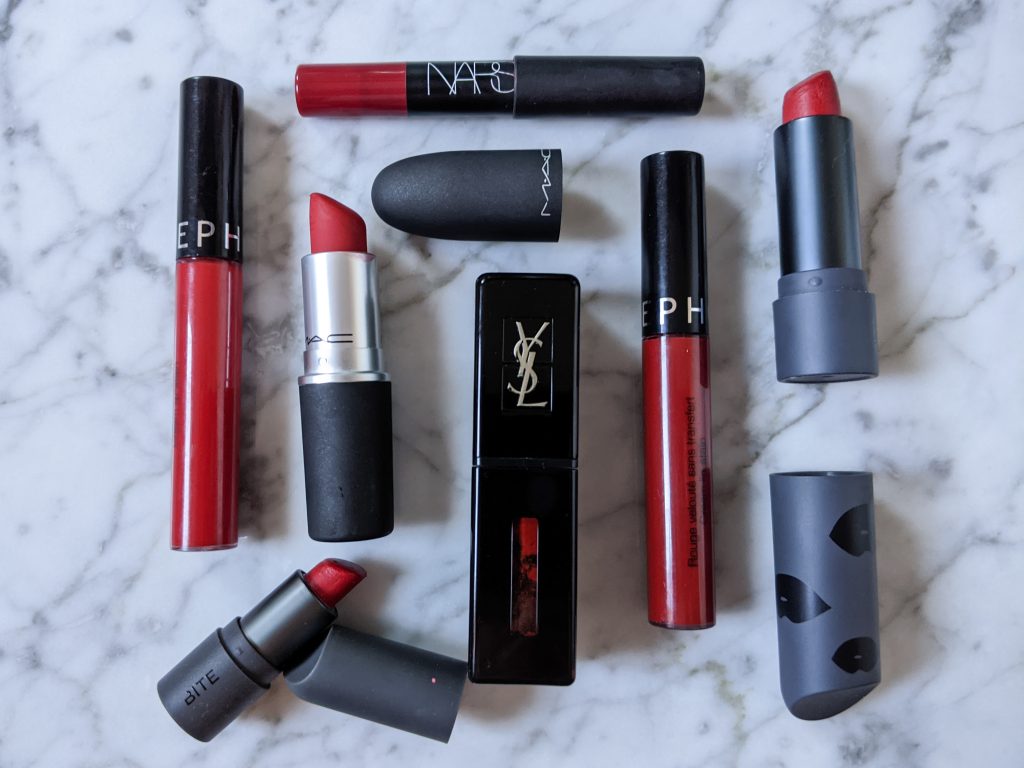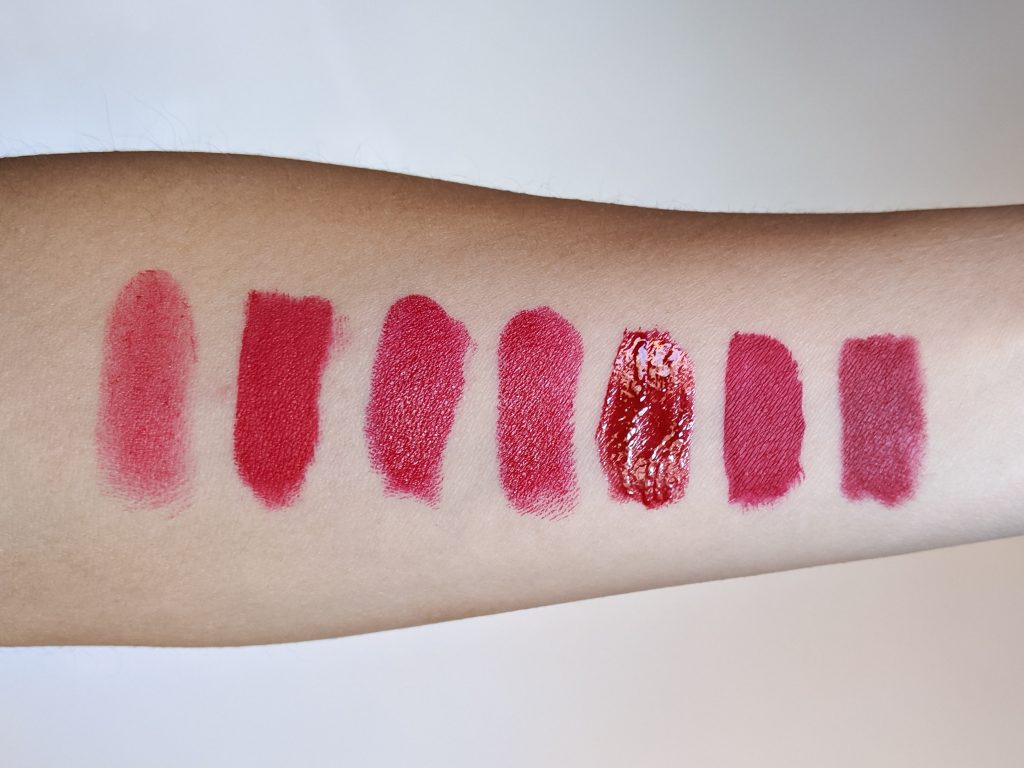 Reds from left to right:
Bite Beauty Amuse Bouche Lipstick in Gazpacho (discontinued)
Bite Beauty custom lipstick
And finally, my favourite category: red lipstick! We have a lot to get to so let's jump in. The first one is actually a surprising hit for me. The MAC Powder Kiss Lipstick in 922 was a FabFitFun item and I wasn't expecting to like it as much as I do. It's kind of a weird formula, a really an odd combination of matte, yet sheer! When you look at the bullet, it seems like it should be opaque and rich, but it's not. I actually love that, and use it almost as a stain, just to add some colour on my lips. And I thought it was going to be really orangey-red, but it actually has a hint of pink in it, which is right up my alley, as you can probably tell from the swatches!
Next, we have my tried and true, Sephora Collection Cream Lip Stain in 01. This is my go-to red lipstick! It's matte, pigmented, eye-catching, long-wearing, I could go on. I used to be able to wear it without a lip liner, but I think I'm gonna have to start using liner with it because it has started bleeding on me. I don't know if it's the combination of masks and my skin getting oilier, but I'm gonna have to figure something out! I have another shade in this collection (96, Red Velvet) which is more of a darker, blue-toned red that I also really like, but 01 has a special place in my heart.
And then I have two Bite Beauty lipsticks (Amuse Bouche in Gazpacho and a custom lipstick I made in the Bite Lip Lab) that might look very similar to you, on purpose. I loved Gazpacho when I tried out the deluxe sample size, but they ended up discontinuing it, so I tried to recreate it myself at the Bite Lip Lab. I think I came pretty close! It's a shame the Amuse Bouche lipsticks were discontinued. They were such a nice formula. Rich colours, creamy texture, natural satin finish. But then again, I haven't reach for either of these in so long, maybe it's time to reevaluate how much I really love them.
Then we have the YSL Vinyl Cream Lip Stain in 401 and I adore this lipstick. Don't get me wrong, I love a matte red lip, but I believe there's a time and a place for a glossy red lip, too! This formula is so silky and shiny, but the colour is still so buildable and easy to work with. Some opaque glosses apply patchy, but not this one! It even fades nicely! The YSL lipsticks always leave such a nice stain on your lips, so it wears evenly and can look good even after you eat. It's really too bad I haven't been able to wear this in a while (re: masks), but I love having it in my collection.
And finally, we have the NARS Velvet Matte Lip Pencil in Cruella. This is a cult classic for a reason. It's such a nice dark red, almost burgundy colour, super easy to apply, and has a nice matte finish without being drying. Very dramatic and perfect for fall/winter.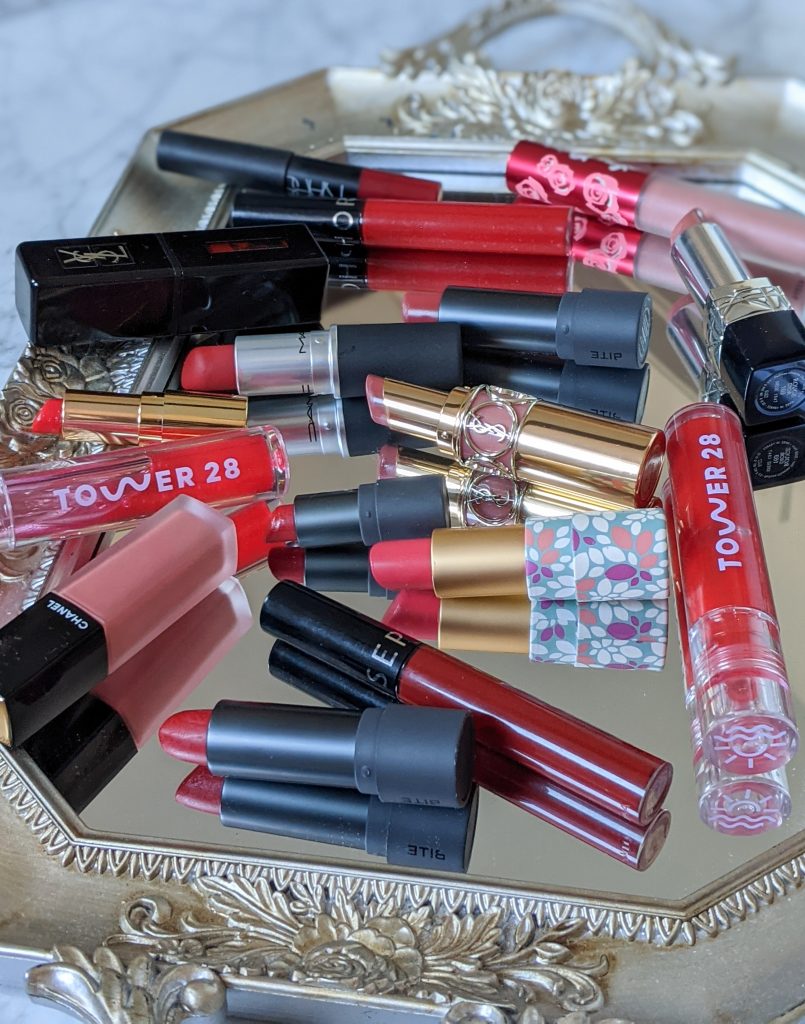 Having gone through all these products in my collection, I can definitely see where I can trim the fat, so to speak. Especially since I haven't been wearing that much lipstick the past year and a half, it's made me realize what I can do without. I will be paring down my collection for sure!
I mean, I say that, but I'll probably be adding a few new products as I'm making room in my stash, too. I've been wearing mostly tinted balms and I feel like you can never have too many of those! Aaaaaaand that's the addict in me talking for sure.
xoxo