I finally feel ready to share some really exciting plans for our house in 2022. This has been in the works for years, since fall 2020 to be exact, but it's pretty complicated so it's taken this long to just do all the assessments, make all the plans, and get all the permits.
Let me back up for a second and tell you a little bit about my dream house.
Dream Sunroom
Have you ever seen A Single Man? The scene where Julianne Moore and Colin Firth are eating dinner at her house was the moment I knew I needed a sunroom in my life. That was in 2009, I guess. And I don't even remember if she had a conservatory/sunroom in her house or if that was just the feel of the set, but I knew from that moment on that it was one of my life's dreams to own a house with some sort of sunroom or conservatory.
So when we were looking around for a house to buy in 2016, the house we obviously settled on did not have a sunroom, BUT…I felt it certainly had the potential to have one built on. I did factor that into my decision to go with this house, not gonna lie.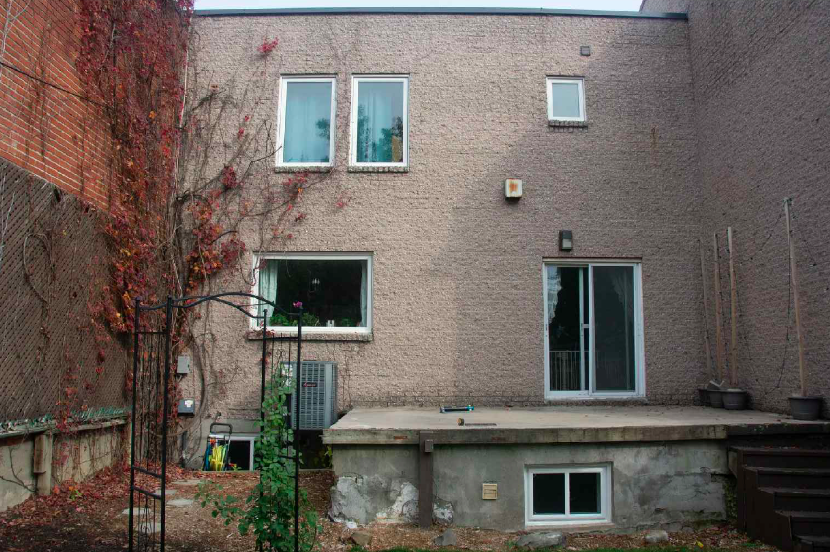 But it always felt like a far-off dream. A maybe someday kind of thing. Until we started talking about it seriously in 2020. My main concern at the time was that Theo was starting to walk and the sliding door off the dining room opened up onto a concrete slab that is maybe four feet off the ground, and had rickety stairs, plus no railings. I was concerned for Theo's safety, so I insisted that summer that we either erect a temporary railing system, turn the concrete slab into a real deck, or move forward with building a sunroom addition in the back of the house.
Well, we not only landed on the sunroom addition, but after talking to multiple people, working with our architect, engineer and contractor to assess the building structure and possibilities, and thinking about it long and hard, we actually settled on a much more elaborate finished product than simply building a sunroom on top of the concrete slab, which is what we initially thought we were going to do.
What To Do About Our Weird Concrete Slab
Before I get into what we decided to do about our concrete slab, can we just talk about how weird it is, first??
Every time we show someone a picture of it or talk about it, the questions come flooding in. How is this structure possible? How is it being held up? What is this thing??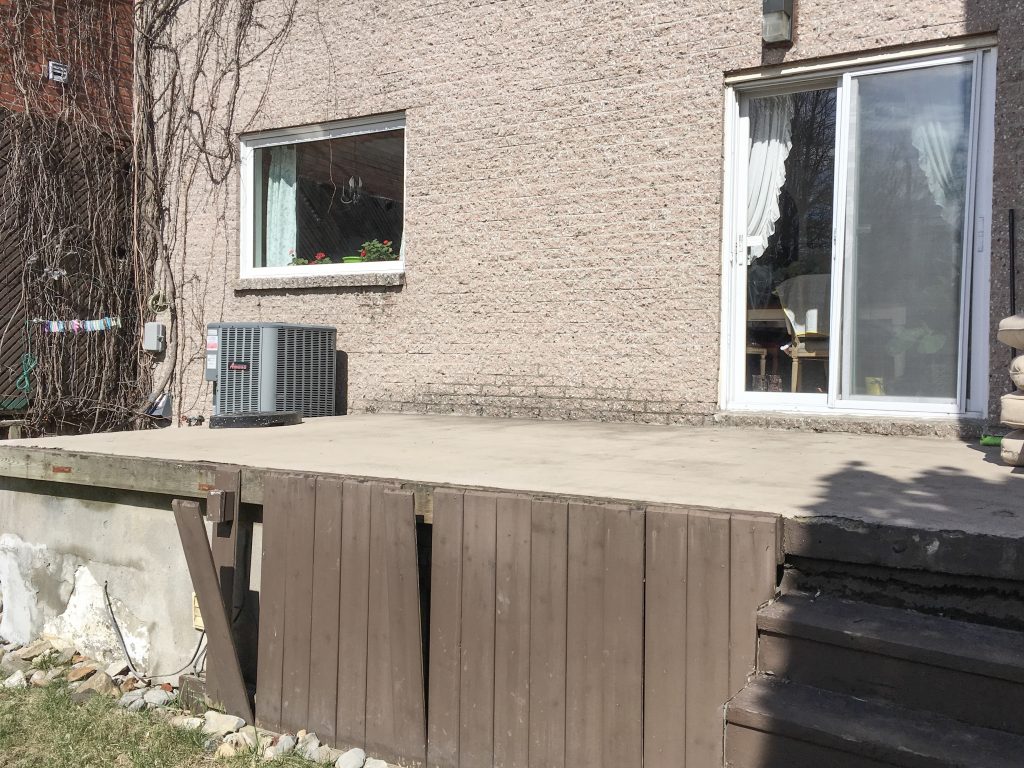 It's actually a cold-storage room that was converted to a basement bathroom/laundry room by the previous owners of the house. How was it made? I can't tell you. Why was it made like this? I also can't tell you.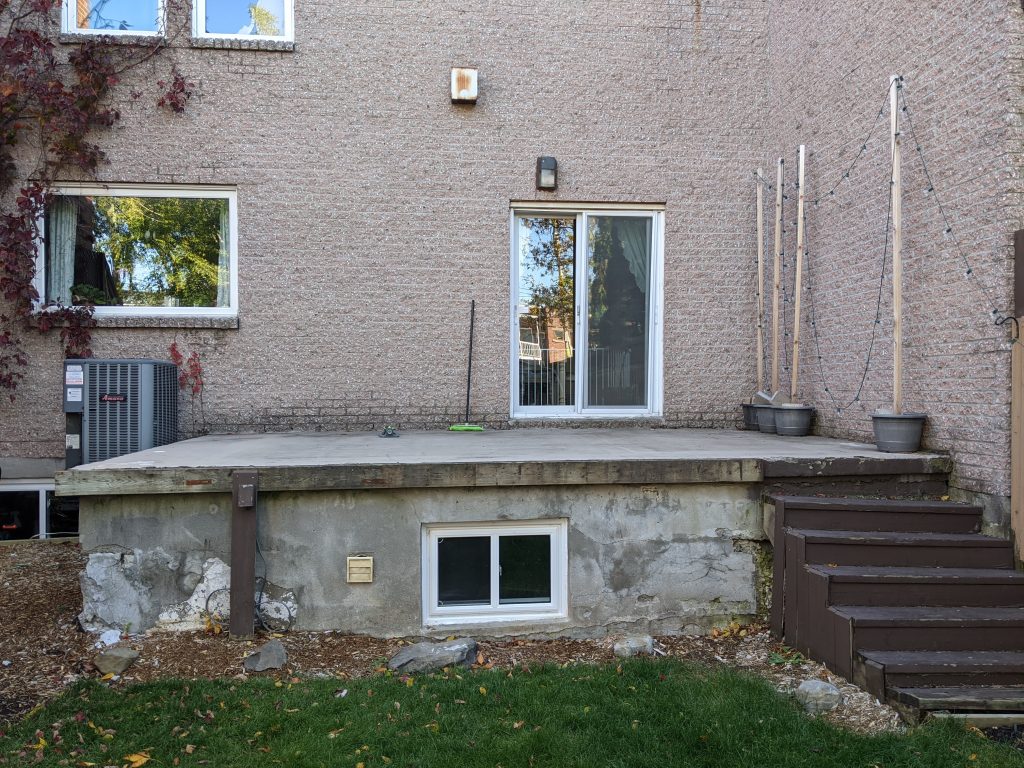 We always knew it was in need of some repairs. The cracks and chips on the exterior are extremely obvious. But the question was always how badly is it actually damaged and what kind of repairs are needed? It could be just cosmetic (cracks along the wall that could be injected for example) but when you need to use this structure as essentially the foundation of a brand-new (and potentially expensive) structure, you gotta make sure the thing is sound!
So in the fall of 2020, our engineer and contractor came to open up the walls of the basement bathroom to check the condition of the foundation walls.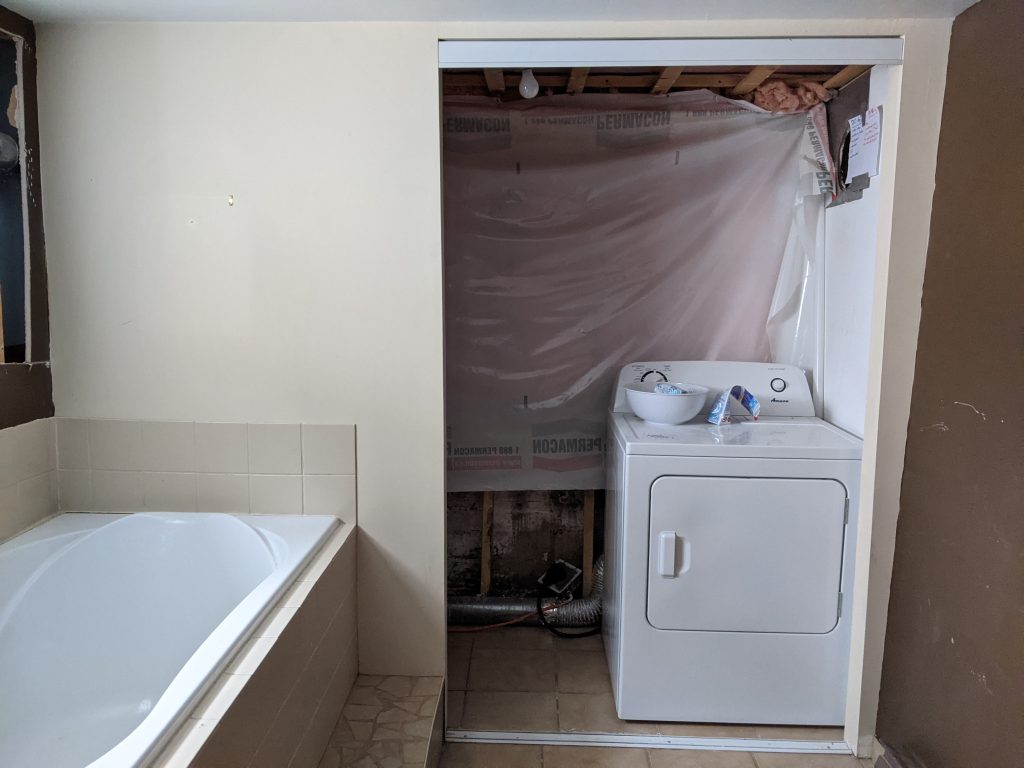 You can kind of see at the bottom that the walls were made of the poured concrete foundation, some wooden studs, insulation, then drywall.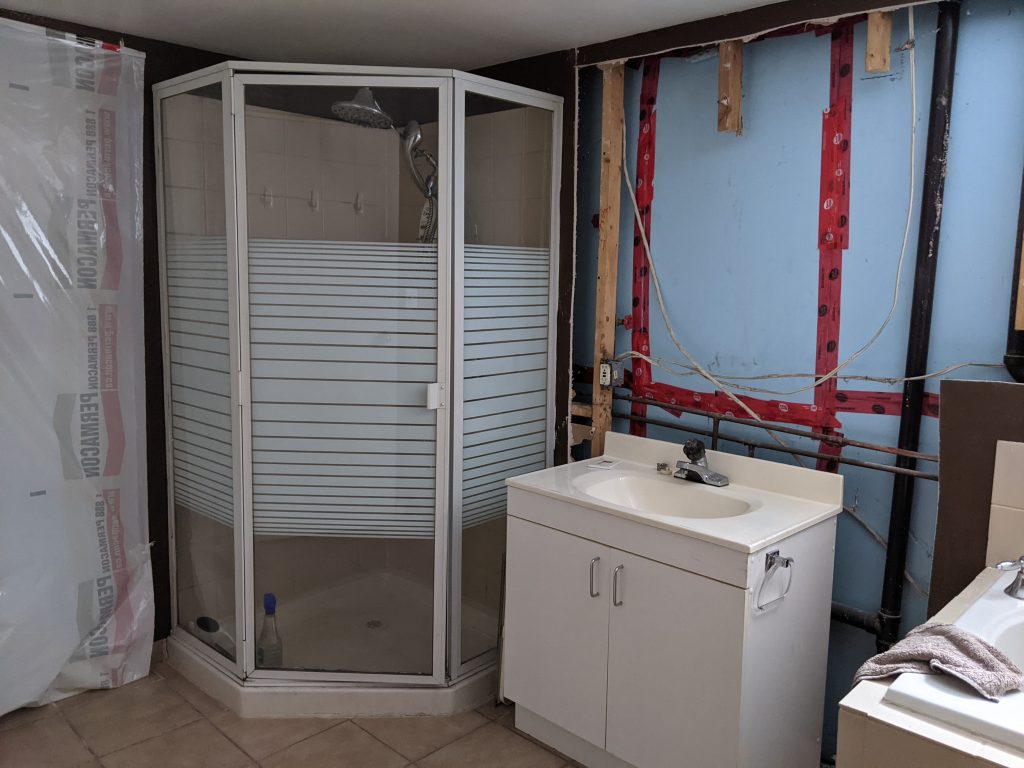 Ultimately, although our engineer said it was technically possible to build on the existing bathroom/foundation without remaking the entire thing, it was a possibility that we would need extensive repairs or a whole new foundation in five or ten years anyway. We decided not to take the chance of needing to rebuild a new foundation in the future when there was already an entire building on top of it and just rebuild it from scratch now.
So that means, demolishing the existing basement bathroom/concrete foundation and pouring a completely new one in its place. And since we're gonna be digging around down there, we decided to also waterproof the foundation all along the back of the house and install a drain, too. Might as well!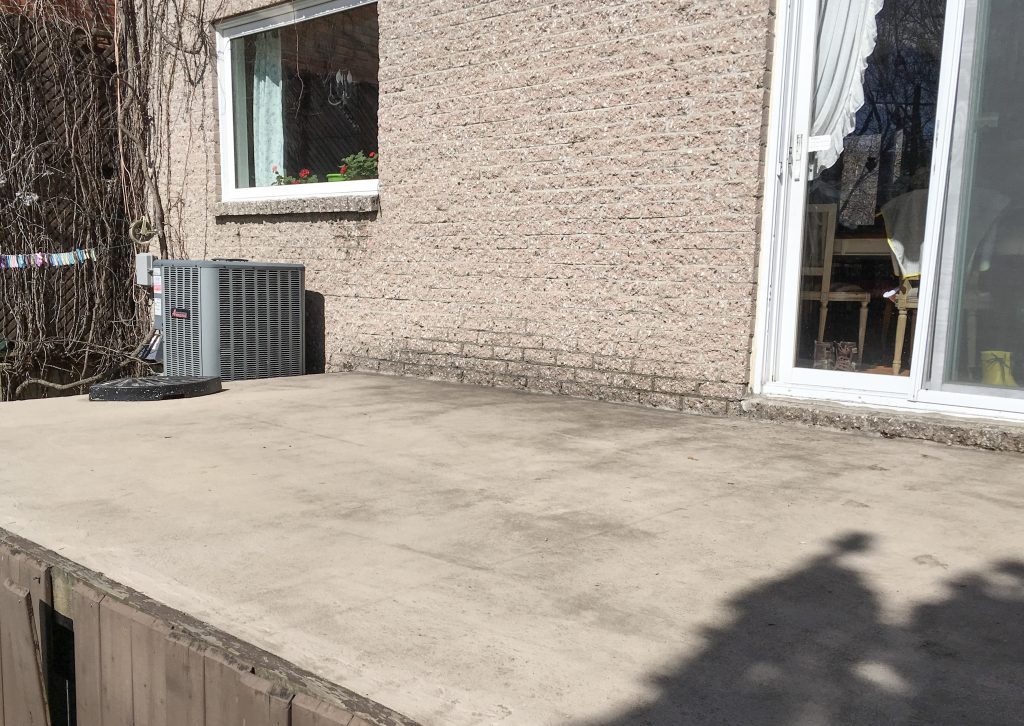 The good thing about starting fresh with a new foundation is we're able to change the dimensions of the addition slightly. Instead of being the same size and shape of the existing concrete foundation, it's now going to be slightly narrower, but deeper.
There are some downsides too, obviously.
This is gonna add a lot more cost to building the extension. We will also have to wait until the ground is workable to start the demo and construction. Plus we aren't gonna have a basement bathroom/laundry room for potentially a few months! But I'm gonna get more into the basement bathroom/laundry room later. Needless to say, this project was growing exponentially by the second.
From Simple Sunroom To 2-Story Sunroom
Now, initially, we were just gonna build a little sunroom off of the dining room that was going to become my office/a lounging area. But then we were like, well if we're going to the trouble of building an addition to our house, why not maximize the space and add a second story?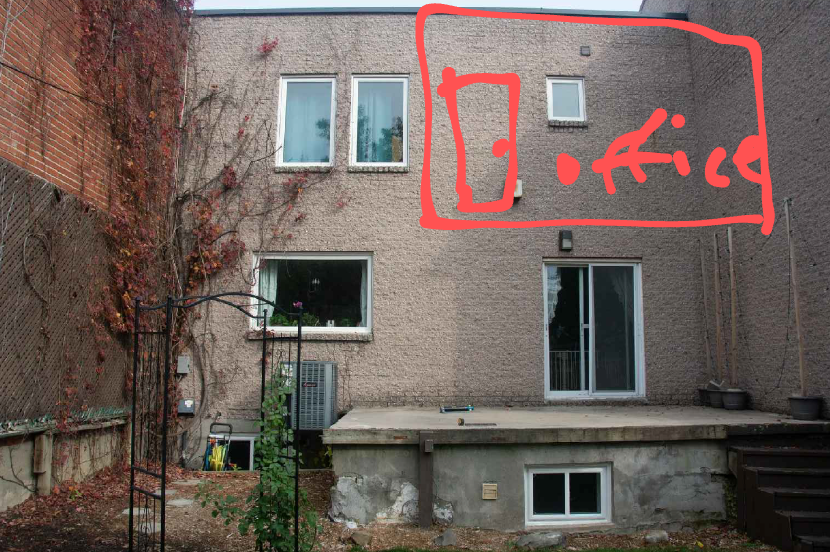 Now, the second floor part of the addition would be accessed through the main bedroom and THAT room is going to be my office and the downstairs sunroom would be more of an open-concept living space addition to the main floor.
So, while the engineer assessment was going on, our architect came on site as well to take their measurements and discuss preliminary plans with us. Exciting stuff!
Throw In A Powder Room And A Deck, Why Not?
Since my office would now be on the second floor, that freed up a lot of room on the ground floor for a little powder room tucked into the far side of the addition. We do not currently have a ground floor bathroom or powder room, so this is an extremely practical and necessary thing to add, in my opinion. Especially if you have a small child! And you can never go wrong with adding a bathroom to your house, in terms of adding value to the property.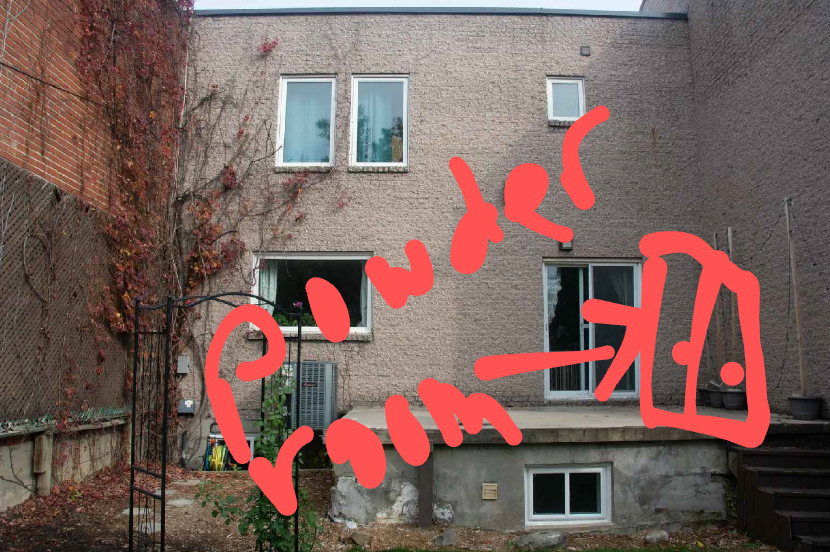 And our architect kind of talked us into building a deck off of the side of the ground floor sunroom as well.
He was right though! That area has always kind of been dead space that we never use for anything. It's not part of my garden, we don't store things there. It's just where the heat pump is currently installed and we keep the hose there in the summer because that's where the faucet is. But that's it. Installing a deck in that area is probably the best use of the space.
So this is the design we finally landed on for our grand extension project: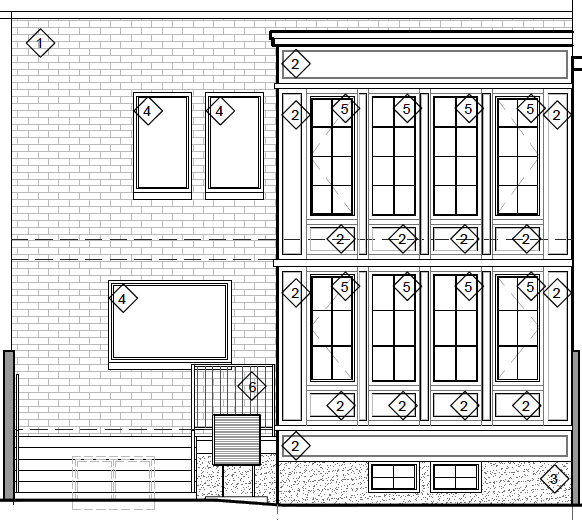 This has turned into a much bigger project than we had initially anticipated, but I think you can see with all of the vintage architectural detailing, we were always trying to build a beautiful structure on the back of the house. It feels very wrong to try to half-ass it in any way, structurally, aesthetically, or in the practical use of space. I think it's morphed into what it's always needed to be to justify the time, the labour, the cost and ultimately, the design vision I always had for the sunroom, and our comfort as a family.
Permit Problems
Now obviously, this huge project would require a permit from the city before we could begin work, so early in 2021, I contacted the permit office of our borough to explain our project and ask what documents we needed for our application. We already knew we needed architect drawings (check), and engineer plans (check), and an estimate from our contractor (check). We also apparently needed a site plan from a surveyor, which I was not anticipating.
Well, let me just tell you…if you need a survey done in Montreal, you'd better start calling around now because it could take months to even get a call back. Or alternatively, you could go to survey school, become a surveyor and do your own survey. Either way, it could take just as long!
The construction industry has been booming the past couple of years, which basically means, good luck finding a contractor for a reasonable price, good luck finding an architect to make your plans (ours started refusing new clients early in 2021), and good luck getting one of the apparently THREE surveyors who will work on residential properties in the Montreal area to return your calls.
Seriously, I tried calling the company that did the original survey of our property in 2015, just before we bought the house, and they didn't even answer the phone or return our messages. I called surveyor after surveyor, and the response was the same everywhere. They don't do residential work or they don't do work in our borough. I finally found a surveyor to agree to the job in early June 2021, but they couldn't complete the work until September. Well, at that point, beggars couldn't be choosers, so we agreed!
All this to say, we were hoping to start work on the project in the summer of 2021, but due to the surveyor delay, that didn't end up happening.
On the bright side, the cost of lumber and materials went crazy in 2021 and waiting till 2022 could potentially save us some money. Also, in the past, we've had to wait up to four months to get our permits for even simple work on our house (such as replacing windows), so I was anticipating a long wait time between submitting for our permit and actually getting it. Delaying the whole project until 2022 just seemed like the inevitable conclusion of this long process.
Once the survey was completed in September, we had to gather all the finalized documents and ended up submitting our application in the beginning of November 2021.
Unfortunately, it was not as thorough and complete as we thought it was. We were missing an estimate for the windows (kinda important for a sunroom) and there were other small errors to fix and questions they had. All in all, it took about a month and a half of back and forth to get the permit, which we got just in time for Christmas. I'm honestly surprised it only took that long!
Meanwhile In The Basement…
Now, while all this was going on, I started noticing some black spots on the ceiling of the basement bathroom. And then Kyler found some mold growing in the furnace room. Yikes! So I called some mold people to come have a look and they recommended demoing the entire bathroom, getting rid of all the walls/ceiling/most of the fixtures, and cleaning the furnace room and bathroom thoroughly. Since we were going to demo the bathroom anyway, we went ahead with the mold removal/cleaning and basically just started the demoing earlier.
This is what our basement bathroom currently looks like: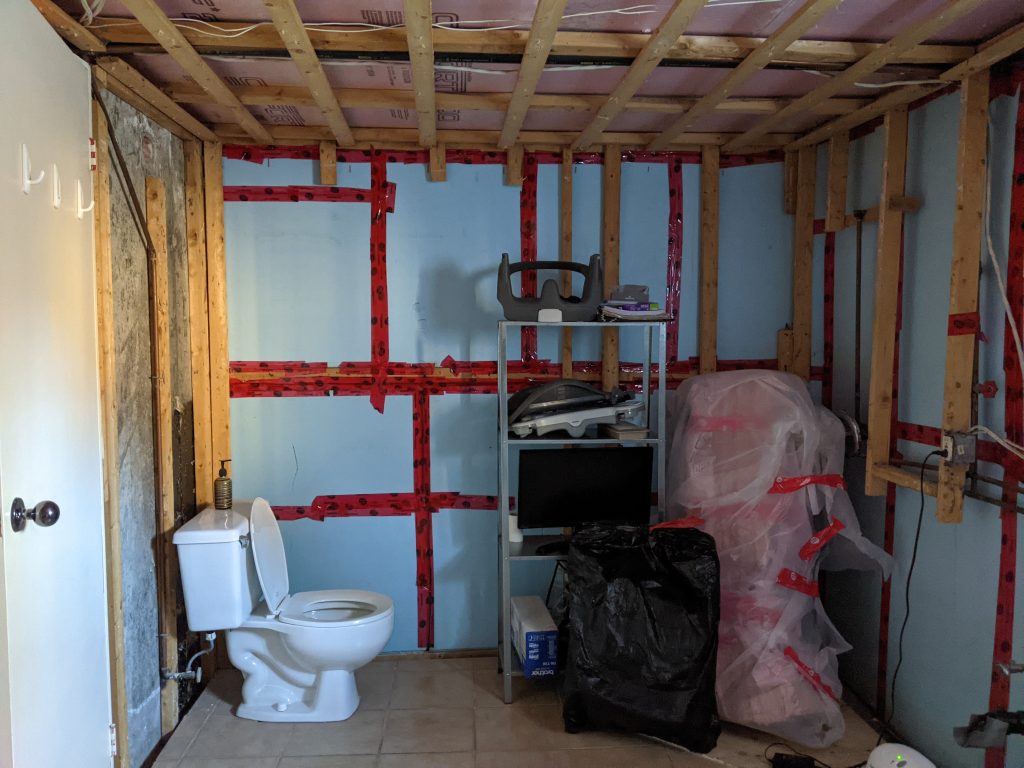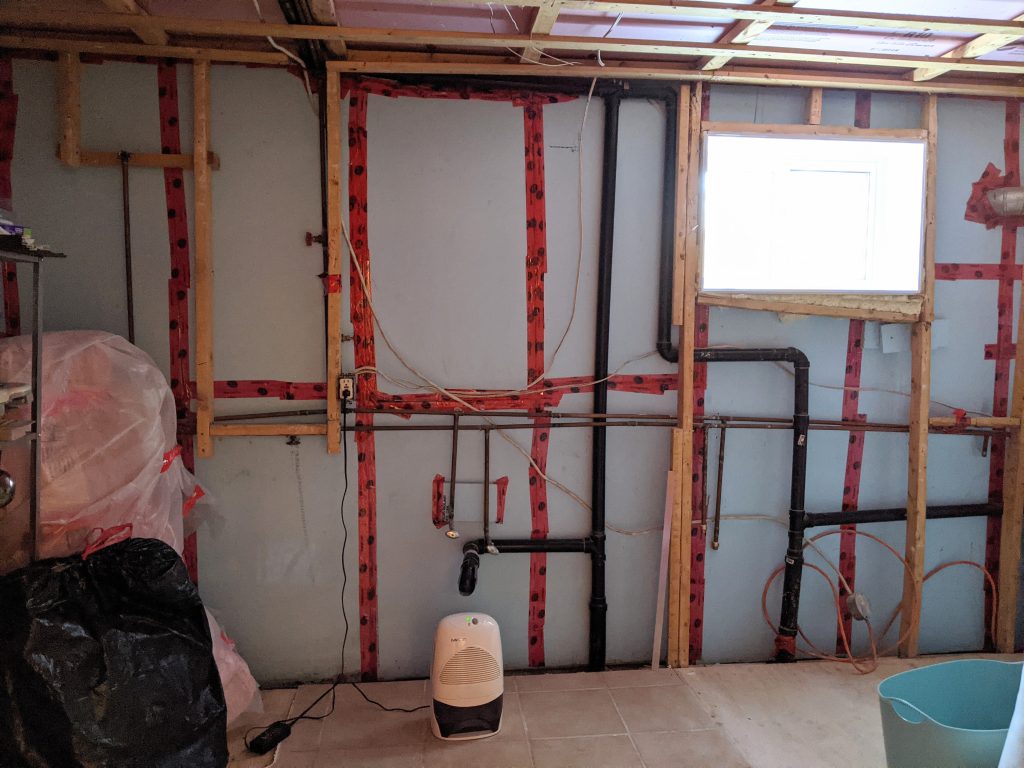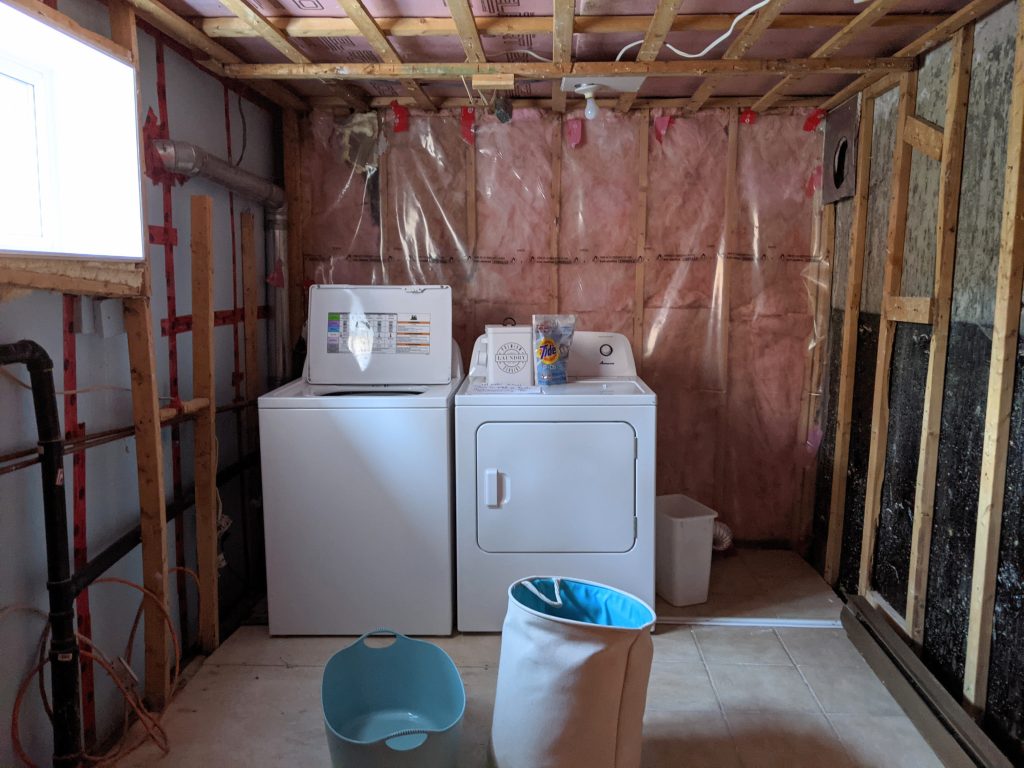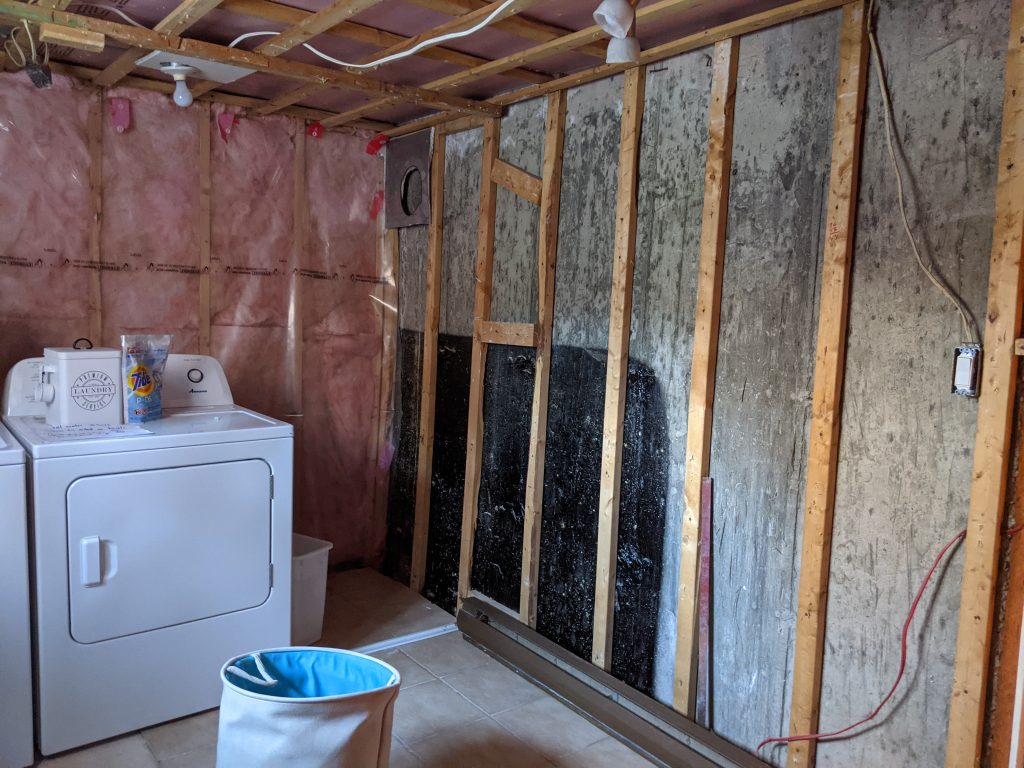 But then, literally A WEEK after the mold company did their thing and the basement felt safe again, we noticed MORE MOLD in the basement, on the other side of the bathroom wall where the main drain was located.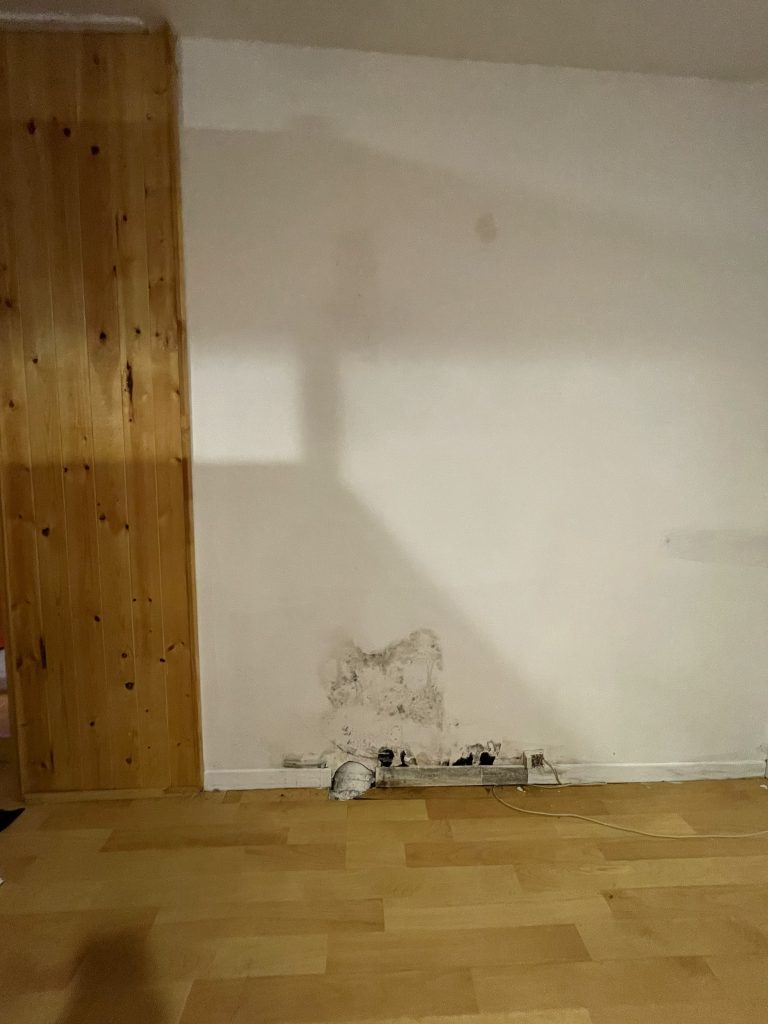 It got this bad before we noticed because we normally have a shelving unit pushed up against this wall.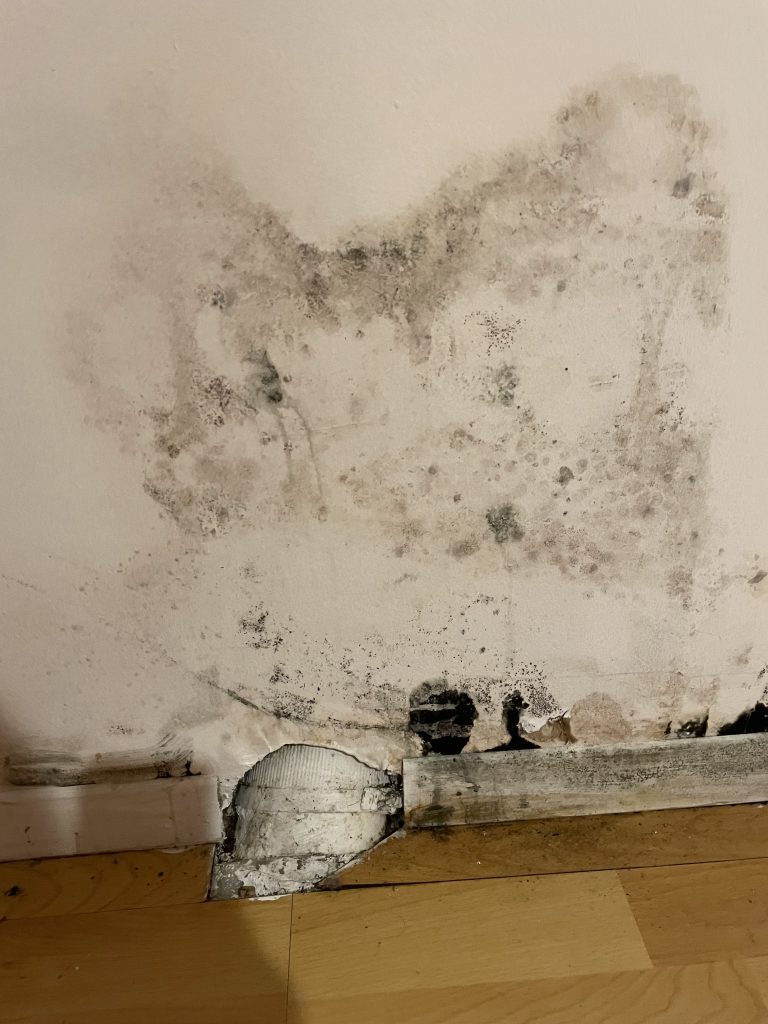 Apparently, our ancient main drain had multiple leaks in it and it was leaking water any time we used the kitchen sink! Anyway, I asked the mold people if they could come back ASAP and they did their thing again. We now have a whole other wall missing in the basement, and a bit of flooring gone too, but those are just cosmetic problems we'll get around to fixing some other time.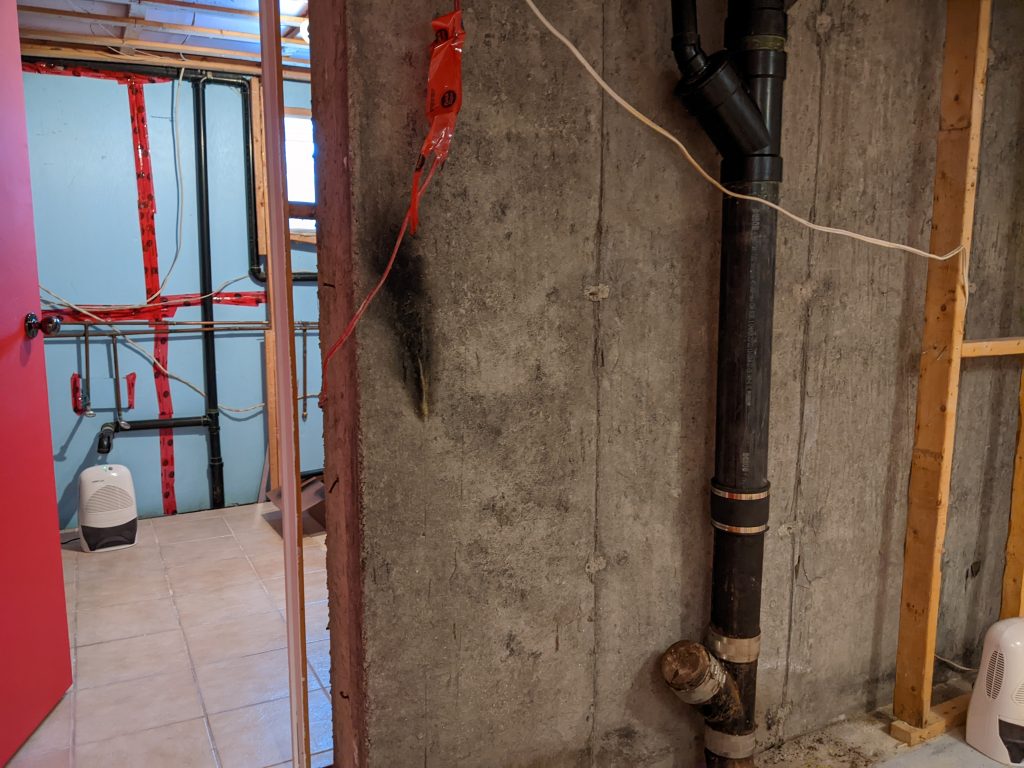 Now that the pipe was exposed, we could get a plumber in to replace the leaky portion of the pipes and we haven't had any problems there since.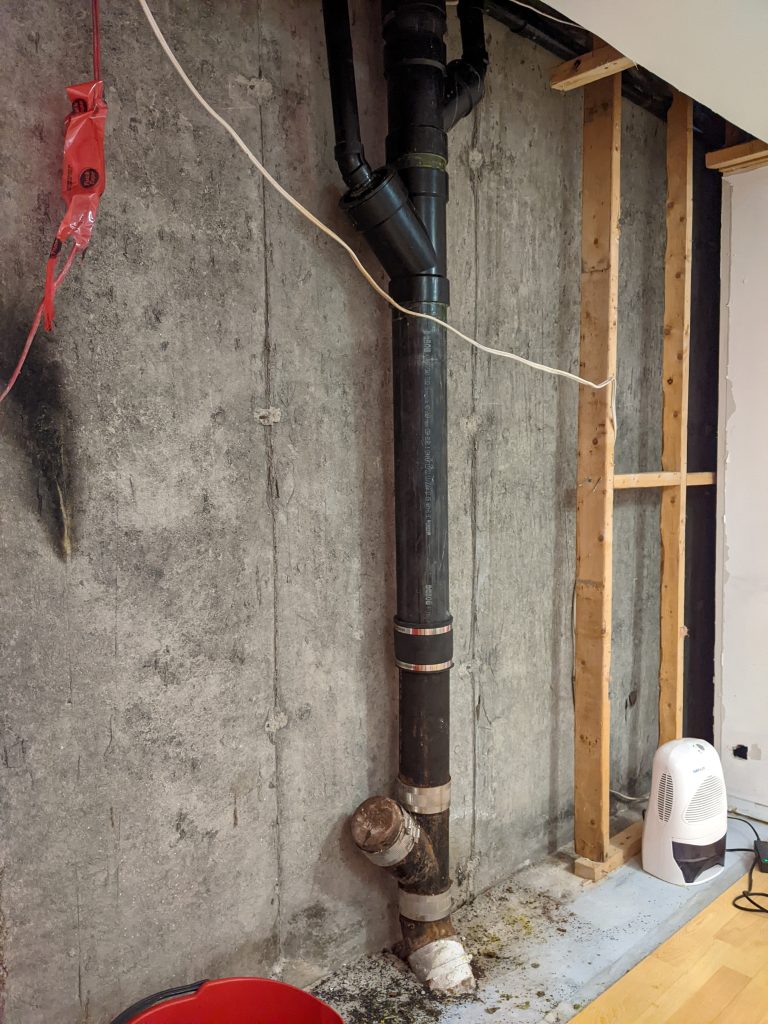 Mold problems are never fun to deal with, but it actually worked out pretty well that the water infiltration problems happened where we needed to do construction anyway. The bathroom was going to get demolished and the interior wall that had mold on it was going to have to get exposed to move all the plumbing anyway, so it's like a couple steps just got done a bit early.
And knowing how bad the water infiltration in the bathroom actually was kind of reassured me that demolishing the whole thing, and rebuilding it from scratch/waterproofing it, is definitely the way to go. Simply repairing the exterior cracks and breaks could've helped in the short-term, but I don't doubt that building a new foundation and waterproofing it is the real long-term solution against our water infiltration problems!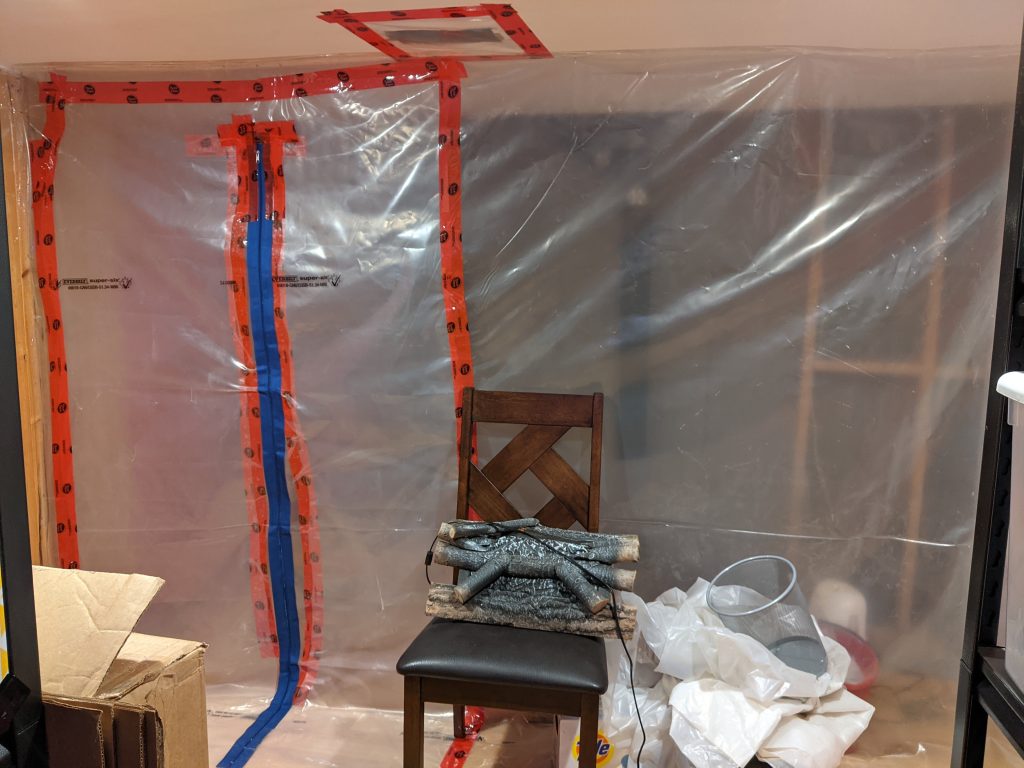 Side note: I love that the mold company kept their containment unit set up after they left. We kept it up afterwards to keep Theo away from the bathroom/all the exposed pipes and wiring, and joke about it being our kill room, haha!
And Now, We Wait
So now that we have the permit and all the plans are in place, all that's left to do is wait for the ground to be workable in the spring to start demolition on the bathroom. I'm so excited! I didn't let myself think this was real until the moment we got the permit. Now I'm like, "this is really happening!"
There's still a lot to do to prepare. I've been designing and mood boarding like crazy, going to flooring stores, scouring the Internet for all the many finishes and fixtures we'll need…It's been a long process and there's still so much to do! I'm excited to share all the progress and problems with you on this journey, what is essentially the biggest renovation/remodelling project of my life!
Have you ever done a big renovation/building project? Was it stressful and full of surprises? Did you love how it turned out? I would love to know!
xoxo