I didn't want the baby's nursery to have a "theme" per se….but as you have probably noticed from my other baby DIYs, I just ended up gravitating towards celestial bodies as my inspiration. I did not at all plan it this way.
And when I saw these super cute star, sun and cloud pillows online, they just called out to me. I was planning on just buying them, but they sold out pretty fast, much to my dismay. Then I remembered, pillows are some of the easiest things you can make by hand and I had so much leftover stuffing from previous projects…I should just make some myself!
I think I gotta stop now, though, with all this sun, star, cloud stuff. It's kinda getting out of hand!
Materials
-fabric of your choice
-pillow stuffing
-thread
-felt
-sewing needle
-pins

1. Gather your materials
I was on the fence about doing this project because the kind of fabric I wanted (fleece or otherwise fluffy/super soft/thick material) turned out to be super expensive at the fabric store! And a big part of why I DIY, besides that I really like making things, is that it's usually much cheaper than buying them outright.
But then, I had an idea to look for fabric at the dollar store, like cheap sweaters, scarves, anything that was made out of the same material I wanted, but that I knew would be cheaper than $15 per meter. And I was pretty successful!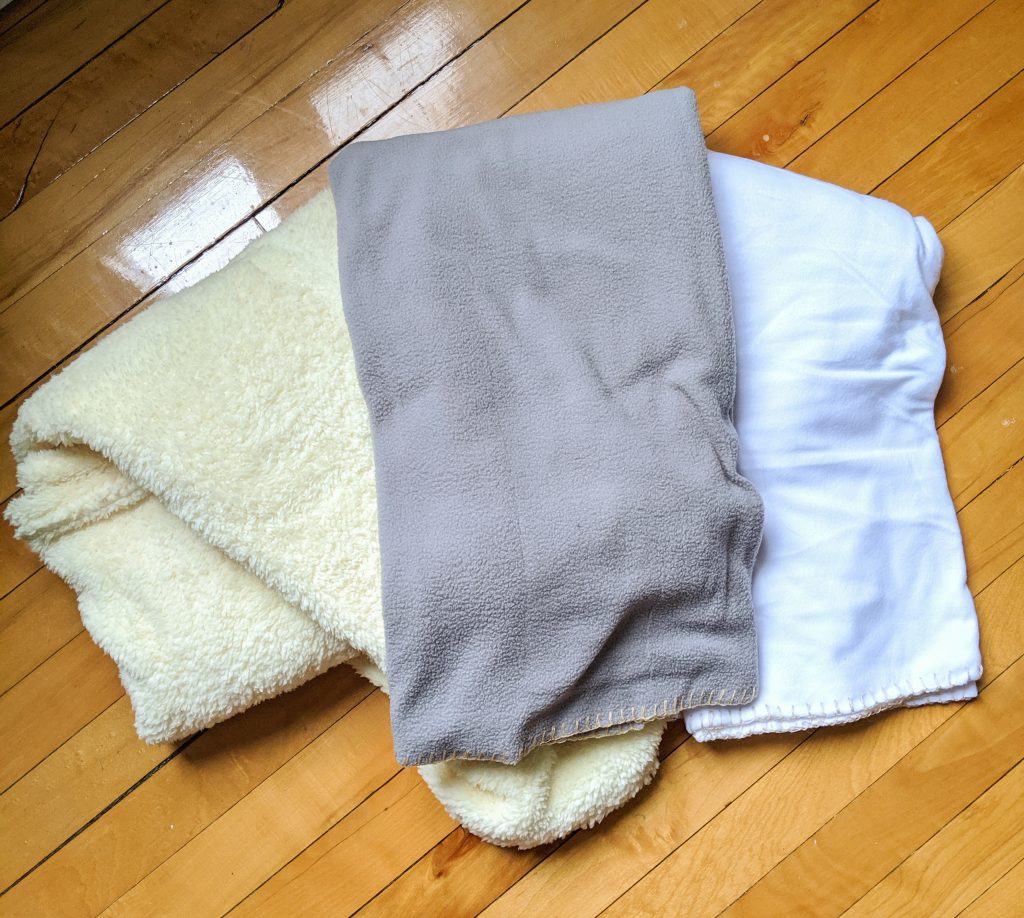 I found three throw blankets (two made out of fleece and one made out of a fluffy faux fur kind of material) all for only $4 each. And there was way more material than I needed. The yellow colour I had found for the sun wasn't quite as bright as I had envisioned, but for $4, I thought I should at least try it and if I really hated the result, I could always go get real fabric and remake it.
2. Cut out fabric in desired shapes
You should cut out two pieces of each shape and I always do it by folding the fabric in half, pinning it with pins, and drawing the rough shape of what I want with some kind of drawing instrument. Obviously, if you do this, always draw on the inside of the fabric so it can be hidden later.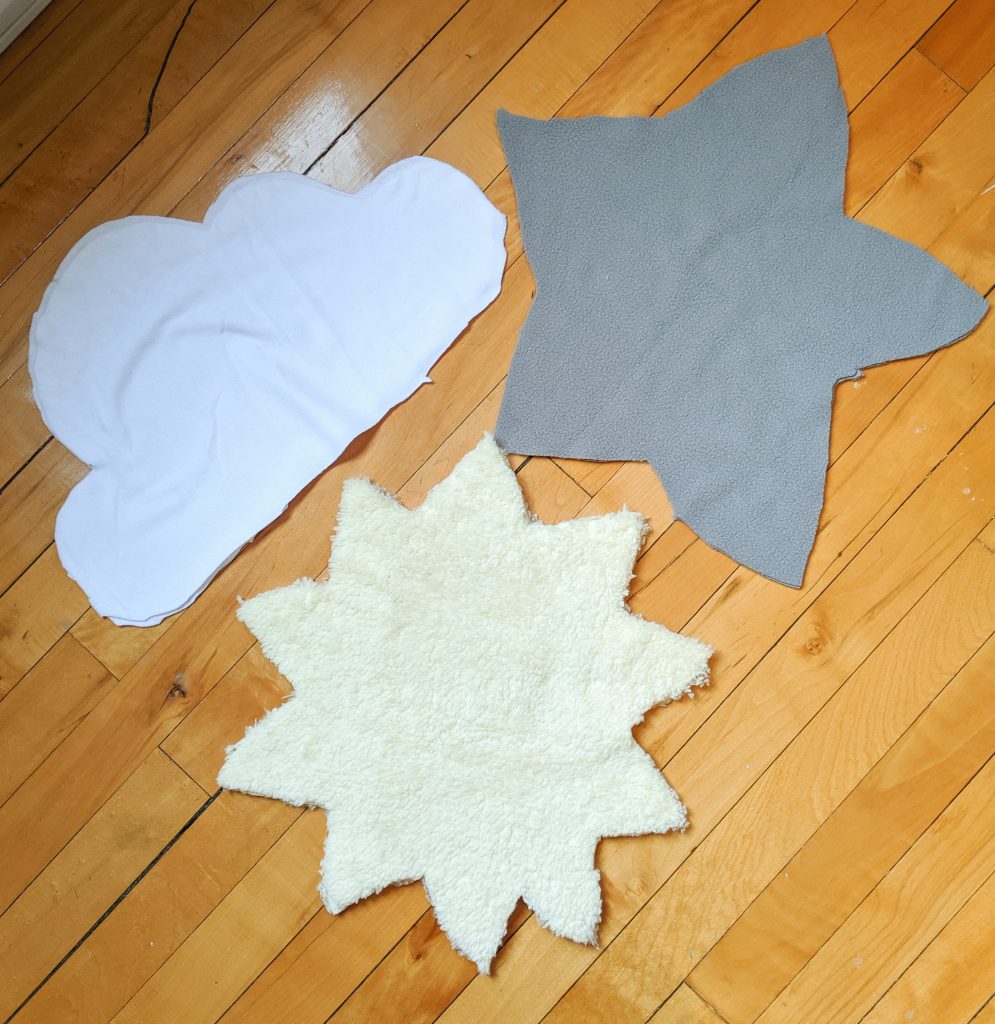 3. Sew on pillow faces
Decide what kind of faces you want your shapes to have. I knew for all of them, I wanted big eyes, a small mouth and big rosy cheeks. I thought felt would be perfect for the open eyes and cheeks so I sewed those on first before tackling the mouths.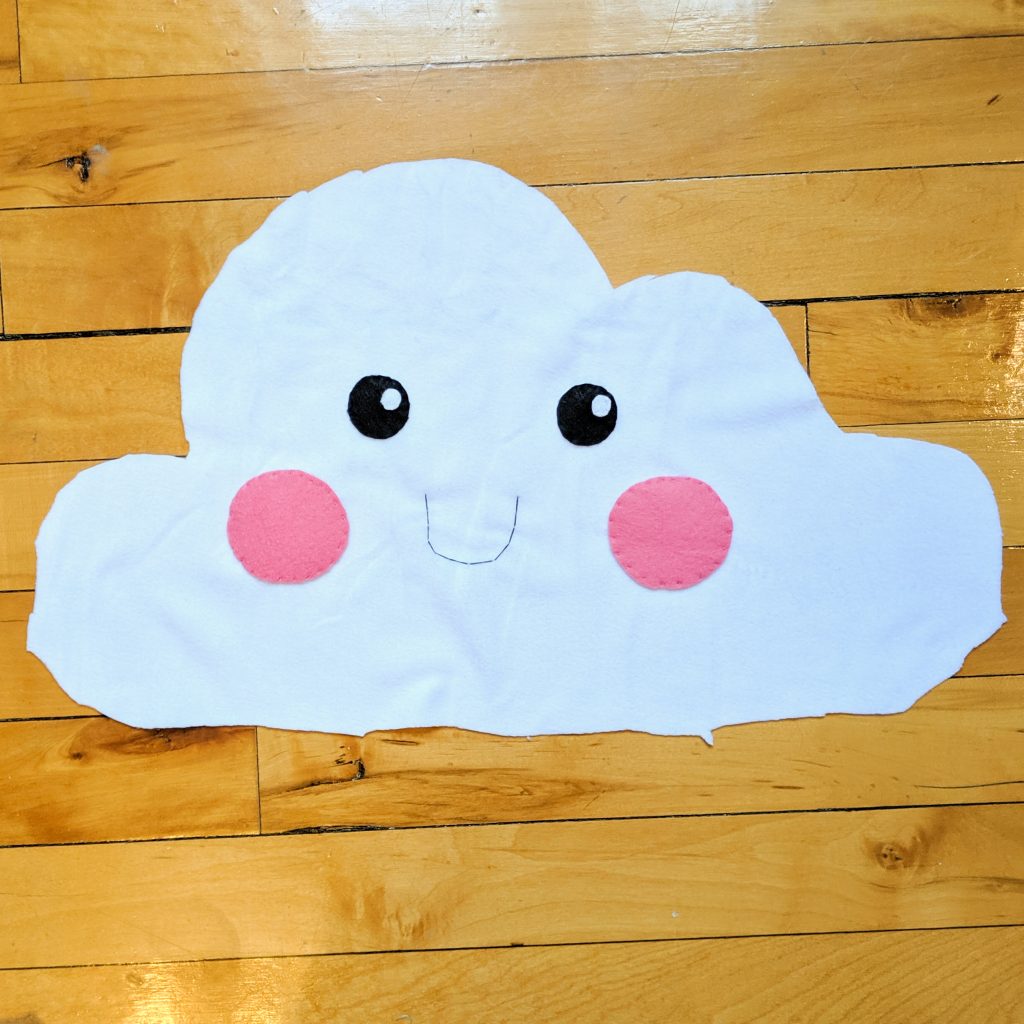 I fiddled around with doing the smiles in felt too, but it just looked too harsh, so I settled on sewing the mouth shapes with regular black thread. It's not perfect. It's really hard to sew nice curves with just thread, for me at least, but when you look at the faces as a whole, I think it looks good enough. And then, I just did the same for the star's eyes because I wanted them to be closed.
4. Sew two sides of pillow together
Once the faces are done, pin the two sides of the fabric together (good sides facing each other) and sew the pillow together, leaving an opening a few inches wide so you can stuff it later.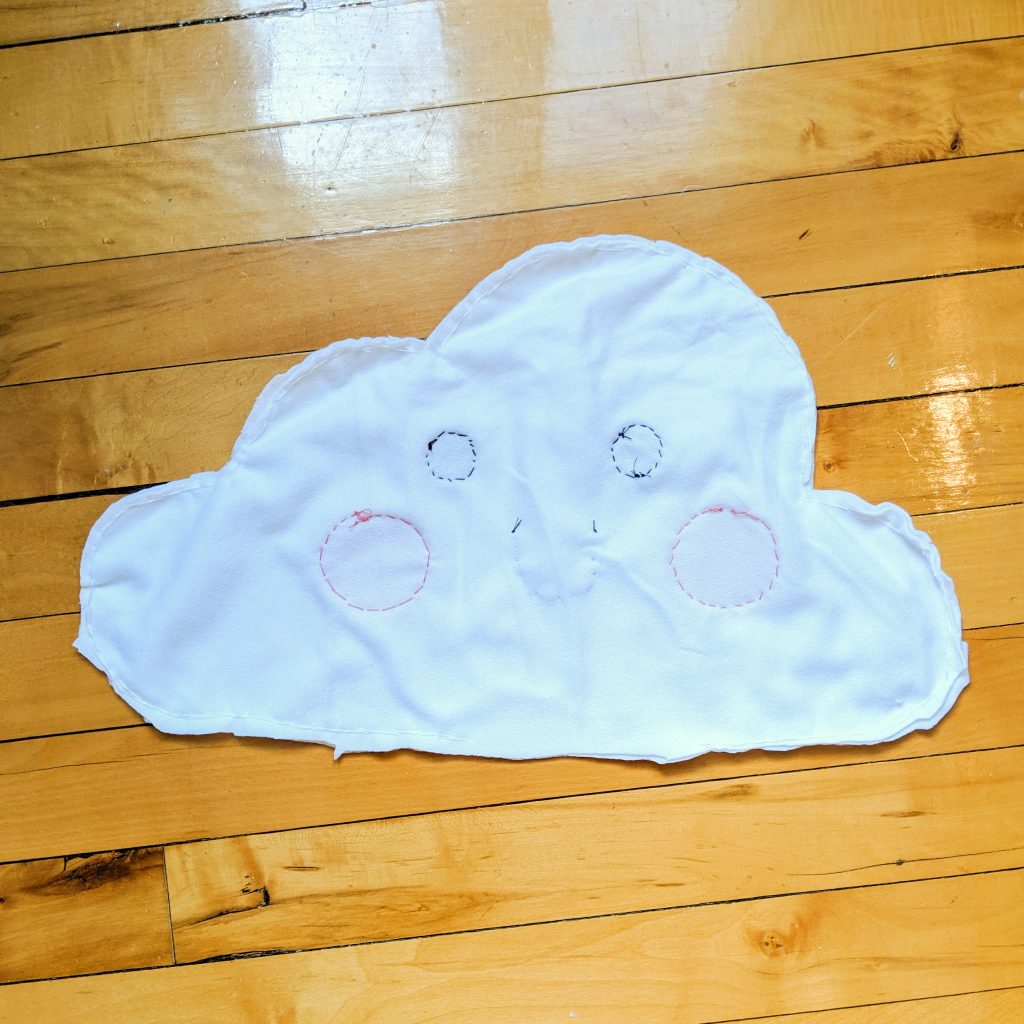 The sun was a little tricky here because I did not want the sunbeam parts to be stuffed. I wanted a distinctly stuffed, round face on the sun with flatter points. So to do this, I first sewed the whole perimeter of the sun along the points, then flipped it outside-in and sewed the circular face part closed from the outside. Because the fabric is so thick and fluffy, you really can't see the stitching at all.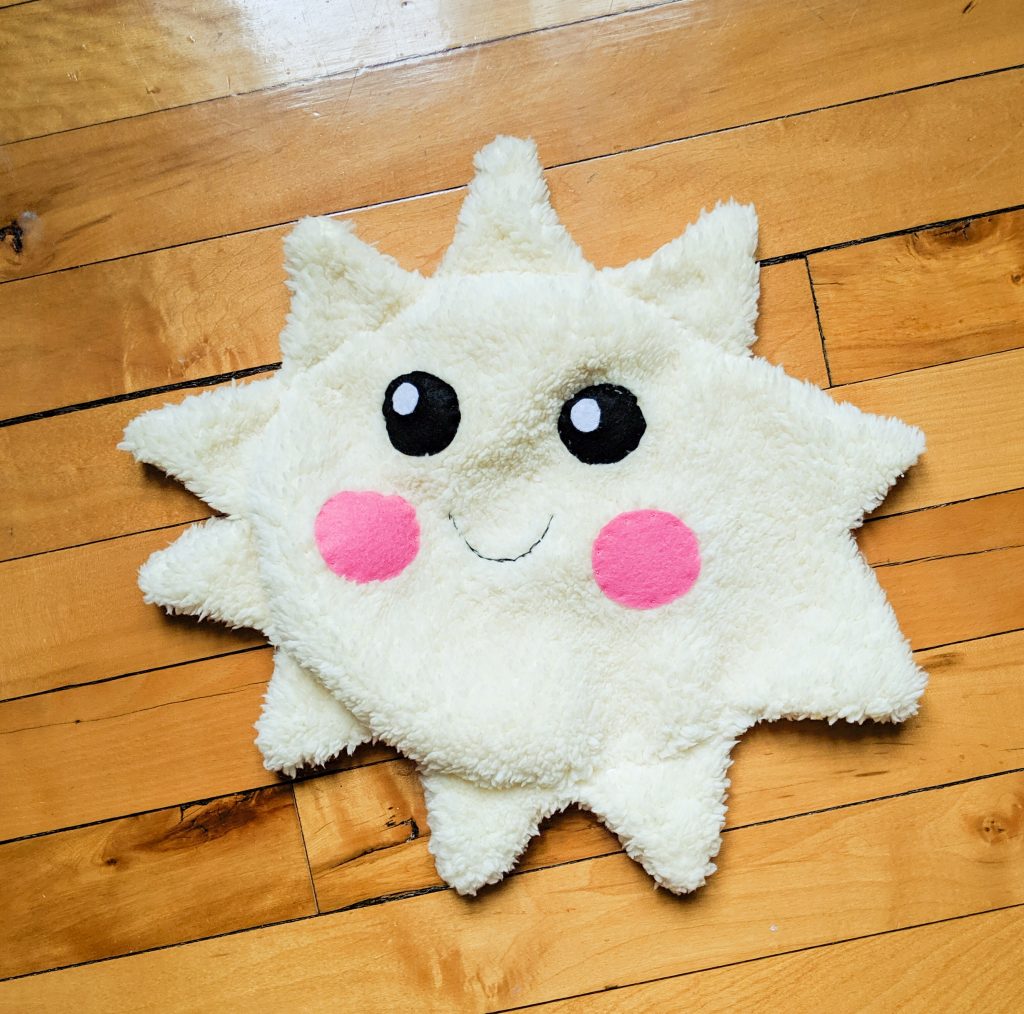 5. Stuff pillows
Flip all the pillows outside-in and stuff them with regular pillow/craft stuffing. Once they are filled to your liking, sew the openings closed.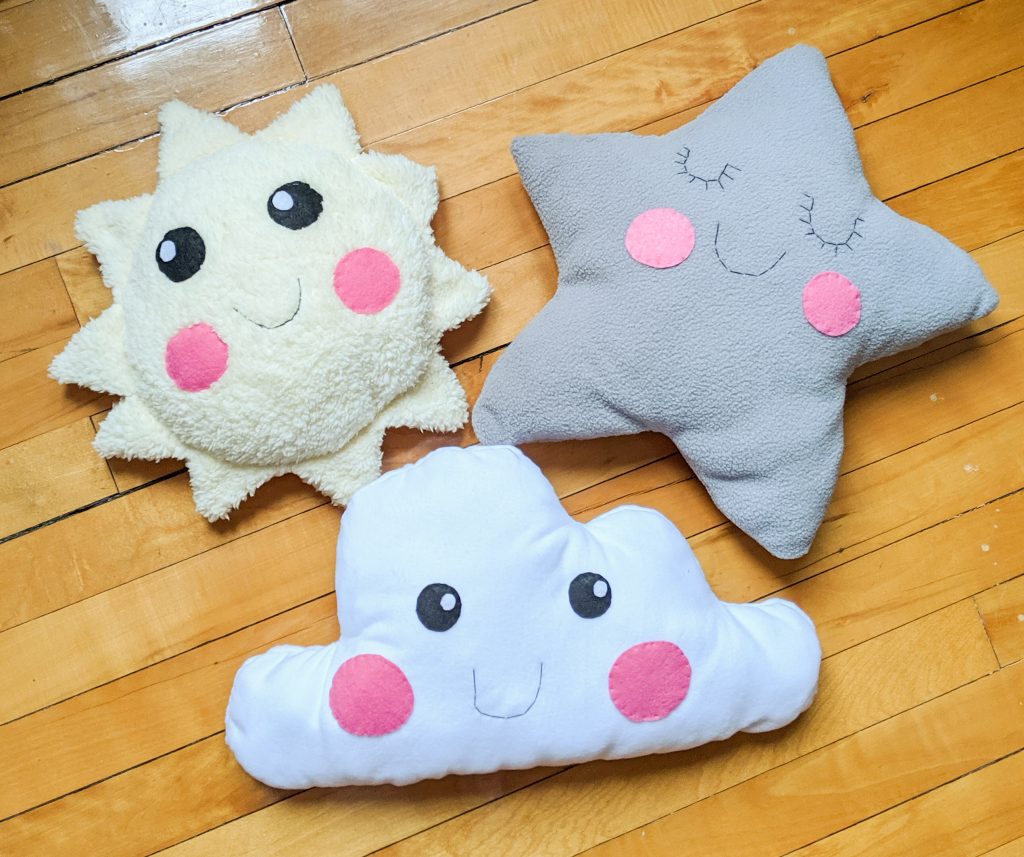 The perfectionist in me's first reaction to the finished projects was basically, "oh, the sun isn't a perfect circle, and his face is too high up…and the star's face stitching is a bit crooked and has gaps in it…and the cloud's cheeks are too big, and the sides are too boxy, and his smile is crooked…."
But I've learned to just accept these little "homemade" details in my little projects, 'cause let me tell you, without a sewing machine, this kinda took forever. Like two whole days. I ain't redoing it!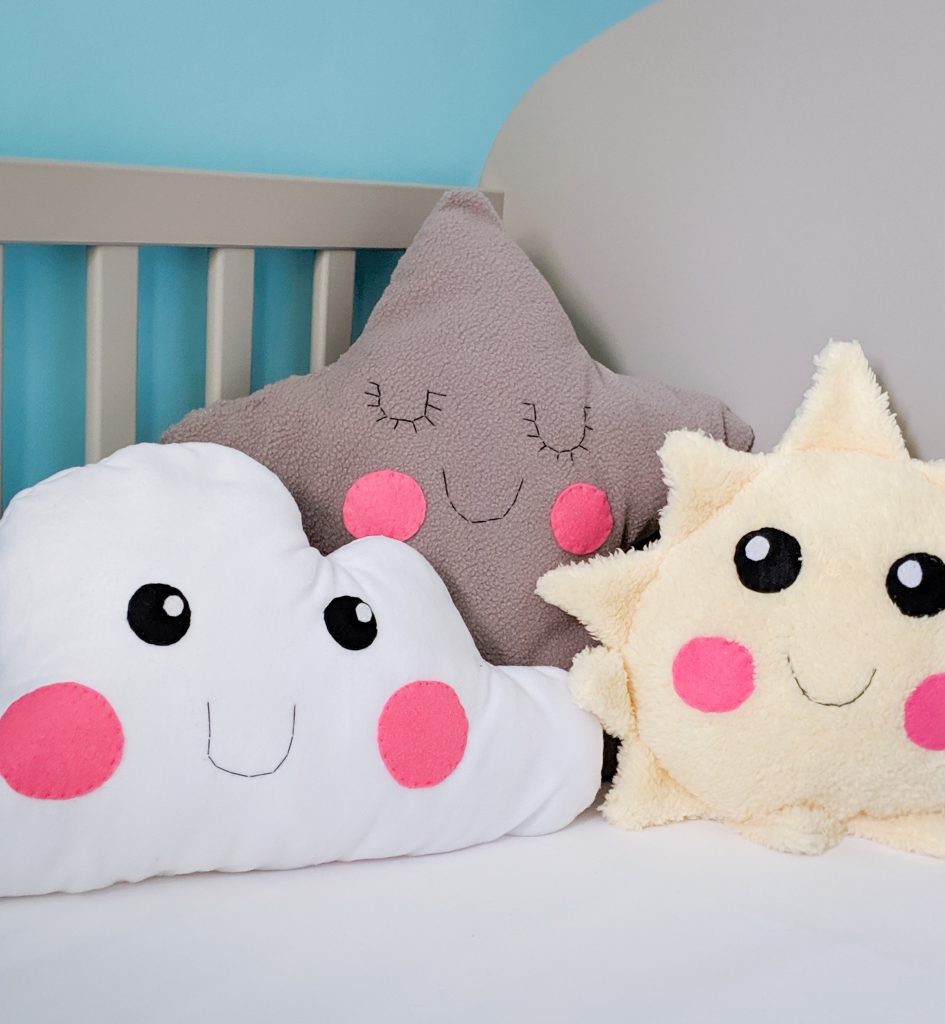 And more importantly, I don't think the baby will care about the stitching. If anything, the size of the eyes might scar them for life, so I don't think the stitch quality really matters!
So what do you think of my makeshift, celestial pillows? Did they cross that thin line of being too cute to too terrifying for a baby? I suppose we shall see!
xoxo